Bordeaux wines with barbecue food – why not?
With the weather finally warming up, it's time to dust off the barbecue and stock up for the season ahead.
It can sometimes be tricky to match the right wines with dishes grilled on a barbecue, so we've come up with the ideal wine pairings for three tasty outdoor grill recipes. Your barbecue season starts here!
Lamb chops
Whether you"re a lamb lover or not, lamb cooked on a grill is well worth trying. It"s one of the best ways to cook this delicious meat. Pairing juicy, smoky grilled lamb chops with robust, full-bodied fruity Bordeaux red wines creates an unbeatable summertime treat.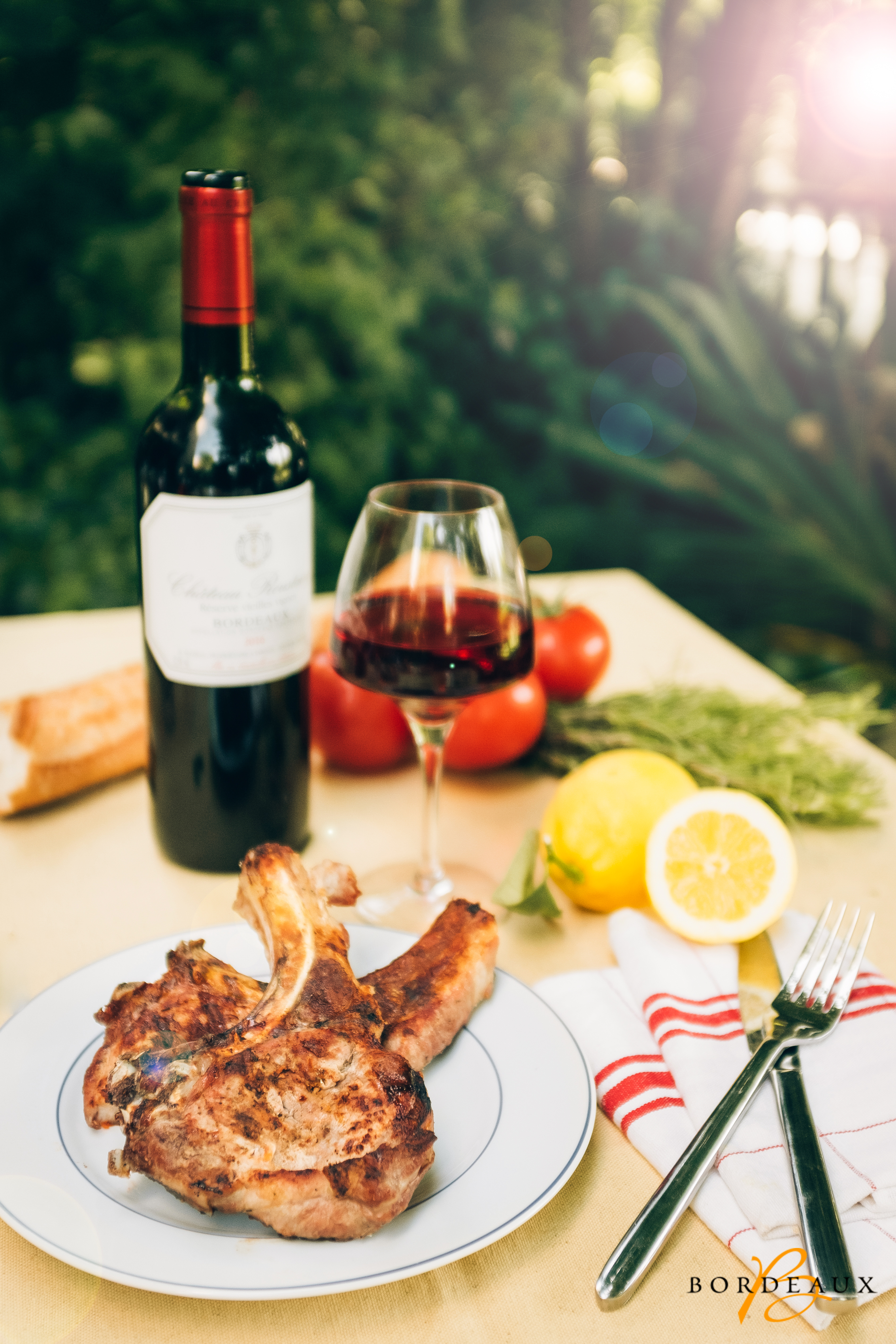 When it comes to lamb you can mix and match different meat cuts with different marinades. But we love this simple way to prepare lamb chops – we hope you'll love it too!
Ingredients:
10-12 loin lamb chops, about 1 1/2 inches thick
4 tablespoons red wine vinegar
1 teaspoon salt
½-1 teaspoon black pepper
3 cloves garlic, minced
1 tablespoon dried or fresh rosemary
2 tablespoons olive oil
Method
Mix the vinegar, salt, pepper, garlic, rosemary and olive oil in a large resealable bag until the salt has dissolved. Add lamb, toss until coated, and let it marinate in the refrigerator for as long as possible. Aim to give the lamb chops at least one hour to marinate before cooking.
Preheat an outdoor barbecue to a medium-high heat.
Remove lamb from the marinade and place on the grill rack. Cook for about 5 minutes per side, making sure to watch out for flare-ups.
Transfer the lamb to a plate, cover loosely with foil and rest for 5 minutes before serving.
Which Bordeaux wine is best?
Try a fruity Cabernet or Cabernet Sauvignon/Merlot blend as a perfect pairing for this mouth-watering barbecue lamb feast. Château Haut Pourjac red Bordeaux wine is a great choice – produced on a family estate just across the river from St Emilion, the wine is filled with red currant fruit flavours, lively acidity and subtle spice notes on the finish, offsetting the lamb beautifully.
Barbecue salmon
Barbecue food usually means a selection of red and white meats, but fish also works a treat on an outdoor grill. You might automatically think of drinking a white wine with fish, and Bordeaux has plenty of crisp, fresh Sauvignon Blancs which would be perfect. But why not be a little different, and try a Bordeaux rose wine? It would go perfectly with the salmon recipe below.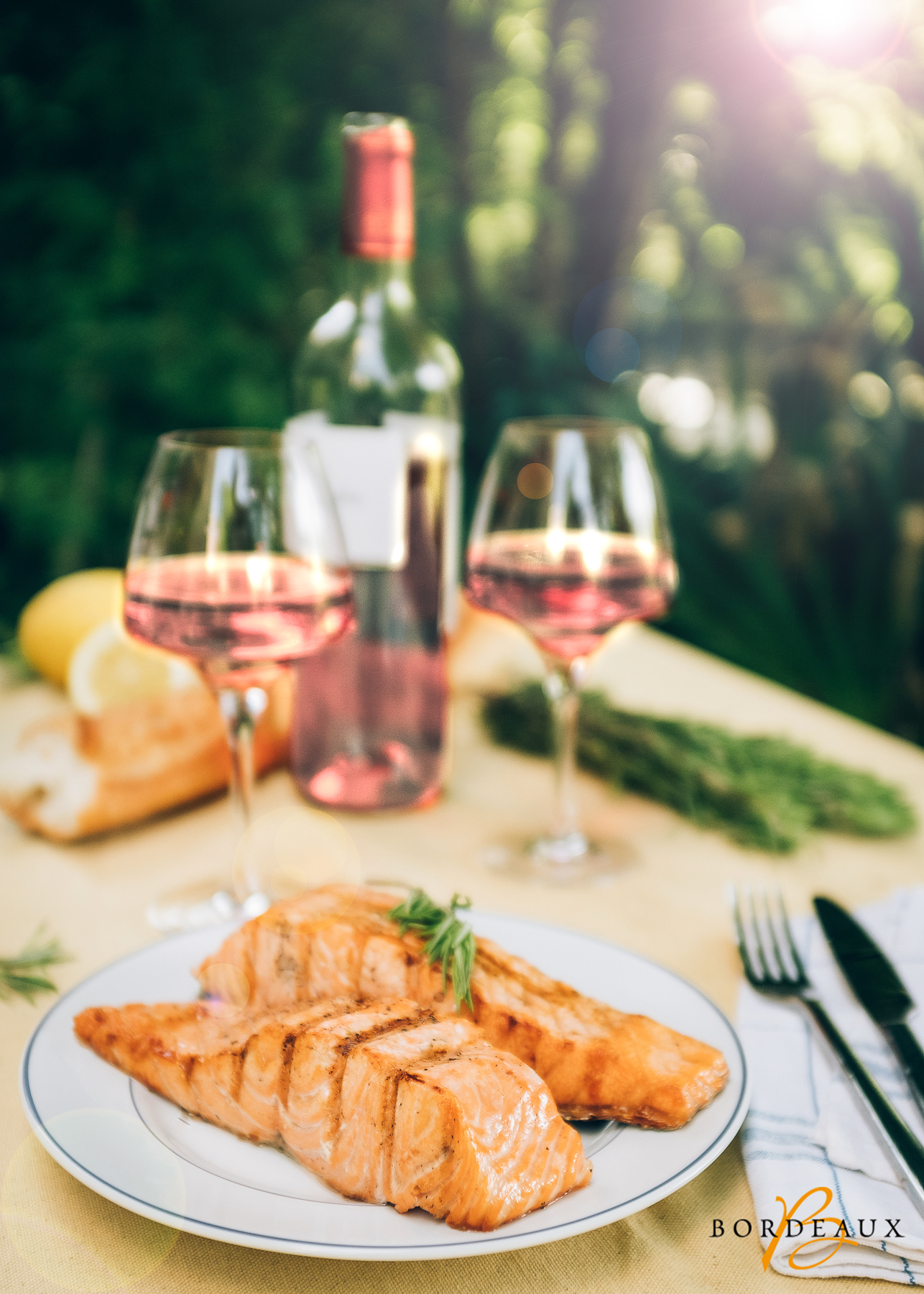 Ingredients:
3 tablespoons vegetable oil
2 tablespoons soy sauce
1 tablespoon minced garlic
1 tablespoon lemon or lime juice
1 teaspoon grated fresh root ginger
2 tablespoons honey or brown sugar
3 tablespoons Barbecue sauce
700g salmon fillet
Method
Stir the soy sauce, garlic, lemon juice, ginger, sugar, barbecue sauce and vegetable oil together in a large resealable bag until the sugar has dissolved. Add the fish, toss until coated, and let it marinate in the refrigerator for at least 1-2 hours.
Preheat the barbecue to a medium heat.
Place salmon on the preheated barbecue and cook for 6-8 minutes per side until it flakes easily with a fork.
Which Bordeaux wine should you choose?
As an interesting serving idea we suggest you to pair salmon with a Bordeaux rosé, such as a refreshing Taste the Difference Bordeaux Rosé – a very pale, yet elegant and firm rosé with a dry finish.
Barbecue chicken
Whether you prefer chicken breasts or chicken skewers this simple marinade is so easy to prepare and makes delicious, moist chicken.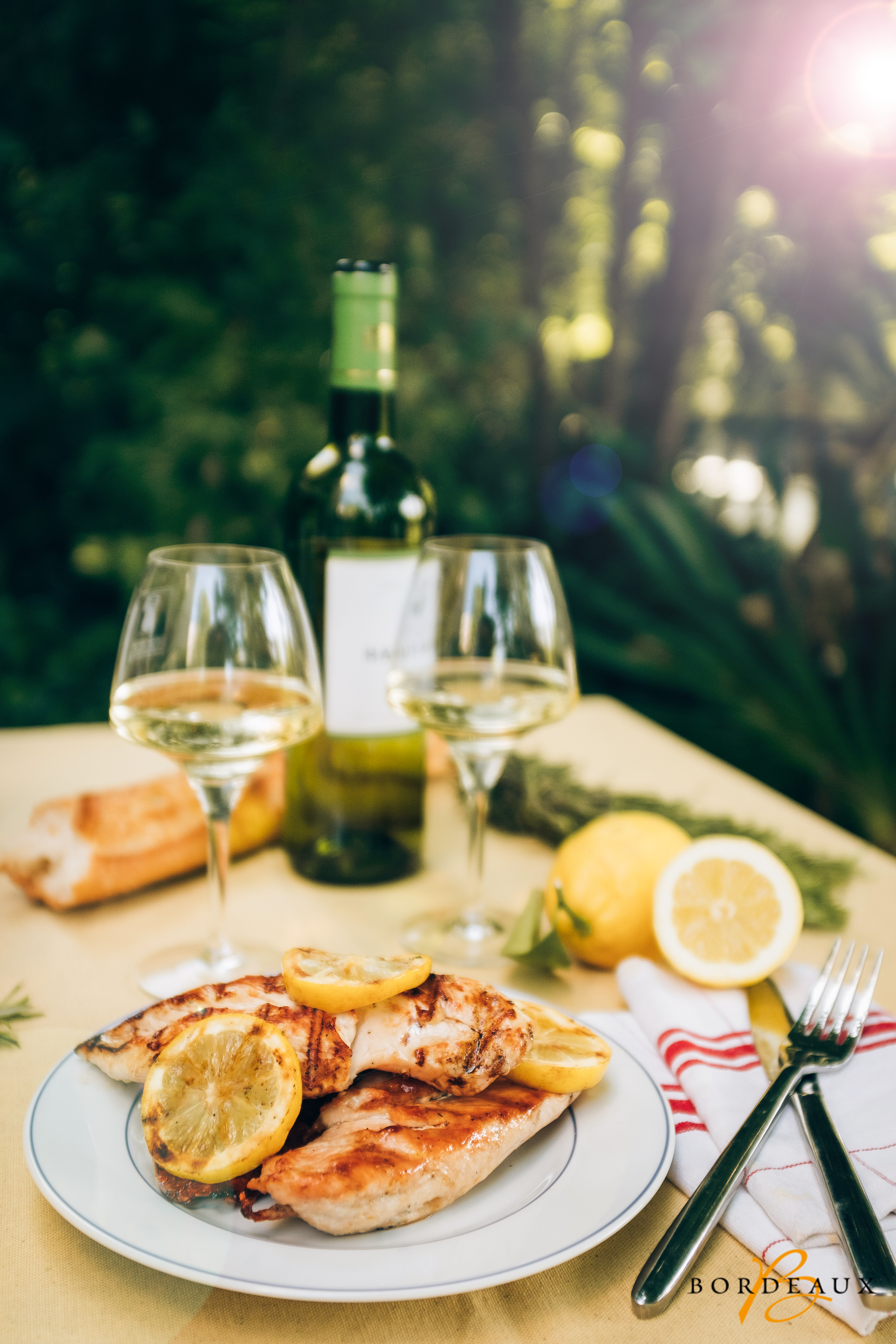 Ingredients:
200g Greek yoghurt
1 teaspoon lemon zest
2 tablespoons fresh lemon juice
2 teaspoons dried oregano
1/2 teaspoon salt
1/2 teaspoon ground black pepper
1/2 teaspoon crushed dried or fresh rosemary
500g skinless, boneless chicken breast fillets cut into 2.5cm pieces or cooked as a whole
Method
In a large baking dish, mix the yogurt, lemon zest, lemon juice, oregano, salt, pepper and rosemary. Place the chicken in the dish, and toss to coat. Cover and marinate 2-3 hours in the refrigerator.
Preheat an outdoor barbecue to a high heat.
If using whole chicken breasts place them on the barbecue. If using skewers – thread the chicken and alternatively add red onion and sliced peppers.
Cook until the chicken is no longer pink and the juices run clear.
Perfect poultry deserves a wonderful wine
For our citrussy barbecue chicken, a Sauvignon Blanc would be the best match. Try a nutty, toasty M. de Malle from the Graves region of Bordeaux, or a crisp and vibrant Château La Rose du Pin from the Entre-Deux-Mers region. Did you know that this region is situated between the Dordogne and the Garonne rivers, hence its name "Entre-deux-mers" which means "between two seas"?
Marinade away!
Whichever recipe you end up cooking we hope you have a great barbecue season enjoyed with Bordeaux wines!