Party season is nearly here – get ready with these easy recipes paired with Bordeaux wines
It might be unseasonably cold for this time of year, but that doesn't mean the spring party season – and warmer weather – won't be with us soon. To help you get into the party mood, here are three simple-to-prepare recipes – and, of course, each has been carefully paired with the perfect Bordeaux wine. Enjoy!
Springtime sausage rolls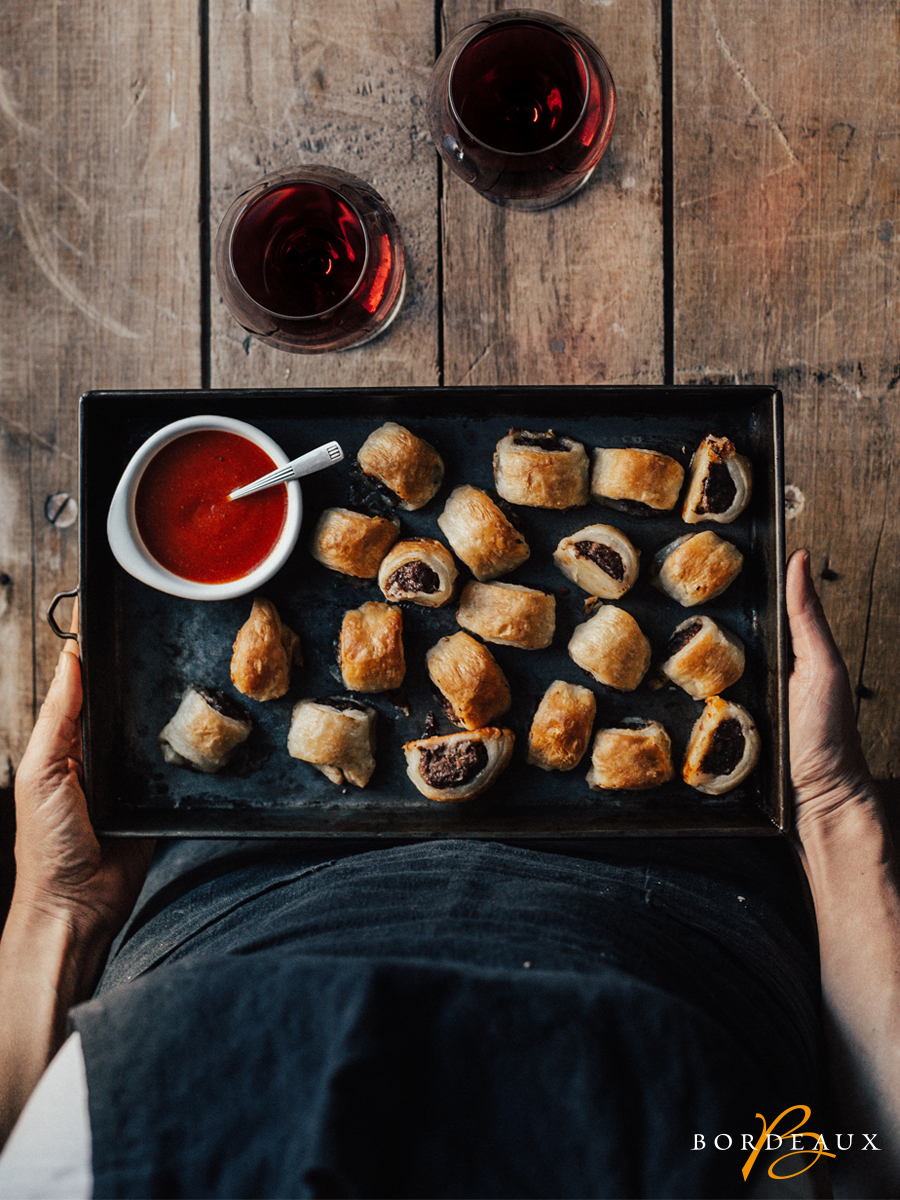 Ingredients
3-4 garlic cloves, chopped

1 red onion or shallot, peeled and finely chopped

400g pack sausage meat or sausages

1 pack ready-rolled puff pastry

1 beaten egg
1 tsp dried sage

Salt and freshly ground black pepper
Method
Preheat the oven to 200C/gas mark 6.
Remove the skin from the sausages and place in a bowl with the chopped onion, garlic and sage. Season well with salt and freshly ground black pepper. Mix thoroughly.
Roll the puff pastry into a large rectangle, then cut into two long rectangles.
Place a layer of sausage mixture down the middle of each pastry rectangle, then brush each with beaten egg on one edge.
Fold the other side of the pastry over onto the egg-washed edge. Press down to seal, and trim any excess. Use a sharp knife to cut each pastry roll into 8-10 sausage rolls.
Brush more egg all over the pastry. Place in the oven and bake for about 20 minutes until the pastry is puffed and crisp and the meat has cooked through.
Serve with a Saint-Émilion wine, such as Fortin Plaisance. This wine with its red cherry scented fruit, has a delightful brightness and vibrancy, which with its smooth finish will bring a refined touch to your sausage rolls
Crispy garlic bread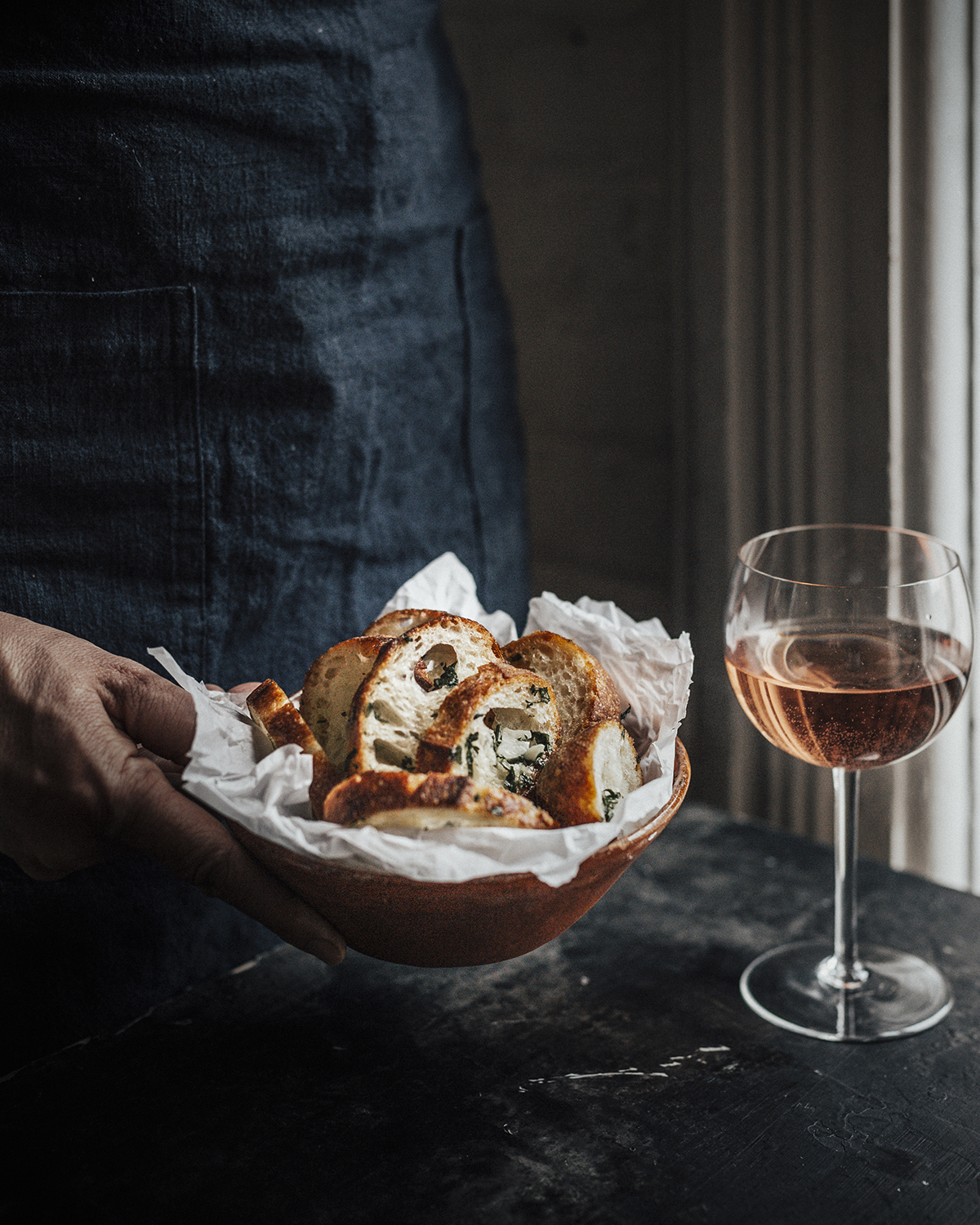 Ingredients
60g butter, softened

2 garlic cloves, crushed

1 loaf crusty bread, baguette or ciabatta

2 tablespoons chopped fresh flat-leaf parsley leaves
Method
Mix together the butter, crushed garlic and parsley in a bowl.
Heat oven to 200C/180C fan/gas mark 6. Slice the loaf into about 12 slices but not all the way through, leaving the base intact to hold it together.
Spread the buttery mixture over the cut bread.
Wrap the bread in foil, place on a tray and bake for 5–6 mins, then peel back the foil. Cook for a further 4–5 mins to crisp up.
Serve this mouth-watering garlic bread warm with a glass of Bordeaux Rosé such as Taste the Difference Bordeaux Rosé. With its pretty, pale rose colour, and its delicious flavours of fresh raspberry, this dry, elegant wine will be a perfectly refreshing complement to the garlic bread.
Indulgent cheddar soufflé
Ingredients
1 tsp of Dijon mustard (or any yellow mustard)

150g sharp-tasting cheese, like cheddar

50g unsalted butter, plus extra for greasing

25g breadcrumb

50g plain flour

300ml milk

4 eggs
Method
Preheat the oven to 200°C/fan 180°C/gas mark 6. Brush 8 standard 8cm ramekins with the softened butter and sprinkle with the breadcrumbs.
Melt the remaining butter in a pan, then add the flour and mustard. Cook for a few minutes, then gently stir the milk into the roux (sauce) using a wooden spoon over a low heat. Keep stirring until all the lumps have gone and the sauce starts to thicken, for about 3 minutes. Once the sauce is thick take it off the heat and stir in the grated cheese.
Separate the egg yolks and whites. Lightly beat the yolks and whip the whites until stiff, but don't overbeat them.
Mix the yolks into the cheese sauce until well mixed. Immediately mix one-third of the egg whites into the warm soufflé mixture with a whisk, then, using a large spoon, fold in the rest.
Spoon the mixture into the ramekins or dish, just up to the rim. Bake individual ramekins for 8-10 minutes or 25-30 minutes for a large soufflé until risen and golden, then serve immediately. 
Pair the warm soufflé with a red Bordeaux wine from Haut Médoc, such as Château Malescasse. This wine's delicate and mature aromas of Assam tea, fruit and subtle oaky notes beautifully complement the rich flavours of the soufflé.
Spring into action
So there we have it – three amazing recipes and three amazing wines. Why not give them a go at your next party and let us know how it went?