Which kind of Bordeaux wine best suits your astrological sign?
Do you usually just grab the same bottle of wine from the wine shelves, or do you reach for something new? Have you ever considered that the zodiac could have an influence on your taste in wine? We have conducted research on which Bordeaux wines could most suit your astrological sign – so why not give it a try!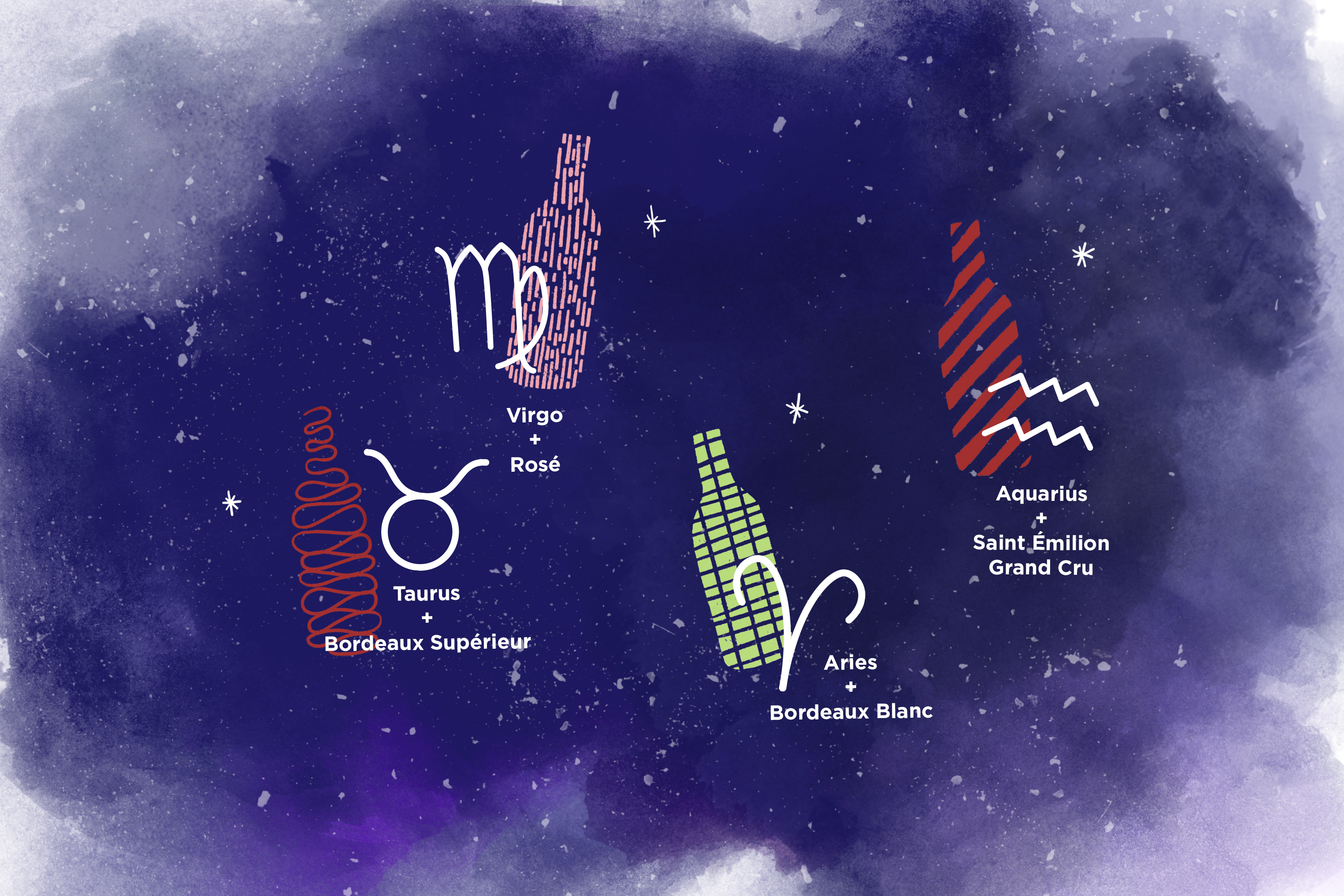 Aries – Bordeaux Blanc
Aries enjoy a wine that is as lively as themselves and that has a bold freshness, which is underappreciated. Aries are brave, honest, and direct. They love to go out and grab life by the horns. Their versatility is best reflected in a classic Bordeaux Blanc, a wine that suits every occasion. Wine recommendation: Château Thieuley.
Taurus – Bordeaux Supérieur
An epicurean, the Taurus prefers to depend on the classics, instead of experimenting. Therefore, a Bordeaux Supérieur is just right. Classic, ripe, and with a good structure, this wine tastes best in the Taurus' natural habitat: on firm ground. Wine recommendation: Château Les Reuilles.
Gemini – Crémant de Bordeaux
Geminis are the most sociable of all the astrological signs; they like to laugh and entertain. A sparkling Crémant de Bordeaux is perfect for their lifestyle. This wine is beautifully bubbly just like the Gemini's personality, and is ready for a toast when a celebratory occasion arises. Wine recommendation: Les Cordeliers Brut.
Cancer – Pessac-Léognan
The elegant and structured white wines from this region perfectly complement the profound emotional life of the Cancer. Cancers are sociable, good listeners, and enjoy sharing a glass of wine with those dear to them. These full-flavoured, dry white wines, with a splash of oak, and that extra depth of flavour transport them back to their living-rooms, which is their favourite place on earth. Wine recommendation: Château Tour Léognan.
Leo – Margaux
Wines from this region are as noble and exclusive as Leos, and therefore a perfect match. Charming and generous, they adore the finer things of life, and those upscale red wines most definitely fit the bill. Love, dedication, and work go into producing a wine from Margaux – something that those born in July and August can certainly understand. Leos spoil their loved ones as much as themselves and know that a true friendship deserves to be celebrated with a special wine. Wine recommendation: Croix de Boyd-Cantenac.
Virgo – Bordeaux Rosé
Honest, reliable, and likeable are the first words that one associates with the Virgo. Virgos appreciate straightforwardness, like to know where they stand, and are therefore well served with a Bordeaux Rosé. Mineral, with a delicate fruit, and a rounded harmonious crisp note, these wines can certainly add a fresh touch to an evening. Wine recommendation: M of Margot.
Libra – Loupiac
Libras treasure harmony, appreciate the beautiful things in life, and are interested in both the new and traditional. The vibrancy and opulence of a good sweet white wine from Loupiac will charm a Libra, and thanks to its rich aromas of candied and tropical fruit, fig and honey, with notes of gingerbread, yellow flowers, acacia and currant, it will quickly become a new favourite. Wine recommendation: Château Dauphiné Rondillon.
Scorpio – Côtes de Bourg
The Scorpion is the most passionate of all the signs, and the most mysterious. Loyalty is as important to them as honesty, and they are very ambitious. The complexity of this sign is perfectly reflected in a wine from Côtes de Bourg region. These full-bodied reds Bordeaux will ignite the Scorpio's inner fire, and its aromatic intensity makes it an ideal wine for this sign. The Scorpio will enjoy drinking these wines with their closest friends and loved ones. Wine recommendation: Château de la Grave 'Caractere'.
Sagittarius – Entre deux Mers
Enterprising, open, and tolerant, Sagittarius' are welcome everywhere, make friends easily, and are always optimistic. So they pair well with a lively and fruity wine, especially a white wine from Entre-Deux-Mers white wine. The freshness and aromatic structure of these wines will satisfy the taste buds of the Sagittarius and also offer in one way or another surprises, which do not go unnoticed by members of this sign. Wine recommendation: Château Moulin de Launay.
Capricorn – Haut Médoc
Capricorns are helpful, they know exactly what they want, and work hard to achieve their goals. Compact with precise tannins, wines from Haut Médoc contain a pronounced woody note that bring an aromatic immediacy, which the Capricorn knows how to appreciate. Wine recommendation: Baron Edmond de Rothschild Haut Médoc.
Aquarius – Saint Emilion Grand Cru
Aquarius' brim with ideas, are independent, love their freedom, and enjoy spending time with new and familiar people. They are particularly capable of appreciating the combination of aromatic depth and succulent fruitiness of a Saint Émilion Grand Cru. This wine features a light freshness and a mature taste that makes for a perfect combination. Wine recommendation: Château Cruzeau.
Pisces – Sauternes
Imaginative, creative, and open, Pisces are always ready to try new things, especially in the culinary realm. The opulent flavours that a Bordeaux sweet wine from the Sauternes region offers will inspire members of this astrological sign and ignite their dreams. Thanks to their sensitive flair, it will be easier for them to fully understand and enjoy these complex wines. Wine recommendation: Château Liot.