Red Bordeaux : Behind the Scenes
There is nothing that says red wine like Bordeaux, as the wines are some of the most recognizable in the world. But great Bordeaux doesn't stop with the most recognizable labels! While the 1855 Classification wines are well known on the global market (and rightly so), they represent a mere 4% of total production. This means there's quite a bit of wine left to discover; and with the average price per bottle of Bordeaux at $20, filling up your cellar won't cost you an arm and a leg to do so. But how well do you really know the region and what goes into making a red Bordeaux blend? It never hurts to brush up on the basics, so let's get started!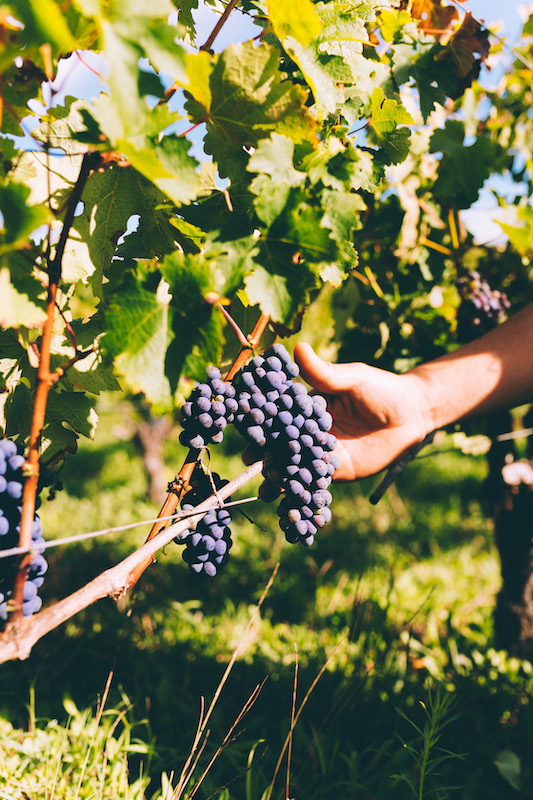 The Varietals 
Bordeaux's red varietals are now international, as their reputation led to them being planted in the 4 corners of the Earth. While these grapes have a common core of characteristics, the terroir and climate are essential to their expression.  Bordeaux is particularly unique in this respect, thanks to its oceanic climate and variety of soil types. This allows winemakers to choose the best soil for each grape from within the same region (or even property!). Indeed, Bordeaux's winemakers have honed and refined their knowledge of these grape varieties and have adapted their labors to each terroir, resulting in a preservation of each variety's unique characteristics. The blend of these varietals creates the unique Bordeaux wines we know and love. Let's take a closer look at them now. 
First up, Merlot. This grape represents 66% of the red varietals planted in the Bordeaux vineyards. Although it's found all over the world today, it is nevertheless in the Bordeaux region that Merlot reaches true greatness. This varietal is difficult to cultivate despite being an early-ripener, and prefers cool limestone and clay soils. It can reach high alcohol levels, is aromatic with lush red fruit, and has silky, soft tannins.  
Next, we have Cabernet Sauvignon. Despite being the grape most associated with Bordeaux, it represents a more modest 22% of total vines. It is no surprise that this blends wonderfully with Merlot, as Cabernet Sauvignon is a varietal providing great structure and more herbaceous notes. It has healthy acidity, powerful tannins, and can age for many decades, all while remaining approachable young. It is happiest on gravel soils, and thus dominates the Left Bank soils of Bordeaux.  
The third varietal often gets less attention in the press, but it is no less noble! We are talking about Cabernet Franc, of course, which represents 9% of the red varietals. This is the genetic elder of Cabernet Sauvignon and is a beautiful varietal of elegance and freshness. It yields notes of smoked meat and bell pepper, as well as black pepper and spice. This grape grows well in clay-limestone soils.  
Two additional grapes are often used for blending and represent a small percentage of total red vines. These are Malbec (2%) and Petit Verdot (1%). The first is gaining renewed interest, can age well, and offers up floral notes such as violets. The second gives fine tannin and deep color to the wines.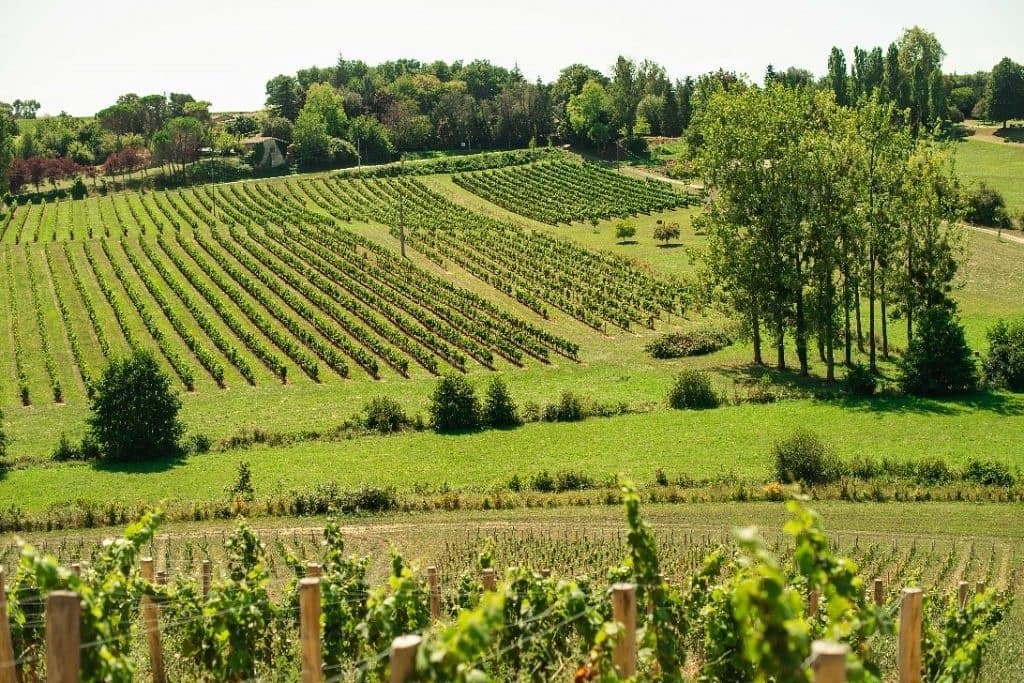 The Terroirs
Bordeaux is a wine region defined in large part by its relationship to water. Two rivers cut through the region: the Garonne and the Dordogne. These come together as they approach the Atlantic, forming the Gironde estuary, which is the body of water dividing the north of the region into two "banks" (left and right). Bordeaux's vineyards can't be reduced to this divide, however, as there is much more to explore. Indeed, in addition to the regional appellations "Bordeaux" and "Bordeaux Supérieur", Bordeaux's subregional divisions make it one of the richest and most diverse vineyards in the world! 
Let's start with the Left Bank. This is a strip of land running along the Garonne in the south, and the Gironde in the north. In the south, reds are made in the Graves subregion. This is celebrated for its gravel and sandy soils, producing refined and elegant wines. In the northern Left Bank is the Médoc. This strip of terroir is surrounded by water, as it sits on the banks of the Gironde on its eastern half, with the Atlantic Ocean to the west. The wines of the Médoc are traditionally dominated by Cabernet Sauvignon, which excels in this terroir.  
Nestled between the Gironde and the Dordogne is Entre-Deux-Mers (literally "between two seas"). A diverse and large subregion of Bordeaux full of forests, hills, and streams, its red wines can vary greatly in style depending on the soil and blend as the soil allows for a diversity of varietals. Although the appellation "Entre-Deux-Mers" is reserved for whites, this geographical area produces reds under several appellations such as Bordeaux Supérieur, Côtes de Bordeaux, and Graves de Vayres. This area is full of hidden gems at competitive prices. 
Moving right along, we have the Right Bank. Along the Gironde are Blaye and Bourg, with their rolling vineyards and Merlot-friendly soils of clay and limestone. These are a well-kept secret, with reds full of charm and expressive in their youth! To the south is the "Libournais". This area is most famous for Saint-Emilion and Pomerol, but it includes a whole cluster of small appellations well worth your attention! Whereas the Médoc is dominated by Cabernet Sauvignon, the Libournais is responsible for putting the Merlot varietal on the map, as it often dominates in the blends produced there. While Merlot is often responsible for between 50 and 70% of the blend, the second varietal is not Cabernet Sauvignon, but Franc! Merlot really thrives in the loamy soil (granular sand-clay-silt soil rich in nutrients) found in the area, while Cabernet Franc is fantastic in gravel and sand. 
The Blends 
It's easy to forget, but color in red wine doesn't come from the juice! The skins supply its hue and flavor, but obtaining it is a delicate process. The tannin and flavors can be dramatically different depending on how they are extracted, so an expert hand is required. Extraction is like making tea: if the leaves sit in the water for too long, you have a dark, bitter, and tannic result…you've over-infused. But little to no extraction at all means you've missed out on all the flavor! Striking the right balance in wine depends on the varietal, the vintage, and the desired style of the winemaker.  A varietal such as Cabernet Sauvignon is capable of high tannin-levels, while Merlot is more supple and fruity. To each grape its extraction risks and rewards! The winemaker's artistry is revealed in walking this tightrope in order to create unique wines which faithfully express their varietals and terroirs.
Another important factor that plays a role in a red wine's final expression is élevage, or aging. Global trends have moved away from heavy new oak use in recent years, and Bordeaux is experimenting with various combinations of used oak barrels, steel or concrete vats, and even amphora! The goal with these aging options is to retain freshness, pure fruit, and vibrancy.  
Once each varietal has been fermented and aged in its chosen vessel, the winemaker must choose the blend, which is no easy task. This comes down to tasting the resulting wines and determining how each can best contribute to expressing its terroir. For a producer in Fronsac or Pomerol, this may mean determining the ratio of Merlot to Cabernet Franc this vintage, whereas in the Médoc Cabernet Sauvignon may dominate in the blend year after year. Winemakers will spend all year thinking about their blends, as questions of acidity, alcohol levels, and tannin all need to be accounted for in order to provide a unique expression of each property's terroir.  
The art of the blend is mastering this long process, from vineyard to bottle. With five varietals currently being used in the region, red Bordeaux is a many-faceted category. With so much diversity in Bordeaux, we can be sure of one thing: there's a wine for everyone…and for every occasion!