Bordeaux People's Choice: Noah Schwartz
Last year, we launched the very first Bordeaux Fan Awards "People"s Choice". This year we"re back with more enthusiastic fans, starting with Noah Schwartz.  
Noah was born in Oregon, went to college in NY State, worked and lived in London for 10 years, and based in Connecticut since 2010. He worked in investor relations for 13 years and hated it. He started a food and wine blog in 2009 (laissezfare), and eventually transitioned to the wine industry in 2012. Now Noah is working as a writer for a large direct-to-home wine merchant with businesses in the UK, US and Australia.
How were you first introduced to Bordeaux Wines?Originally at a wine tasting class in London run by Michael Schuster.
What do you like most about Bordeaux Wines?I love that there are many styles (crémant, white, rosé, red). The whites can be simple/crisp/refreshing to extremely complex and age-worthy. The reds can also have youthful charm at the entry level, but as everyone knows, the top examples can be some of the most complex, appetizing, age-worthy reds on the planet.
I find it fascinating that such a range of truly distinct reds can be made in what's a fairly small area – from the plusher, more forward, Merlot-dominant reds of the Right Bank to the more austere and structured classics from the areas/villages of the Left Bank. And nearly all the wines are extremely food-friendly. Lastly, I just find the history of the major families and châteaux fascinating. There is so much to learn and appreciate.
Tell us about your favorite Bordeaux WinesLa Sirène de Giscours 2012, Margaux ($29):
it's rare to find Margaux-appellated reds at this price, and from such a reputable château (Giscours). This is their 'second' wine, and it does have that hallmark, hauntingly beautiful nose of a fine Margaux. While it is already very approachable, with no harsh tannins and plenty of charming dark fruit and toasty notes, it did seem to lack a bit of concentration and drive, and the texture felt a little 'thin' for the price point and producer. While perfectly nice, it didn't come across as very memorable. Perhaps the wine was just 'shut down' at this stage? Also, 2012 was a very difficult growing season, so this may have been evident in the wine. 3 Grapes

Sarget de Gruaud Larose 2012, Saint-Julien ($29): wow, a very impressive wine, especially for the vintage. The 'second' wine from Gruaud Larose, but provides serious bang for the buck, with mineral complexity, brooding dark fruit and subtle oak treatment – very typical of fine Saint-Julien. It has a beautiful, smooth texture and real mid-palate weight. This is drinking deliciously right now – unlike many wines from this village, it is nice to sip on its own) – and should hold for another 5-8 years. A great buy for this vintage. 5 Grapes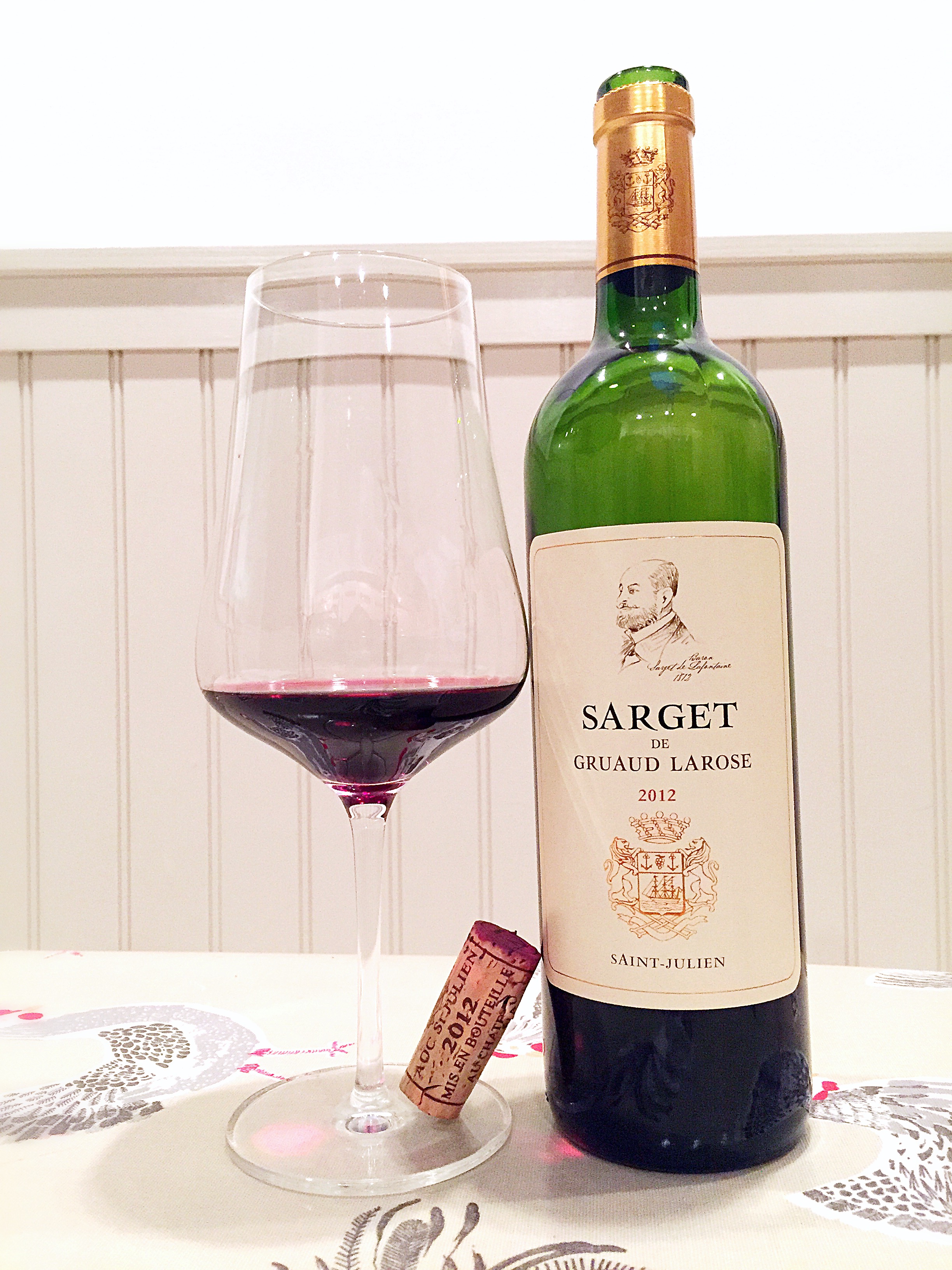 Château Le Grand Verdus 2010, Bordeaux Supérieur ($19):
This was a Merlot-dominant blend from the Entre-deux-Mers region and the fantastic 2010 vintage, and is more open and generous than the Left Bank. It is drinking well now and perfectly suited to simple weekday dinners. The flavors are quite mild and rounded, and more red-fruit based. 3 Grapes
What would you pair with your favorite wines?Roast lamb or côte de boeuf for reds, roast chicken or fish with creamy sauce for whites.
On what occasions do you drink Bordeaux?I drink more affordable reds and whites for weekday meals at home and more special reds and whites reserved for hearty weekend meals (roasts, etc.)
Did you discover anything unexpected from this experience?Yes, that price doesn't always directly correlate to pure sensorial enjoyment – and that humble wines from great vintages can provide fantastic value.
Thanks Noah!