Rosé Season: 3 Salad Pairings for Summer Days
It's way too hot outside to cook, so it's refreshing salads and rosé to the rescue! Rosé has earned its place as the most summery of all wines, pairing best with long poolside days, picnics, outdoor dinner parties, and basically any day the thermometer cracks 75 degrees (who is really counting)? 
To go along with it, we're here with our favorite summer salads to accompany your glass(es) of chilled Bordeaux rosé wine.
Grilled Watermelon Salad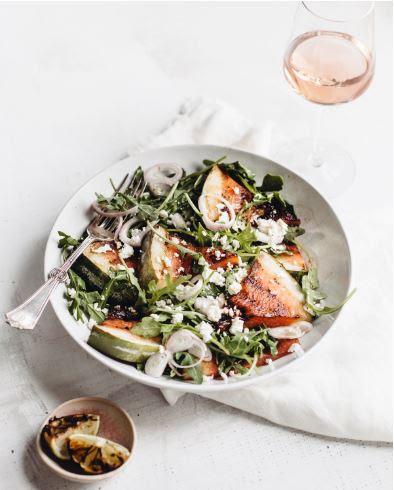 Ingredients:
Rocket salad
300g seedless watermelon, cut into triangles
1 shallot
1 lime, halved
100g feta cheese
2 tablespoons sesame oil
Salt and pepper to taste
How To:
Simply grill watermelon triangles for a few minutes, then arrange them with feta and sliced shallots on top of the rocket salad. For dressing, squeeze fresh lime, sesame oil, salt and pepper – yum!
The Right Rosé:
Go for a fresh, fruity, light pink rosé. You'll taste notes of red currant, juicy pink grapefruit, and strawberries. Our pick? Château Penin Bordeaux rosé – delicate with light red fruits, refreshing and balanced.
Smoked Salmon Salad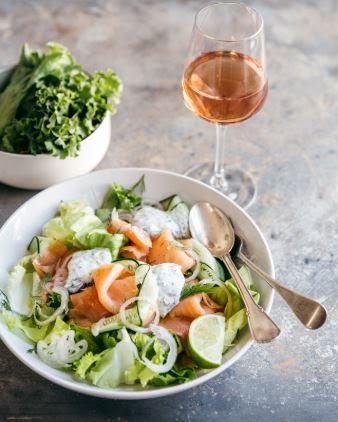 Ingredients:
150g – 200g smoked salmon, roughly torn
Lettuce or rocket salad
Crème fraîche
Juice of half a lemon or lime
Small bunch fresh dill, finely chopped
Salt and pepper
Olive oil
Optional: cucumbers, finely sliced and/or avocado, cut into pieces
How To:
Mix together crème fraîche, lemon juice and fresh dill in a small bowl. Season with salt and pepper.
Arrange lettuce or rocket in a bowl, then add smoked salmon on top. If using, add cucumber and/or avocado slices. Then spoon over the dressing on top.
Lightly drizzle with some olive oil and sprinkle a little more black pepper, if desired.
The Right Rosé:
Chai de Bordes Bordeaux Rosé – fragrant, elegant, and summer berry-forward!  Perfect for a sunny rosé day. 
Burrata with Tomatoes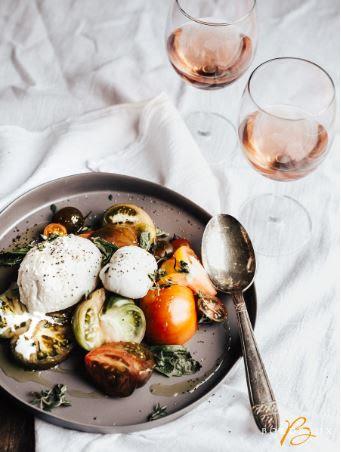 Whip up this super simple, cheesy, breezy, and delicious salad!
Ingredients:
Tomatoes of your choice – we recommend a mix of sizes and colors
Burrata or mozzarella cheese
Handful of basil
Olive oil
Salt and pepper
How To:
Roughly quarter tomatoes and arrange on a serving platter. Place burrata on top. Add basil leaves and sprinkle with olive oil. Season to taste.
The Right Rosé:
Creamy burrata goes best with Château Tour de Mirambeau Bordeaux Rosé. Pale in colour and dry with subtle rhubarb aromas, this bottle can't be beat when it comes to sipping alongside a summery salad.