Bordeaux Wine School
OenoBordeaux- Get the App!
This is a no-brainer: a mobile wine training application created by the Bordeaux Wine School exclusively for busy professionals. With in-depth information about wine and wine culture, facts about the appellations and terroirs, keys to food and wine pairing, best practices for wine service, merchandising and in-store demos, .… this is wine expertise at the fingertips. It's fun, it's free and it's available 24/7! Click here to download the OenoBordeaux app now.
Bordeaux Wine School partners with sevenfifty.com
Bordeaux Wine School (L'Ecole du Vin de Bordeaux) continues it educational partnership with sevenfifty.com to bring Bordeaux wine knowledge to industry professionals. If you're a regular reader of its highly informative newsletter, SevenFiftyDaily, then you've already seen "5 Facts to Know About Bordeaux Today". If not, we encourage you to access both SevenFiftyDaily and the Bordeaux Wine School.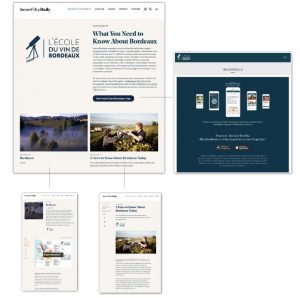 New tutors accredited in 2018 – Three new tutors join the ranks of Accredited Bordeaux Tutors
Jesse Becker, MS
Master Sommelier, CWE
Portfolio Specialist at Craft+Estate Chicago (Division of The Winebow Group)
Jean Reilly, MW
Wine Educator
Founder, Masterful Wine Events Orlando
Benjamin Roberts, CWE, Adv. Sommelier
State Portfolio Manager
RNDC Texas
If you would like the full list of accredited Bordeaux tutors across the United States please contact Shelley Cartland: shelley.cartland@vins-bordeaux.fr