Bordeaux + Soup Pairings We Can't Stop Sipping
Spring is coming out to play, but chilly days are still popping up and making us crave warming soups!
Whether you're cozying up at your favorite wine bar, or hunkering down on the couch for a quality Netflix marathon, we're here to share the ultimate Bordeaux and Soup Pairings to sip as we move out of winter.
If you're feeling adventurous, put on your chef hat and try out our favorite soup recipes so you can sip along while your soup simmers! Dining out? Just ask for these perfect duos:
Soupe à l'oignon: Côtes de Blaye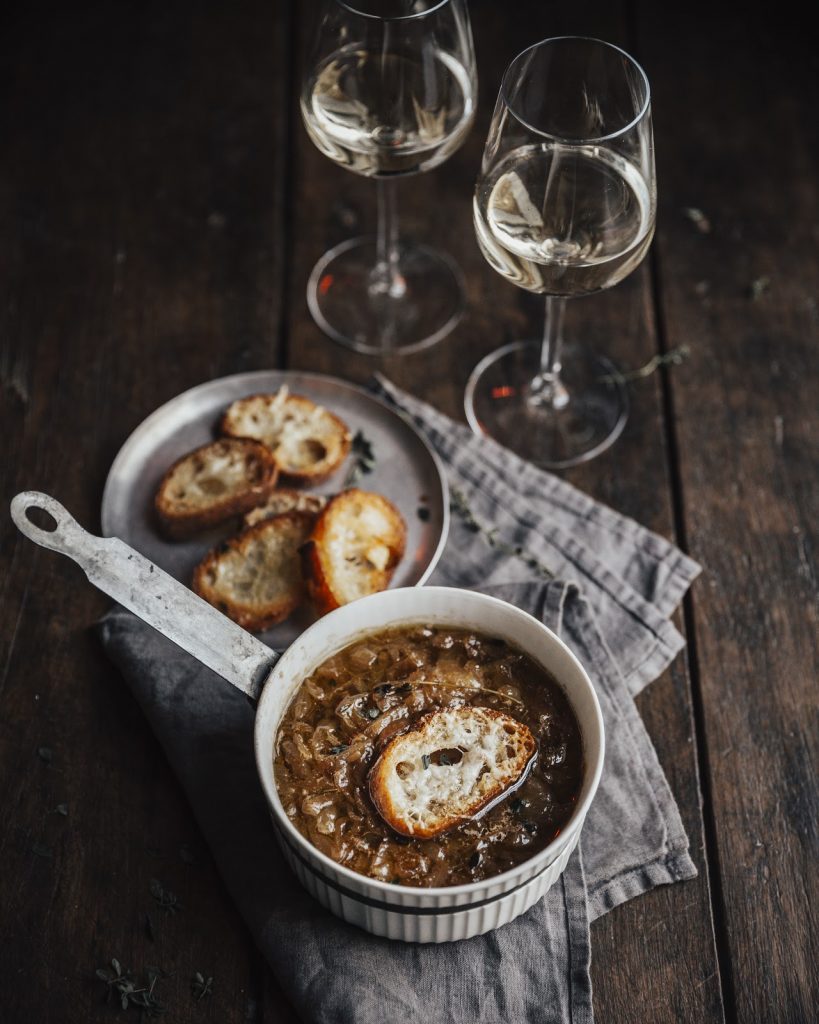 Is there any soup more perfect than French Onion? Bubbling cheese on top, steaming broth bursting with flavor, and the perfect French bread soaking up all that goodness? We could eat this all day, every day.
Ready for the perfect sip? Open a bright varietal from Côtes de Blaye. Rich, yet dry, these citrus-forward whites contribute a crispness that will play against the heartiness of the soup. Hints of grapefruit, peach, and rhubarb lend themselves to summer flavors, but paired with this winter soup stunner, Côtes de Blaye brings an ideal balance of flavor and body.
Pro tip: Grab a chunk of crusty bread and dip in! There's never enough bread or Bordeaux when it comes to treating yourself.
Soupe de tomates: Bordeaux rosé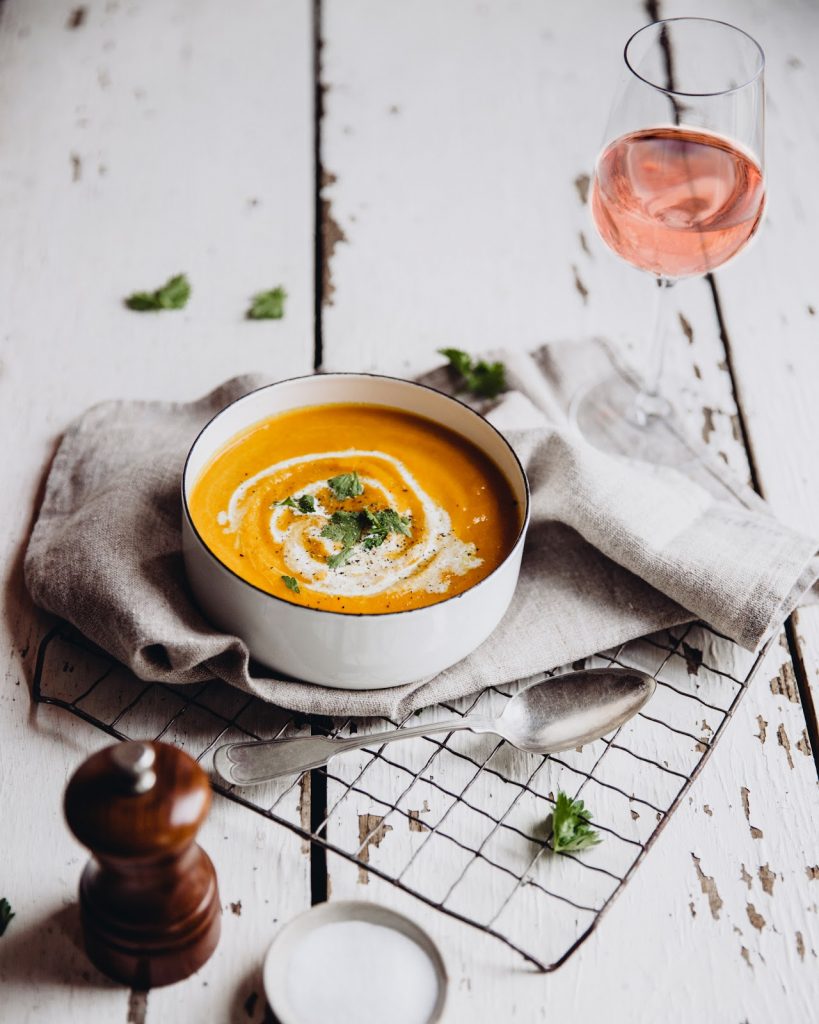 Millennial pink is everywhere, and we're totally on board! We're breaking out the Bordeaux Rosé to pair with velvety Soupe de Tomates.
A soup for any season, Soupe de Tomates brings back childhood memories. While there's nothing wrong with honoring a classic, make it a more grown-up memory by enjoying alongside a chilled glass of pink perfection.
Bordeaux Rosé shines with strawberry and gooseberry notes, and while light and decadent, it's the perfect choice to brighten up a gloomy winter day.
Soupe aux champignons: Blaye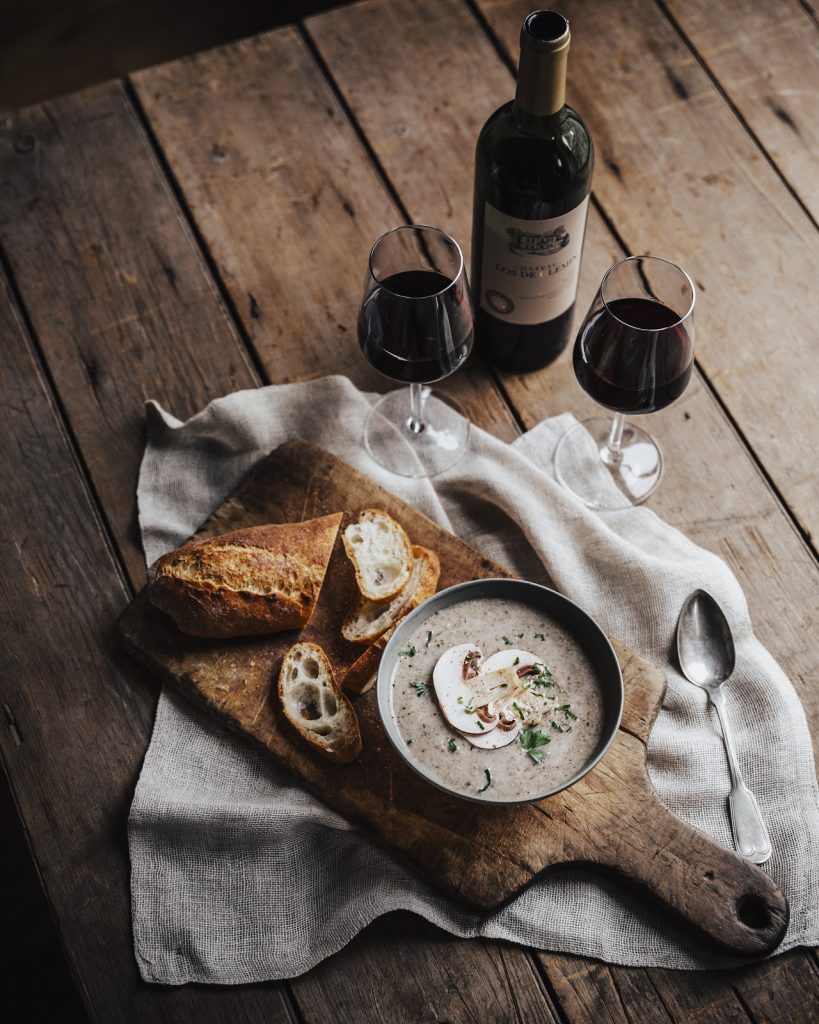 All hail umami! Mushrooms, the knockout ingredient featuring "the fifth taste" shines as a soup. Blended with herbs, cheese, and even a touch of dry sherry, this silky smooth soup brings earthy elegance to the table.To bolster Soupe aux Champignons, pour a balanced glass of Blaye red. With strong fruit flavors, it will brighten up the bold mushrooms in the soup without compromising richness and warmth. Notes of musk and spice work perfectly with the chilly season, making for an elevated comfort food experience. It's a pairing so addictive, you'll be begging the warmer months to stay away!