Flashback to the Harlem EatUp! Festival !
Once again, Bordeaux Wines was the wine partner (and the official wine of the Dine-In Harlem dinner series) at the 3rd annual Harlem EatUp! Festival – an exciting four-day sampling of Harlem"s sights, flavors, and sounds – and brainchild of Chef Marcus Samuelsson, celebrity chef and Harlem resident.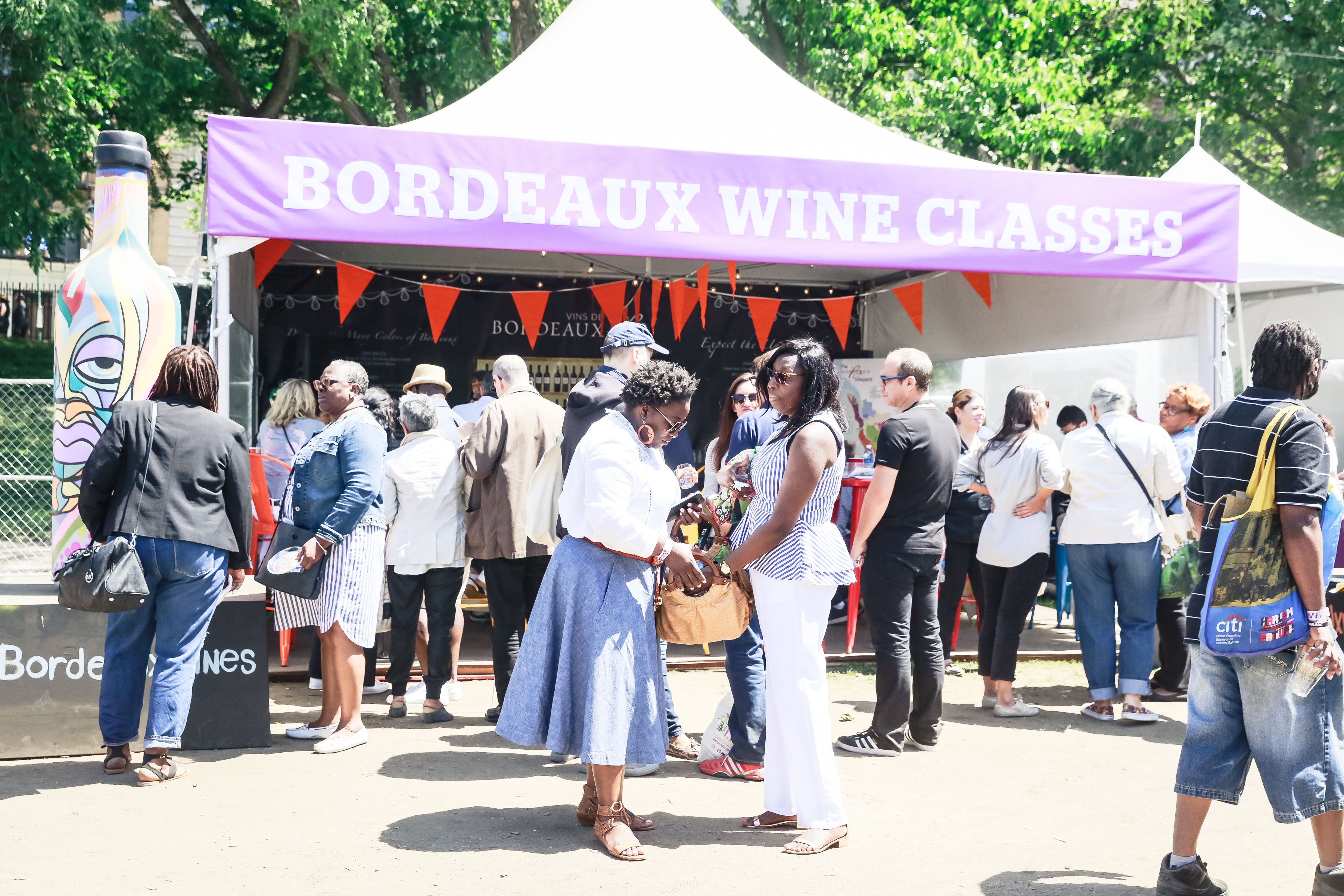 For the "Dine In Harlem" dinner series, Harlem"s hottest restaurants partnered with acclaimed guest chefs from NYC and across the country from May 16 – 19, presenting collaborative multi-course dinners celebrating Harlem's continuously evolving culinary landscape. All menus were paired with a delicious selection of Bordeaux wines — red, white, rosé, sweet and sparkling — something for every palate; and each dinner featured dynamic Harlem artists and performers, making "Dine In Harlem" one of the biggest multi-room dinner parties of the year!
Bordeaux had two significant footprints in the Harlem EatUp! week-end Marketplace (in Harlem's beautiful Morningside Park).
Firstly 'The Bordeaux Wine School' was in situ, offering 30-minute wine classes where festival attendees could discover the region and its diverse wines.  Throughout the two days of classes, two artists from The Harlem Artist Collective created a visual representation of Bordeaux on two giant wine bottles positioned at the entrance to the Bordeaux wine class pavilion.
Secondly, Bordeaux created an eye-catching Bordeaux Wines Bar, and hosted by three expert top sommeliers, serving tastes of 12 different Bordeaux wines each day, engaging and educating festival attendees about Bordeaux.
In all, almost 30 different Bordeaux wines were available to taste – all exciting, delicious and very affordable. Some highlights included
Calvet Brut, Crémant de Bordeaux Rosé  (Sparkling)
Château La Moulinière 2016 (Rosé)
Château Sainte Marie, Entre-Deux-Mers 2015 (Bordeaux Blanc)
Château Tire Pe Diem, Bordeaux 2015 (Bordeaux Rouge)
Château Clos Magne Figeac, Saint-Émilion 2014 (Rouge)
Château de Cérons, Cérons, 2008 (Sweet)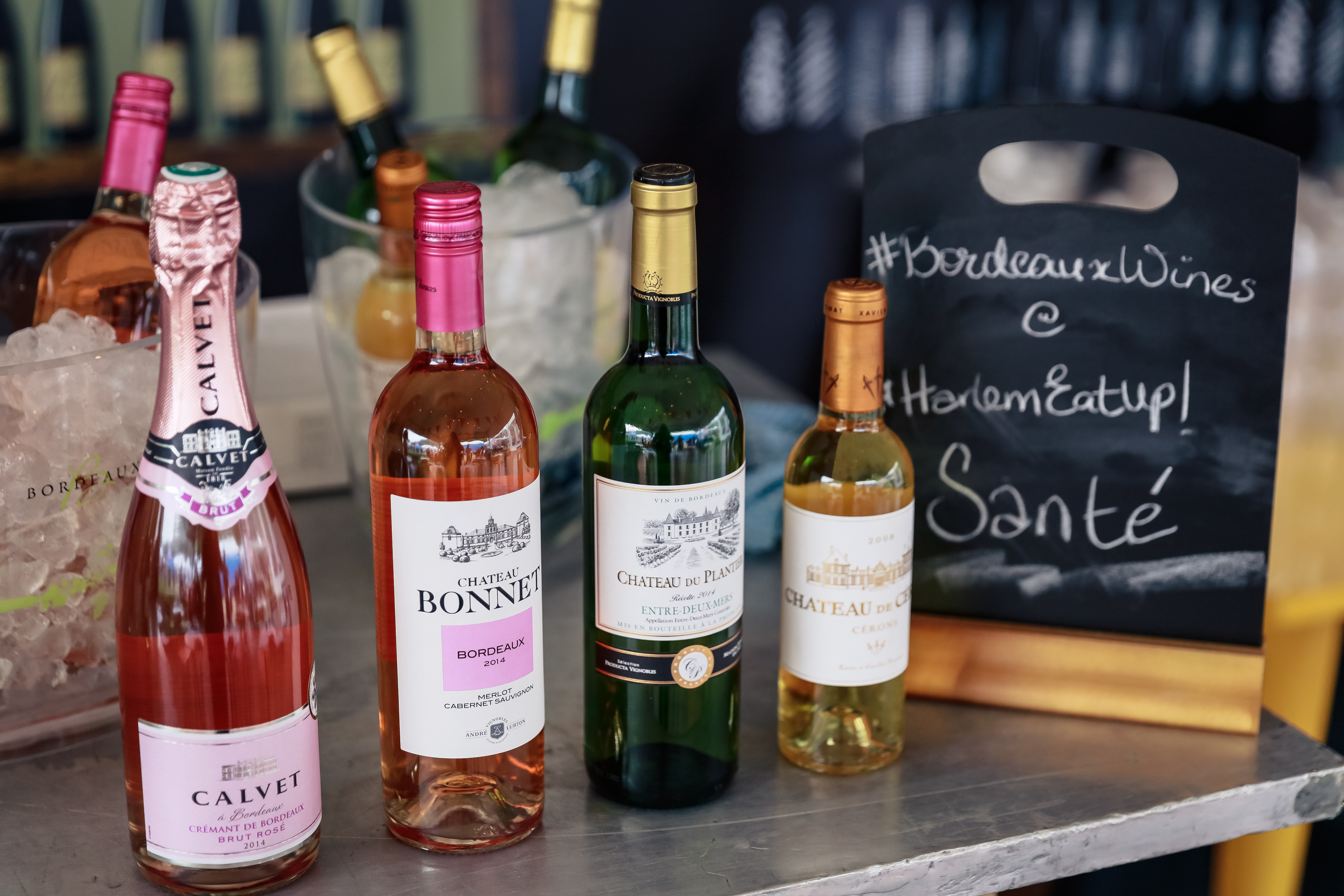 To amplify its reach and the Bordeaux buzz, Bordeaux Wines created (for the second time) an ancillary Bordeaux-By-The-Glass program for the entire month of May across Harlem with ten participating restaurants. For each glass of Bordeaux wine purchased during May, Bordeaux Wines is donating $1 per glass to the Harlem EatUp! Foundation. The aim is to raise $7000.
Enjoy Bordeaux wines while doing a good deed!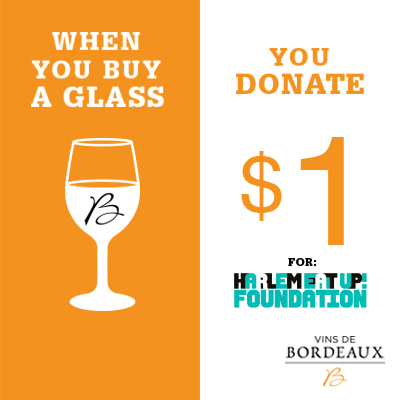 Follow the glass to discover the full list of participating restaurants and the range of Bordeaux Wines that they will be pouring. ⇒ http://www.bordeaux.com/us/bordeaux-in-your-city/new-york
Tag your favorites on social media with #bordeauxwines.