THE BATS OF BORDEAUX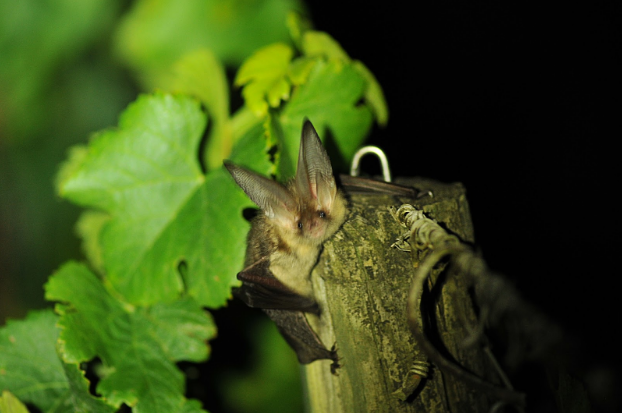 With consumers increasingly looking to make sustainable choices across all areas of their lifestyle and connect with brands that share their values, it is vital that the wine trade is not left behind.
For over 20 years, the Bordeaux wine trade has been committed to accountable and sustainable winegrowing. The trade's goal is ambitious: get 100% of the vineyards involved in environmental processes. In 2017, an impressive 60% of the Bordeaux vineyard was committed to sustainable practices.
The CIVB is leading a number of initiatives, both collective and individual, based on concrete, in-the-field solutions, which aim to plan for the future, reduce the use of pesticides, preserve biodiversity, facilitate side by side living, as well as handling the industry's environmental footprint better and providing hands-on solutions for environmental management.
As natural predators, bats have become choice allies in fighting certain insects on wine estates and since 2017, specific thought has been given to making the most of their presence. Exclusively insectivorous, bats can devour 2000 insects a night, which makes them precious assistants in the fight against grape tortrix, the moth, also known as Eudemis and Cochylis, which promotes the development of grey rot (Botrytis) in grape berries.
Consequently, several wine estates are promoting the settlement of bats in their vineyards by leaving old abandoned cabins in the vineyards or installing bat houses to shelter the colonies; watering holes or unmown grassy strips also make it easier for the bats to enter the rows of vines.
Thought is now being given to measures to take it on a more global scale (throughout an AOC, in particular) so that the bats can have enough food resources year round (outside of the grapevine moth "season") and thus make the settlement of colonies more permanent and allow them to consume as many harmful moths as they like.
Sustainability in the Bordeaux vineyards will be one of the key themes explored at the Vinexpo Symposium at Vinexpo on 14th May 2019.

Find out more about Bordeaux's sustainable practices by visiting Bordeaux Goes Green