Food and wine pairings
Laurent's All-Chocolate Table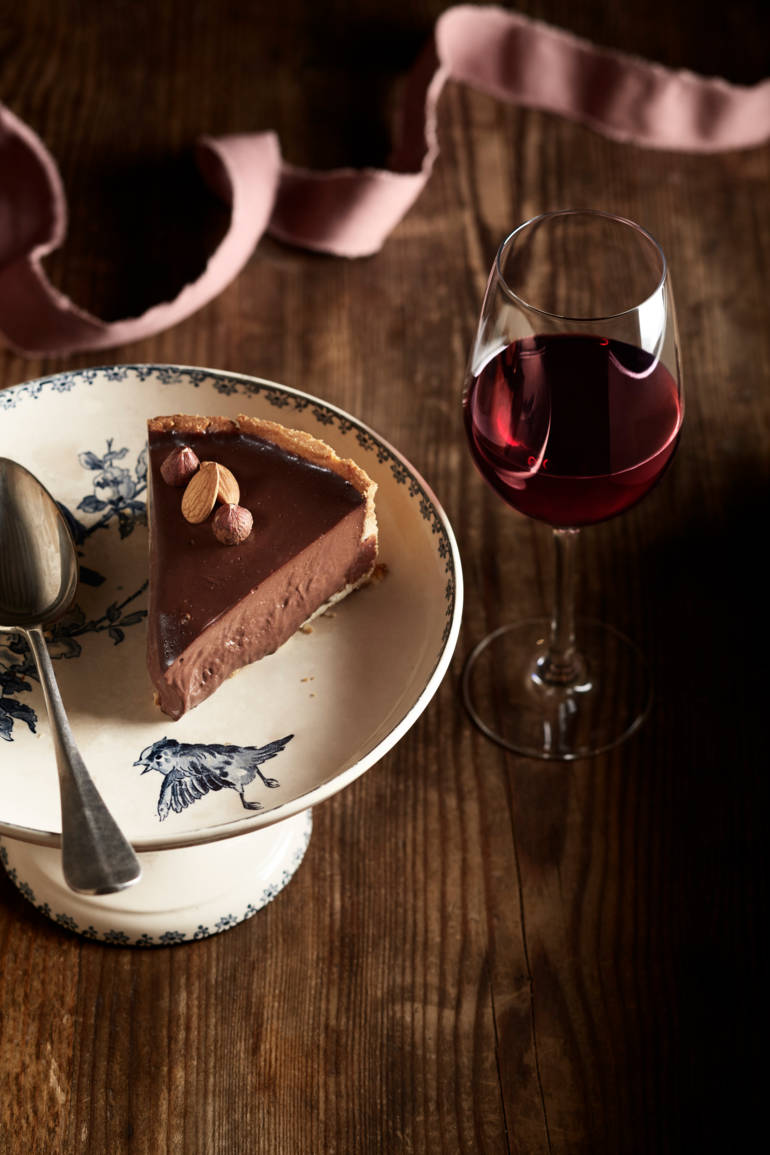 Granny's Tart
For 8 people
CLASSIC WINE PAIRING
A melt-in-your-mouth pairing with this round, Merlot-dominant Saint-Georges Saint-Émilion and this chocolate nut pie.
ORIGINAL WINE PAIRING
A pairing based on suppleness: the delicate, smooth tannins of the red wine marrying the pie's sweetness.
INGREDIENTS
Tart Crust:
120g of butter (remove from fridge 10 mins before making the crust)
90g of icing sugar
30g of ground almonds
250g of pastry flour (T45)
1 whole egg

Dark Chocolate Ganache:
300g of dark chocolate
200g of single cream (i.e. 20cl)
3 whole eggs

Filling:
60g of nuts (almonds, macadamia nuts, pecans, pistachios, hazelnuts, walnuts, etc.)

Tart Crust: In a mixing bowl, cut the butter into small pieces, mix together with icing sugar and ground almonds. Fold in the flour and egg, then knead by hand. Shape into a ball, wrap in cling film and refrigerate for 2 hours. Dark Chocolate Ganache: In a mixing bowl, break the chocolate into chunks. In a pan, bring the single cream to a boil, then pour it over the chocolate. Whisk together until the mixture is smooth and creamy. Crack eggs in one by one while continuing to blend with the whisk. Set aside at room temperature.
Assembly: Preheat the oven to 170°C. Roll the crust out and place in a large pie tin. Bake for 10 mins then lower temperature to 120°C. Take the crust out of the oven. Pour the cream generously into the crust, then return to bake for 30 to 40 mins. Take the tart out of the oven, and cool. Decorate with your favorite nuts. To enjoy with wine, opt for room temperature or take the tart out of the refrigerator 30 mins before.