Food and wine pairings
Holiday table by menue. & Slice of Pai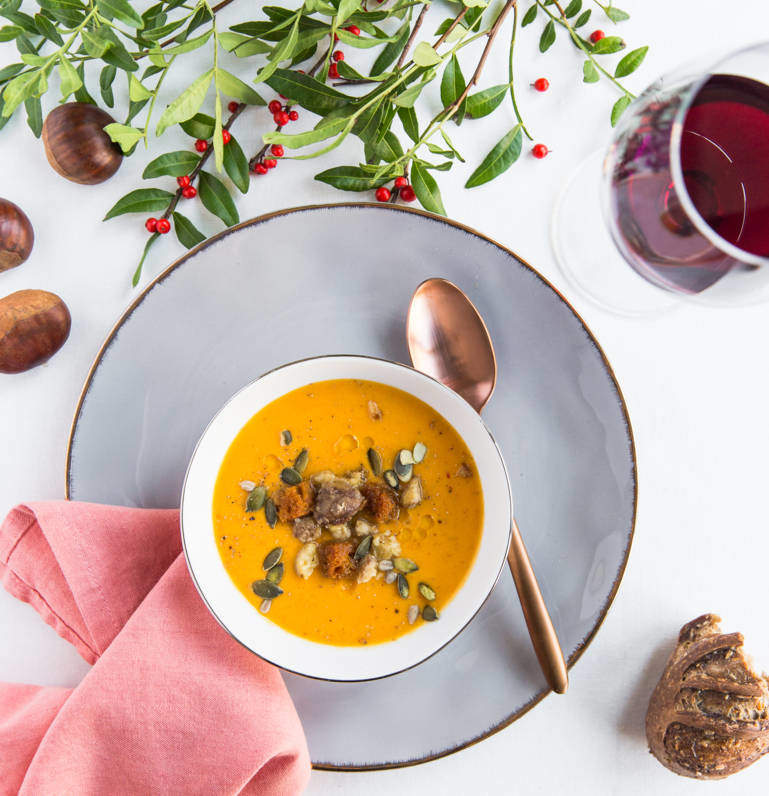 Chestnut and Cocoa-flavoured Pumpkin Soup, gingerbread croutons
For 4 people
CLASSIC WINE PAIRING
A bowlful of aromas and flavours: a simple and affordable pairing emphasizing the roundness of the Merlot grapes yet not overshadowing the range of red fruit in the wine!
ORIGINAL WINE PAIRING
A velvety match! Smooth and creamy texture of the soup, velvety texture of the sweet wine leaving room for the muscat notes and hints of white fruit in the wine.
INGREDIENTS
1.5kg of pumpkin or winter squash
200g of chestnuts
1 to 2 tablespoons of bitter cocoa
1 litre of vegetable stock
1 large onion
4 slices of dry gingerbread
olive oil
salt
pepper
Optional: single cream and chervil

Place the thinly-sliced onion in a cooking-pot and brown until golden. Add the diced pumpkin flesh and chestnuts to the pot. Brown again with 2 tablespoons of bitter cocoa powder. Then pour in the vegetable stock and cover for 40 mins or until pumpkin is knife tender. Dice the 4 slices of gingerbread.
Heat a little olive oil in a frying pan and brown the gingerbread. Once the soup is cooked, blend in a mixer and add single cream to your liking to make the soup a little creamier. Salt and pepper. Serve in bowls, sprinkled with gingerbread croutons, a drop of olive oil and sprigs of chervil.