Valentine's Day Chocolate and Wine Pairings
Whether you're celebrating Valentine's Day this year or not, it's nonetheless a good excuse to treat yourself. Chocolate is the ultimate indulgence, so depending on your palate; we've picked three different chocolate desserts (dark, milk and white) and wine pairings.
Dark Chocolate Tart:
Considered by many as the king of chocolate, it not only tastes good, but eating dark chocolate has its health benefits. Dark chocolate is packed with nutrients and anti-oxidents, meaning it can actually be good for you. Of course when it's used as a key ingredient in something like a tart, those health benefits are somewhat diluted, but then healthy food can't be considered an indulgence. When it comes to wine, we suggest you go for a full-bodied, powerful and intense red Bordeaux to balance out the rich and often bitter taste of dark chocolate. Powerful and intense Bordeaux reds, such as Médoc, Haut-Médoc, Pauillac or Graves are produced from predominantly merlot and cabernet sauvignon grapes, with aromas of liquorice, roast coffee and blackcurrant – all flavours that beautifully complement dark chocolate desserts.Mini Milk Chocolate Cakes: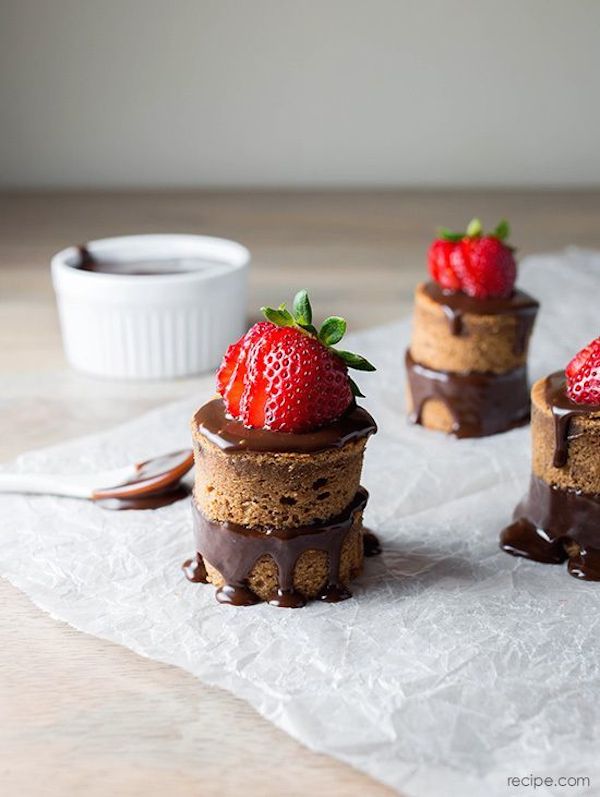 Milk chocolate is the everyman's (and woman's) go to chocolate choice – it doesn't have the sickly sweet taste of white chocolate or the bittersweet, dry consistency that dark chocolate often has. We suggest pairing a milk chocolate dessert, like these mini milk chocolate cakes with a sweet, light wine, such as a sparkling and fruity Bordeaux rosé. The wine needs to be sweet, otherwise the chocolate will overpower its flavour and make it taste tart and citrusy. The sweet redcurrant, strawberry and raspberry aromas of a sparkling and fruity Bordeaux rosé will balance the creamy milk sweetness and complement the strawberries.White Chocolate Mousse with Cranberry Orange Compote: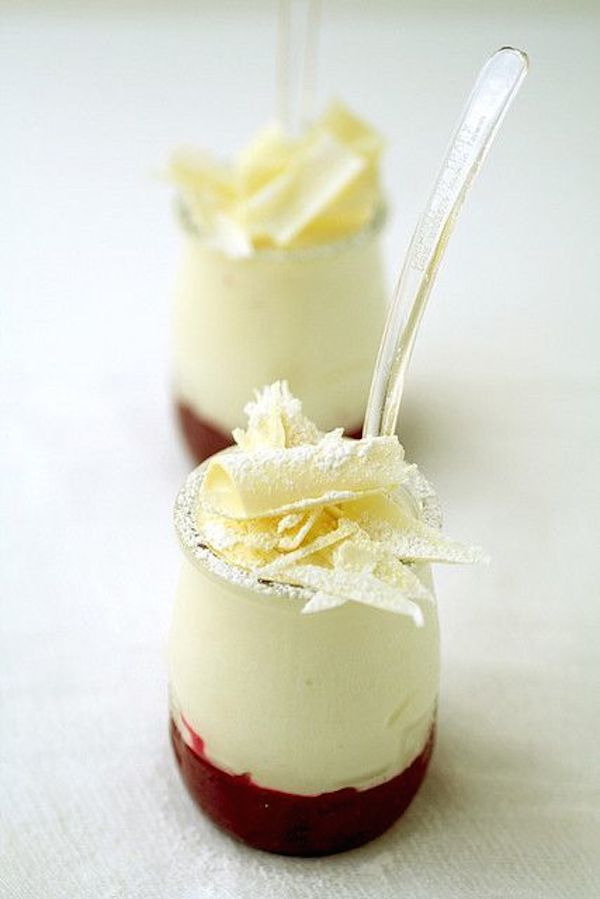 White chocolate doesn't actually contain any cocoa solids, which means bad news for your body – but whoever ate chocolate to be healthy?  Made from cocoa butter, sugar and milk, it's the ultimate sweet tooth craving.
When pairing with wine, we wouldn't suggest eating it on its own, instead try this white chocolate mousse toped with fruit compote, such as food blogger and photographer, Cannelle Vanille's recipe, here. The citrusy fruit will cut through the white chocolate's sugary cream and make it less sickly sweet. Enjoy with a bottle of unctuous and intense sweet Bordeaux wine, such as a Sauternes or Bausac, which will not only off set the sugar, but also enhance the syrupy stewed fruit.