Lavendar & Lovange's Spring pasta recipe
This Tortellini Pasta bake with Sun-dried Tomato Pesto & Mozzarella by Lavendar & Lovange's Karen, caught our eye. It's pasta – a dish we're all familiar with and therefore likely to satisfy the whole family, but it's made with tasty sun dried tomato and fresh mozzarella – a little nod to warmer weather.We'd suggest pairing this dish with an easy drinking supple & fruity red Bordeaux that's not heavy, but with expressive fruit aromas of strawberry, blackcurrant and violet that will match well with the sun-dried tomatoes, such as this Château Chataignière 2012 priced between £10-15.Find other supple & fruity Bordeaux reds priced between £6-20 in our Everyday Bordeaux Selection here.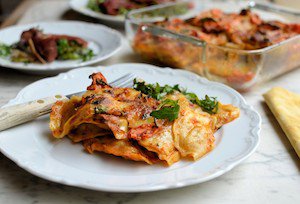 Credits : Lavender and Lovage.com
Recipe for Tortellini Pasta Bake with Sun-Dried Tomato Pesto & Mozzarella
Serves 4
Prep time: 15 minutes
Cook time: 35 minutes
Ingredients
250g tortellini of your choice, dried or fresh (I used vegetarian aubergine and tomato tortellini)
1/2 x 200g jar of sun-dried tomato pesto (i.e. red pesto)
1 x 240g tin of chopped tomatoes 2 tomatoes, cut into slices
1 x 150g packet baby mozzarella cheese balls handful fresh mint leaves, snipped
2 tablespoons grated Italian cheese (such as Parmesan or Grana Padano)
Note: A super tasty "stand-by" store cupboard pasta bake that is easy to whip up and is prefect for any weekend lunch or mid-week family supper. By using packet tortellini, tinned tomatoes, pesto and mozzarella cheese, you can prepare and cook this comforting pasta bake in under an hour and serve it with fresh salad for a convenient and easy meal. If fresh mint is not available, then use dried mint instead. 
Directions
Pre-heat the oven to 200C/400F/Gas 6.
If using dried tortellini, cook it per the packet instructions. If using fresh, then just "refresh" it by pouring boiling water over it in a large bowl. Drain the tortellini and spoon it all into a greased baking tray or dish. (I used olive oil to grease the dish.)
Mix the red pesto and chopped tomatoes together and then spoon it over the drained tortellini, mixing it gently through the pasta.
Arrange the tomato slices and baby mozzarella balls on top of the pasta and then add the snipped fresh mint leaves, before finally scattering the grated Italian cheese over the whole of the pasta bake.
Bake in a pre-heated oven for 25 to 35 minutes, or until the cheese has melted and the bake is golden brown and bubbling.Serve immediately with fresh salad or rocket leaves and a balsamic dressing.
Freezes well; just cut the cooled cooked pasta bake into squares, wrap in cling-film and then place into a freezer bag. Defrost before reheating in a microwave or covered in a hot oven.