2015: Exceptional, enviable, unmissable!
Why is the 2015 vintage one to stock up on? It has been a hot year across Bordeaux, which has resulted in a bumper harvest. The 2015 vintage is looking to be exceptional and one that is full of flavour.
IDEAL WEATHER CONDITIONS
It started with cool weather over the winter which helped the vines rest, the spring was predominantly sunny, bringing about very consistent blooming in the first two weeks of June, in ideal conditions, with warm, dry and sunny weather. The summer was splendid, with the right dose of coolness and water needed for a favourable veraison (the onset of ripening). What's more, the dry, sunny September weather made it possible to wait until the grapes were perfectly ripe before starting the harvest, allowing time between each individual harvest based on the varying stages of ripeness of the different grape varieties.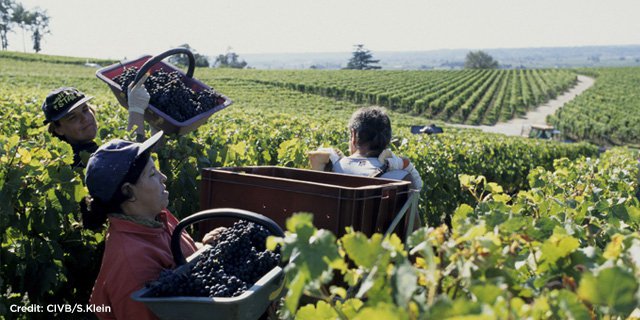 HARVEST
The harvesting of dry whites and white crémants (sparkling wine) began at the end of August – beginning of September, in areas where the Sauvignon Blanc variety ripens earliest. This was a week ahead of last year and in the first week of September this harvest began all over the region. Sémillon grapes, golden and superb, and full of flavour, were picked around the 10th September.White wines promise to be of excellent quality and traditional in their characteristic features. They have good balance and powerful aromas.
Rosés were harvested from the first week of September.Harvesting of the red grape variety, Merlot, started in mid-September in the earliest ripening areas, then all over the region from 21st September and continued with the Cabernets.Analysis of these grapes is very encouraging. The potential in anthocyanins enables us to foresee a vintage of superb quality.
Sweet white wines: The first stages of sorting-picking in the vineyard with early ripening began during the week of 14th September. However, harvesting really began w/c 21st September and continued into October.So, all the signs point to 2015 being a vintage of exceptional quality and good volume. Great news for your customers so make sure you don't miss out. 
Here are a few testimonies from our winemakers:
Gavin Quinney, Château Baudac
"We've never seen such clean-looking, healthy white grapes as this year's crop. That's not to say that they'll make the best wine we've made (we'll have to see) but, every vintage until now, we've had a small team of trainees and wannabe winemakers who are put to work in the vines at last minute, trimming off any rot or blemished grapes. This year, there's been nothing of the sort, so to speak."
Youmna Asseily, Château Biac (Cadillac)
"We saw the last Semillons for the sweet wine into the winery yesterday a week after picking the last red grapes (being the Petit Verdot). Although the harvest pattern was a bit like a tango rhythm, 2015 is proving generous, plentiful and promising. The grapes were at their healthiest throughout; aromas are very opulent, voluptuous and rich in energy. We will now strive to translate this harvest into the best possible expression of the vintage and the Biac terroir."
Tom Davey, Château Gaby (Fronsac)
'We have just finished picking the last of the Cabernets at Château Gaby. The winemaker Damien Landouar chose yet again to favour optimum ripeness, so we picked from the 5th to 15th October. Both vineyards finished with lower yields than expected, however the quality and flavour of the fruit are exceptional. The Gaby winemaker and his team are full of enthusiasm for the vinification of such a promising harvest. Tasting from vat at Gaby over the last few days has proved that the intense heat of August ripened the fruit to leave it rich in sugar and full of flavour. Damien expects the 2015 to be a vintage to remember at Gaby and furthermore sees it as the continuation of a euphoric bounce back from the difficulties of 2013.'