Food and wine pairings
Cheese table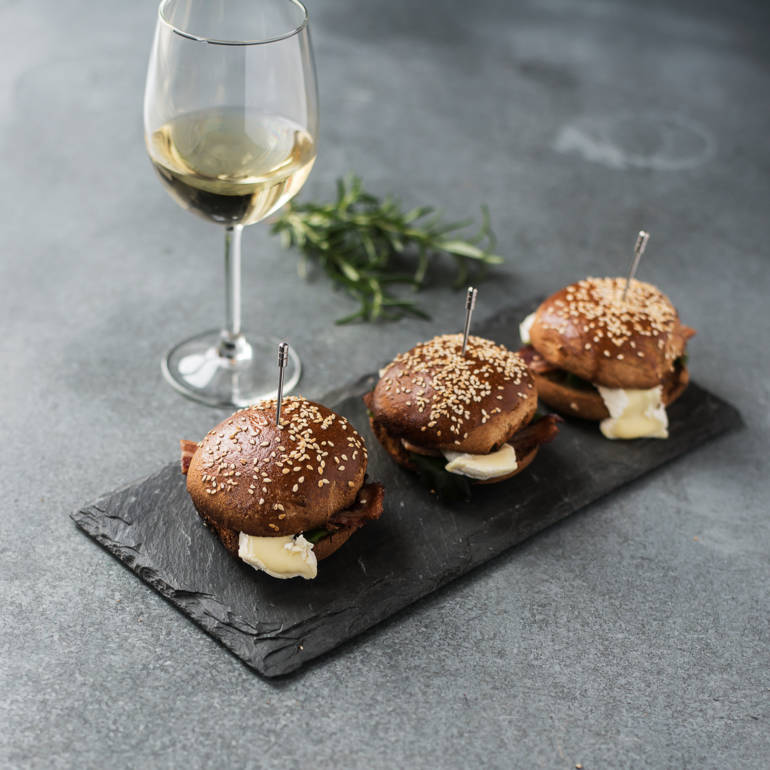 Burger Party
For 6 people
CLASSIC WINE PAIRING
Refreshing, with dark fruit flavors and taut structuring tannins, a wine from Saint-Emilion is the ideal partner with this rich, flavorful smoked Camembert bacon burger. Packed with blackberry, plummy and earthy flavors, hints of spice and a rounded plus mouthfeel these wines compliment the richness of the cheese and bacon of this dish.
ORIGINAL WINE PAIRING
For something a little different but equally complimentary try a Bordeaux Clairet – a wine unique to Bordeaux, richer, more deeply colored and structured than a rose wine, yet lighter than a red wine.
INGREDIENTS
- baby greens salad
- thin slices of bacon
- mini buns
- 1 camembert (soft cheese with soft dough)
Cut in half and grill the buns. Cut strips of camembert
Arrange the salad, then add the slices of cheese and the cooked bacon