Fall Into French Comfort Food with Bordeaux Wines
It's that time of year when our thoughts turn to comfort food and, today, we want to introduce you to three French twists on popular American recipes perfect for Fall (or Winter) weather.
French Mac & Cheese
Mac and cheese is always a good idea in our book, and this French version can be a nice change of pace. To get started, combine 3/4 gallon of milk with a few cloves of garlic in a large pan and cook until bubbling but not boiling. Remove from heat and let sit for ten minutes before removing the garlic. Set aside one cup of the garlicky milk.
In a small pan, melt butter and then whisk in flour without browning. Remove the pan from heat and slowly whisk in the reserved cup of milk, stirring until sauce is completely smooth. Season with salt, pepper, and nutmeg—then put the pan back on low heat and cook until sauce is thick. Remove from heat, let cool, then add cream and another pinch of salt.
Preheat your oven to 500 degrees. Add a pinch of salt to your remaining milk and heat until bubbling. Toss in whatever kind of pasta you like and cook at a simmer until al dente. Combine sauce and pasta, toss, and pour into a buttered baking dish. Bake until the top is crisp and golden and pour yourself a glass of red Bordeaux wine: you deserve it! There are many good options to choose from, but why not try a Graves? The name "Graves" alludes to the gravelly soil of the region, the remnants of millennia of deposits of mineral-rich silts from nearby mountains which imbue Graves wines with a particular earthy quality. Red wines from the Graves region are supple and rich enough to pair with cheesy dishes but still able to "pierce" the heaviness that can weigh down even the best mac & cheese.
Brioche pain perdu with caramel sauce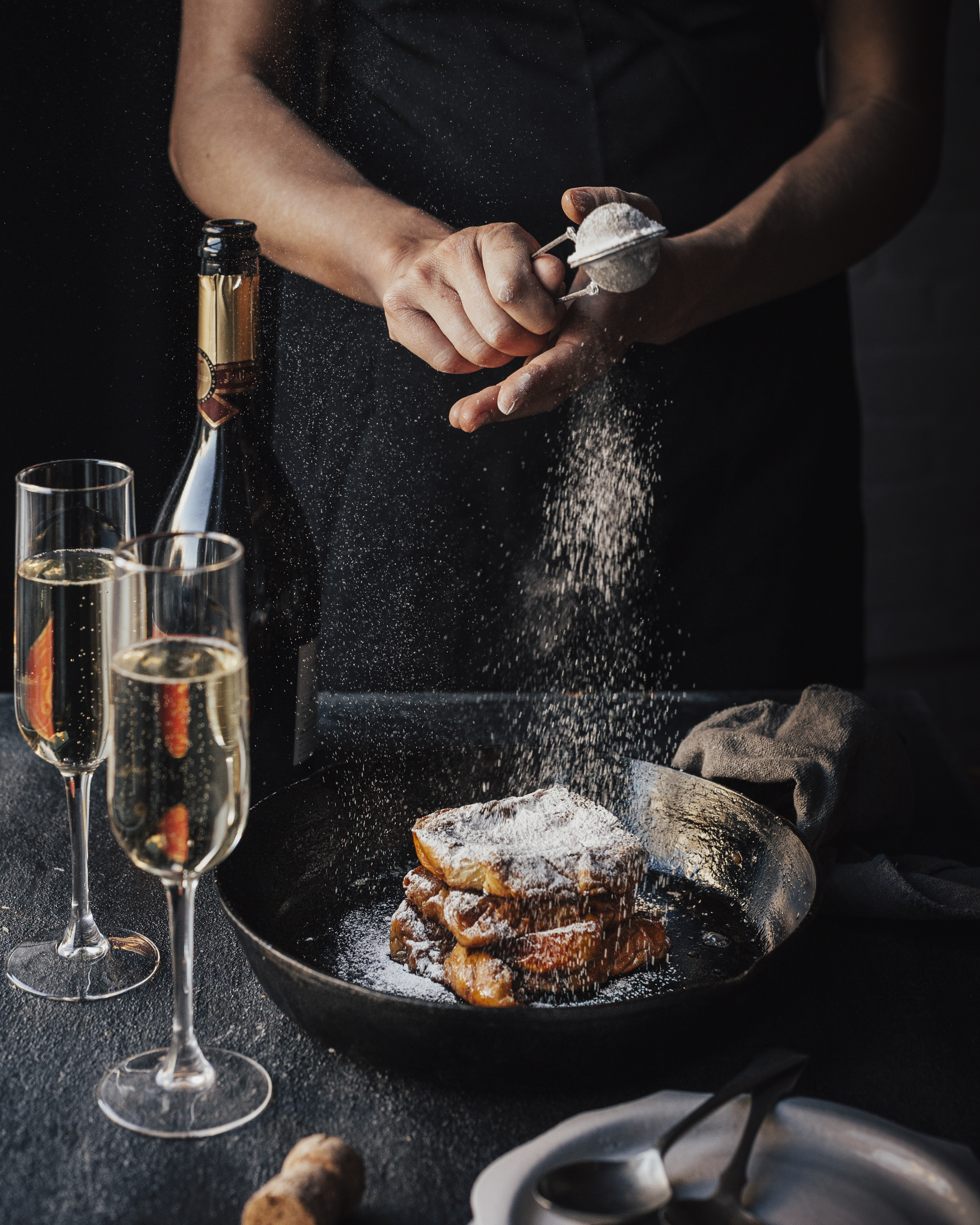 French toast already has "French" in its name, but many Americans don't realize that pain perdu (literally "lost bread") is the true French version of this beloved breakfast classic.
Cut stale brioche (if you want this to be truly French, you must use brioche or a crusty French bread!) into thick slices. Beat eggs with equal parts cream and milk and let the bread sit in the wet mixture until it's soaked through (if it's really stale, you can let it soak overnight). Put an ample pat of butter in a large skillet and, while the butter is melting, sprinkle each slice of bread with flour and sugar. Slowly cook each slice until golden brown, then remove from heat and keep warm.
Meanwhile, add sugar to a saucepan and heat until caramelized (i.e. when the sugar melts into an amber liquid). While constantly stirring, slowly add warm cream in small batches to the caramelized sugar. Next, add butter and cognac and heat until your sauce is thick but not too gooey. Drizzle the caramel sauce over your pain perdu and serve immediately. No maple syrup needed! What would be a good partner, however, is a sparkling wine as decadent as your pain perdu, so pop open a bottle of Crémant de Bordeaux! Rich and varied, Crémant de Bordeaux wines tend to exhibit nutty, honeyed flavors that make them an ideal match for many sweet treats, but particularly biscotti, Tiramisu, and pain perdu!
French meatballs in tomato sauce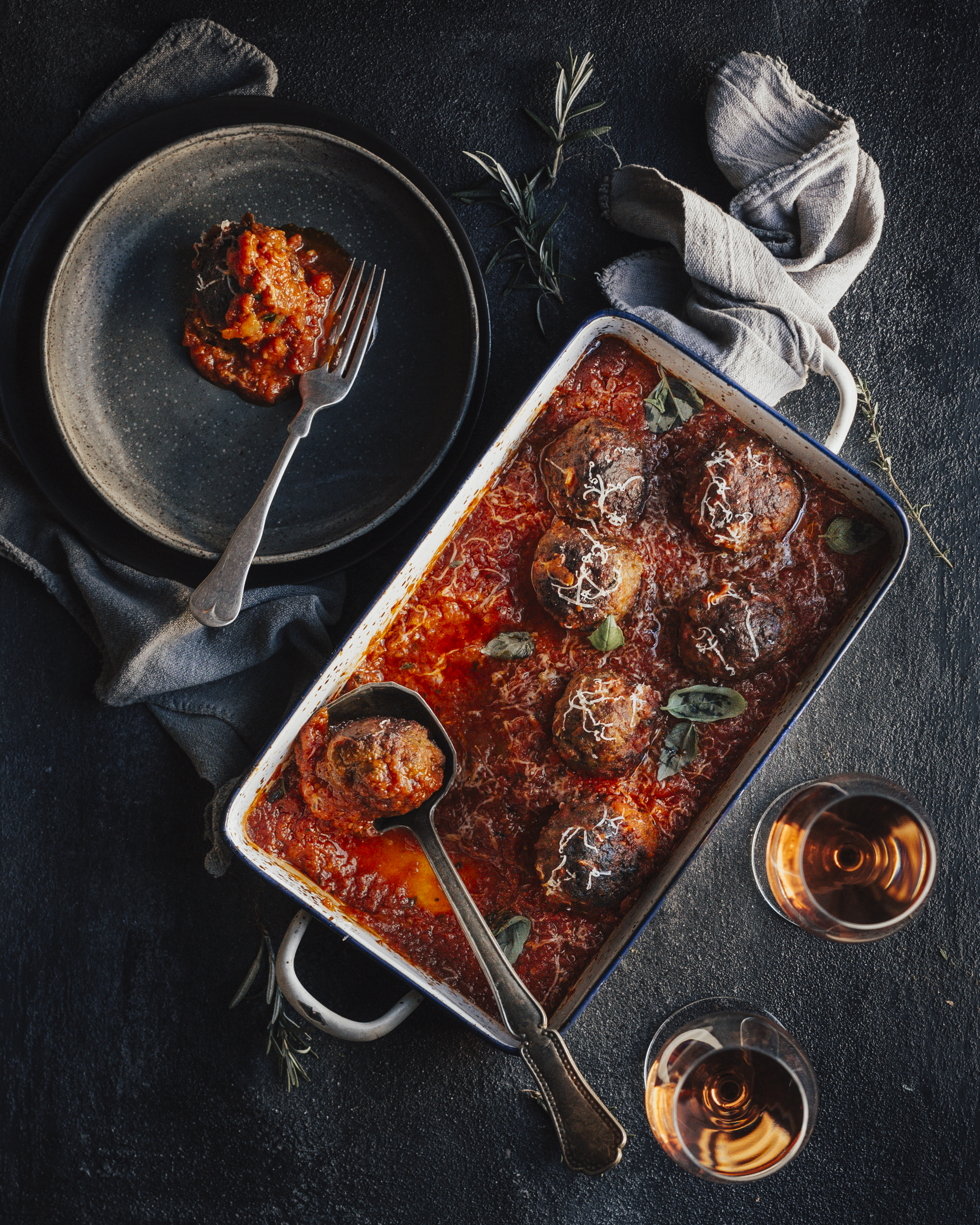 French meatballs are a little different than their better-known Italian cousins, but just as delicious! To make boulettes (French for "little balls"), begin with leftover beef, pork, veal, or a mix of any or all of the above. Chop the meat finely or use a food processor, then add garlic, onion, celery, thyme, and eggs. Mix thoroughly and form into small balls with your hands. Brown your meatballs on all sides in an oiled pan and then transfer to a plate.
For the sauce, heat oil in the same pan then add garlic, onion, thyme, and oregano and cook until the onion is soft. Add tomatoes and cover, cooking on low heat for about five minutes, stirring occasionally. Once the sauce is the consistency you want, add salt and pepper to taste and olives if you want them. Return your meatballs to the sauce and heat until the meat is cooked through. Serve with a baguette, a green salad, and a bottle of something simple and tasty…like a Bordeaux rosé. Bordeaux rosés tend to be fresh and fruity, with intense aromas of strawberry, gooseberry, or grapefruit. They're a wonderful companion for something like French meatballs, since the bright tomato sauce calls out for a wine that's boldly flavored yet summery…even when it's autumn.
Regardless of what your comfort food fix is, we hope you stay warm and cozy with Bordeaux wines!