Use Your Leftover Wine for a Boozy Dessert
Adding a dry white to this cake makes it incredibly moist and ensures a delicate crumb. Think of it as coffeecake's more mature cousin — it has more depth of flavor but without a showy brown sugar crumble. This cake could easily take the centerpiece at your next brunch, boozy-glaze at all. But if you're hankering for a cake with a little less sweetness (maybe you're a cake for breakfast kind of person) don't hesitate to leave off the glaze. This cake is just as scrumptious without.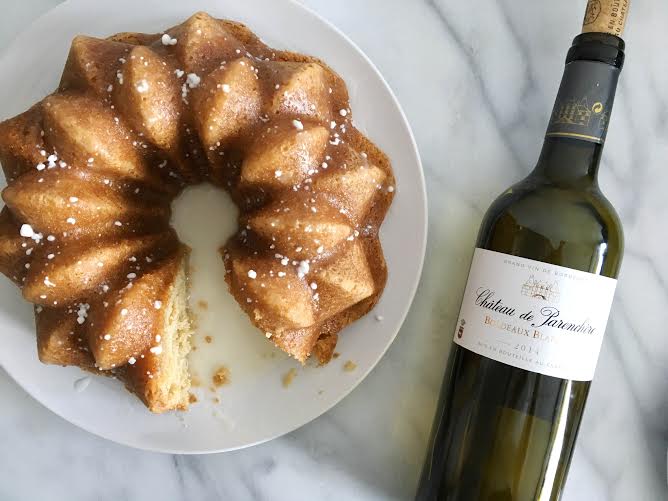 Bordeaux Blanc Bundt Cake Recipe Adapted from Food and Wine
CAKE
2 cups flour¾ cups oats, blended into course flour.
1 ¼ teaspoons baking soda
1 teaspoon baking powder
½ teaspoon salt
2 sticks salted butter, softened
1 ¾ cups sugar
2 eggs, room temperature
1 ½ teaspoons vanilla
1 ½ cup Dry White Bordeaux
GLAZE
2 tablespoons butter
¼ cup sugar
A few drops of water
¼ cup Dry White Bordeaux
Powdered sugar for dusting, optional
DIRECTIONS: 1. Oil and flour your bundt pan. 2. Preheat your oven to 350 degrees F.
3. In a mixing bowl, whisk flour, oat flour, baking soda, baking powder, and salt together. 4. Using a stand or handheld mixer beat the butter and sugar together on medium-high speed until light in color and fluffy (about 4 to 5 minutes)
5. Add the eggs, one at a time. Mixing well after each addition. 6. Add the vanilla and continue mixing for 2 more minutes. The mixture should be very light and fluffy. 7. Turn the mixer to low and alternate the flour and wine in 3 parts. Starting and ending with the flour. Don't over mix.
8. Pour the batter into your pre-greased bundt pan. 9. Bake for 50-60 minutes. 10. Remove from pan and let cool on a drying rack.
FOR THE GLAZE: 1. In a small saucepan heat the butter, sugar, and water until butter is melted and the mixture is bubbling and has reduced slightly. 2. Take off the heat and stir in the wine
.3. When cake has cooled drizzle the glaze all over the top, dust with powdered sugar if desired, and serve!