Thanksgiving Food & Wine Recommendations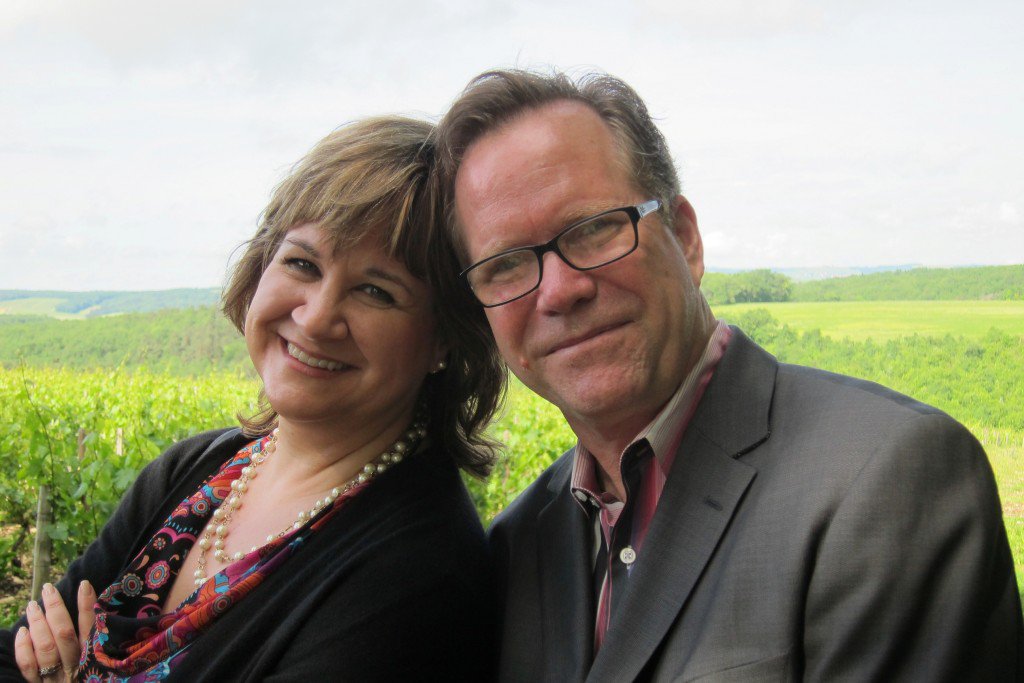 Q: How did you become food & wine experts?
A: Andrew cooked for 10+ years, including with Chefs Chris Schlesinger, Lydia Shire and Anne Rosenzweig. He studied with Madeleine Kamman at the School for American Chefs in Napa Valley, and also earned a certificate through the Sommelier Society of America. Karen (alumna of Northwestern/Harvard) consulted with food and beverage companies on new product development and marketing strategy. She earned a certificate through the Court of Master Sommeliers.We've both read and regularly consult the world's best books on wine, and on pairing food and wine. But, our most important education comes from interviewing hundreds of America's leading chefs and sommeliers for 10+ books on food and drink.We share their advice on wine and food pairing in two books: "What to Drink with What You Eat" and "The Food Lover"s Guide to Wine."We hear top sommeliers' voices in our heads whenever anyone asks us a wine and food pairing question – and they guide us. Our personal preferences range from classic to adventurous and (most of all) we LOVE to shake things up from time to time!
Q: What are the basics of food and wine pairing?
A: There are two main strategies for wine and food pairing: Compare or contrast. 
COMPARE:
If the food is sweet, you'll often want to accompany it with a sweet wine. If the food has notes of bitterness, it can work with tannic wines (which can have bitter notes). 
CONTRAST:
If the food is rich and fatty or oily, cut through it with a high-acid wine. If the food is salty (e.g., blue cheese), consider contrasting it with a sweet wine (e.g., Sauternes).We share many more general wine pairing principles in our books, but these can get you started! 
Q: What makes Bordeaux wine a good pairing for Thanksgiving?
A: There are lots of good pairings for Thanksgiving – including Bordeaux wines!We and our friends with whom we celebrate Thanksgiving like to shake it up and drink a wine we didn't drink last year.Start the meal with white Bordeaux, and red Bordeaux follows beautifully. The bright acidity of white Bordeaux will stand up to salads and other starters. The fruitiness of a young red Bordeaux can be Beaujolais-like and pair well with the rest of the table.As vegetarians, mushroom gravy provides the "meaty" flavors on our table, and red Bordeaux pairs beautifully with mushrooms. If there are cheese-crazy guests around your Thanksgiving table, there are lots of great wine pairings to try. For example, a Cabernet-based Bordeaux is a terrific pairing with cow's milk cheeses, like Brie or Camembert. A Cabernet-based Bordeaux is also heavenly with peppercorn-flavored, vegan Brie-style cheese (made from nut milk). Blue cheeses pair beautifully with sweet wines like Sauternes. And if you've never tried pumpkin pie with Sauternes, you're really in for a treat! 
Q: Would you recommend red or white with Turkey?
A: Any neutral-flavored food – whether turkey, chicken, tofu, or seitan – matters relatively little. What matters more to the wine pairing are the dish's flavorings – whether sauces, herbs, spices, or other condiments.Is your dish is a delicately-flavored Turkey with lemon rice stuffing? Or a boldly-flavored turkey with mole? Each dish suggests a different wine – e.g. a white Bordeaux in the first case and a dark chocolate-noted red Bordeaux in second.We tend to be both/and, not either/or people. We"ll be drinking white AND red wine on Thursday!
Q. Can you pair whites with beef?
A. Truth be told, you can and should serve any wine that makes you and/or your guests happy. That is, after all, the true purpose of wine: to make people happy.But there ARE classic "tried-and-true" pairings that are likely to help enhance your gustatory pleasure. Many more people would prefer pairing a beautiful red Bordeaux with beef vs. any white wine. When we were researching What to Drink with What You Eat, we found horseradish to be a magical pairing with Merlot! Check out Chef Jeremiah Tower"s first cookbook for his legendary story about his "Epitome of Decadence" dinner. It pairs roast beef with Chateau d"Yquem (a Sauternes). We once recreated that dinner with a bottle we were gifted! 
Q: Do you have a recommendation for an inexpensive white to pair?
A: This might be the easiest question yet! You can find white Bordeaux at every price point – including less than $30, $20, $15 a bottle. White Bordeaux is often based on Sauvignon Blanc, and its refreshing acidity cuts through the richness of Thanksgiving dinner.Serve white Bordeaux slightly chilled — about 55 to 60 degrees, unless you prefer it even cooler.
Q: What is an affordable yet impressive wine I could bring to Thanksgiving dinner?
A: Because Bordeaux is one of the best-known wine regions, its prestige factor makes it  nice for gifts. Some of the top Bordeaux wine-producing families also make "second-label" wines that offer great values.Not all Sauternes is priced like Chateau d'Yquem! A