Bordeaux Easter Dishes You Can Make At Home
In Bordeaux, Easter (known as 'Pâques' in French) is one of the most important holidays of the year, with church services followed by a festive egg hunt and then a delicious feast. Why not prepare some French specialties for your own Easter table this year? 
Just make sure you have plenty of Bordeaux wines on hand to drink! Reds from Pauillac and Saint-Julien, whites from Graves and Entre-Deux-Mers, and of course one of the many stunning Bordeaux Rosés will be the perfect pairing partners for your holiday.
Bordeaux Culinary Traditions
To learn more about the French Easter celebration, we turned to expert Tania Teschke, author of The Bordeaux Kitchen: An Immersion into French Food and Wine, Inspired by Ancestral Traditions. "While a typical American Easter meal might consist of ham, often glazed with honey, with side dishes of springtime carrots, peas, and scalloped or mashed potatoes, the French Easter main dish is almost invariably lamb: bone-in, called a gigot, or boneless leg or shoulder (épaule), sometimes stuffed, and neatly tied up by the butcher into an oval roast or round shape, called a melon. I apprenticed with a Basque butcher in Bordeaux and he was never more busy than at Easter."
While celebrating like the French absolutely calls for lamb, Bordeaux has a very specific regional specialty that is enjoyed on Easter called Agneau de Pauillac. This is a milk-fed lamb, no older than 75 days old, that's reared in the French region of Gironde. The meat is so famous that it has been enjoyed by European royalty at festival dinners, and can either be enjoyed as a lamb roast or an herbed rack of lamb, accompanied by spring vegetables. Teschke has great advice about what to do with any leftovers: "Leftover meat can be used in lamb parmentier, ground lamb meat covered with mashed potatoes or springtime turnips." Popular accompaniments for Agneau de Pauillac could be asparagus vinaigrette, roasted artichokes, Spring beans, and potatoes 'Dauphines'.
Les Cloches De Pâques
One big difference between French and American Easter celebrations is that in France, there is no Easter Bunny but rather, Easter Bells (called 'Les Cloches De Pâques') that deliver chocolate eggs to the children of France.
Traditionally, church bells ring every day except for the days between Good Friday and Easter Sunday, to commemorate Christ's death and resurrection. The legend is that these bells would fly (with wings attached) to Rome to be blessed by the Pope over those two days, and deliver chocolates to children on the way.
French Easter Recipes
The recipes below are everything you need to prepare a French table this Easter. Enjoy!
Asparagus Vinaigrette and Eggs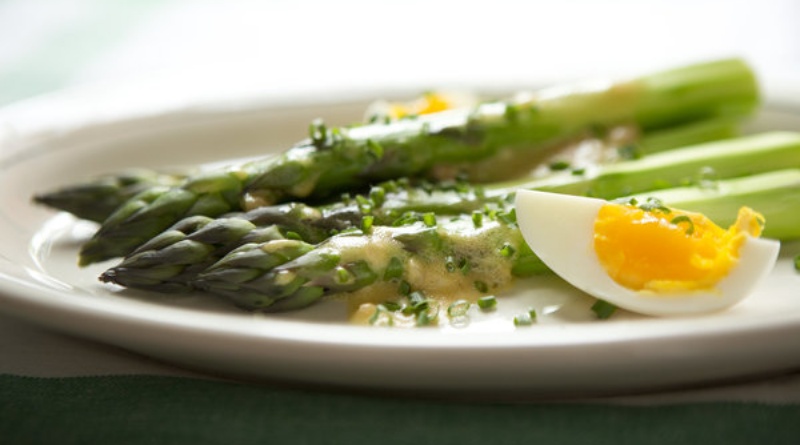 Fresh spring asparagus topped with a tangy vinaigrette and eggs is the perfect dish to start the meal. 
Get the recipe here: Asparagus Vinaigrette (via NYT Cooking)
Pâte de Paques de Limousin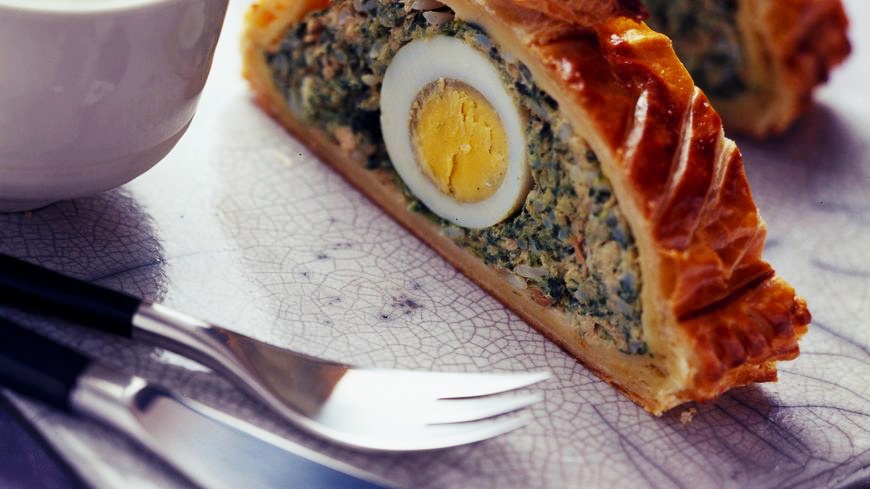 This is a French dish meant to symbolize new life and fresh growth, using tender spring greens like spinach and nettles– which are then enrobed in flaky pastry and baked with a hard-boiled egg in the middle. 
Get the recipe here: Pâte de Paques de Limousin (via Connexion France)
Agneau de Pauillac
The star of the show: lamb! You may not be able to find this specific meat at your local market, but experiment with your own local butchers and follow the traditional recipe from there.
Get the recipe here: Agneau de Pauillac (via La Causerie des Chartrons) 
Roasted Artichokes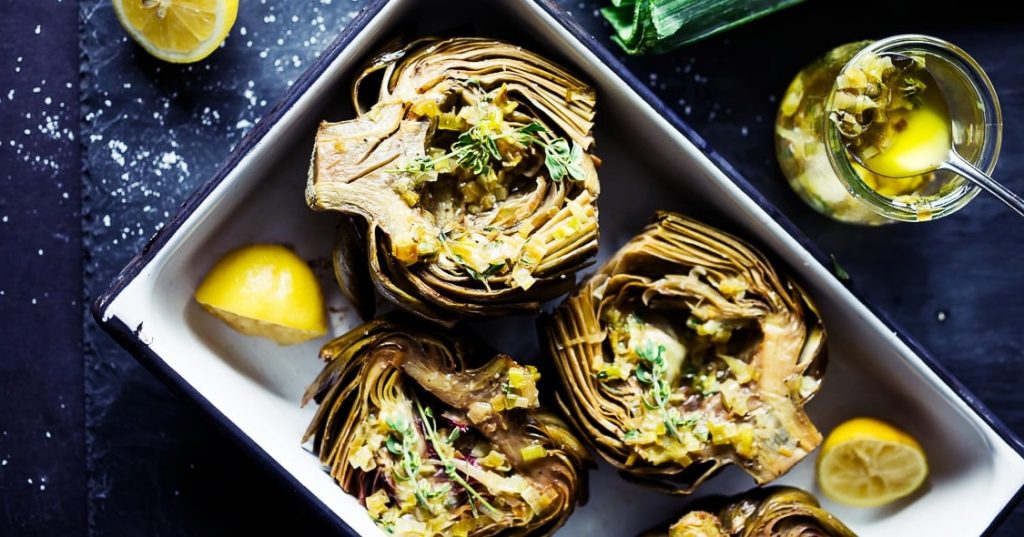 This traditional dish is fresh and tender, simple to prepare with butter and lemons.
Get the recipe here: Roasted Artichokes with Lemony Leek Dressing (via Feasting At Home)
Flageolets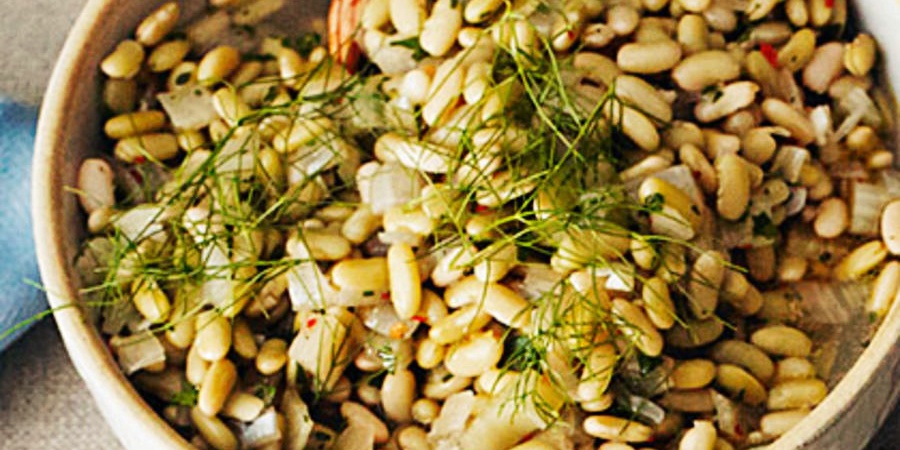 Beautiful little flageolet beans are a classic accompaniment for lamb, but you can use pretty much any dried white bean for this dish.
Get the recipe here: Flageolet Beans With Fresh Fennel (via Sunset Magazine)
Pommes de Terre Dauphines
Pommes dauphines are crisp potato puffs made by mixing mashed potatoes with savory choux pastry, forming the mixture into dumpling shapes, and then deep-frying them.
Get the recipe here: Pommes Dauphines (via Oh My Dish) 
Petits Nids de Pâques (Nest Cakes)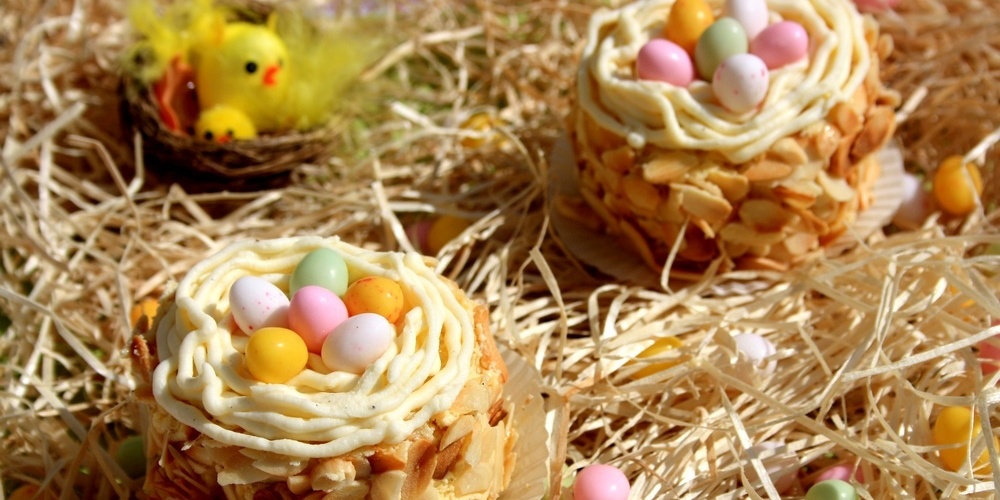 These mini pastries are decorated like birds' nests– made with almond cake and topped with icing ribbons and chocolate eggs.
Get the recipe here: Petits Nids de Pâques (via Amandine Cooking)