Around the World: Traditional New Year's Eve Dishes Paired with Bordeaux
 New Year"s Eve is a holiday celebrated by the whole world. For one night, we all reflect on the year behind us and look forward to what"s ahead.For this reason, New Year"s Eve is rich in tradition, whether it"s creating a New Year"s resolution, a romantic midnight kiss or the food you eat. Many foods are vital to New Year"s celebrations, as they are believed to bring good luck in the new year. Read on to see Bordeaux Wines market advisor Mary Gorman"s wine suggestions for traditional New Year"s Eve dishes across the world. 
PolandPickled Herring
In Poland, it is believed that eating pickled herring at the stroke of midnight will ensure a year of good bounty. The fish is found abundantly in Western Europe, and its silver color resembles that of coins.Pickled herring is not an easy dish to pair with wine, but if your are up for some adventure we heartily recommend trying a rich, sweet Bordeaux to contrast the acidity of the dish. Try a wine from Sauternes or Barsac, which will create an amazing flavor combination on your palate.Alternatively, try a bubbly Bordeaux such as a Crémant de Bordeaux. The bubbles will both compliment and contrast the sharpness of the pickled flavors.
JapanSoba Noodles
These long noodles, not meant to be cut during preparation, are thought to promote longevity. For shrimp or vegetable soba noodle dishes we recommend a medium-bodied, unoaked or very lightly oaked, dry white Bordeaux. Try a Graves Blanc or AOC Bordeaux Blanc. For something a bit different venture toward a dry Bordeaux Rosé or Clairet style.
FranceFoie Gras or Paté
Foie gras, fattened duck or goose liver, is regarded as a gourmet, luxury dish. It is eaten mainly on special occasions, like New Year"s Eve. Try it with a medium sweet or sweet Bordeaux. The most easy to find choice would be a Sauternes but also look for fresher, lighter styles from Loupiac, Cadillac or Cérons, which will be fruitier. An alternate choice would be bubbles – a delicate Crémant de Bordeaux Brut or Brut Rosé.
SwedenSweet Rice Pudding  
Many hide a whole almond in the dish. Whoever finds the almond is promised prosperity, and in some superstitions, marriage, in the new year. Go for a sweet, late harvest Bordeaux. Look for the lighter, fruitier styles from Sainte-Croix-du-Mont or a Graves Supérieures to not overpower the delicacy of the rice. If you cannot find either one, a young Sauternes will do nicely, too.
ItalyLentils and Sausage
The lentils" greenish color and coin-like shape represent prosperity. Lentils plump with water when cooked, which symbolizes a growing wealth. This fairly hearty and robust dish calls for something red with sufficient tannins to break down the protein and fat. Try a Left Bank, Cabernet dominant wine from the Médoc or Graves, or, opt for something more plush and fleshy in texture (Merlot dominant) from the Right Bank such as a Fronsac or Saint Émilion.
GreecePomegranate Bread Cake
The red color of pomegranates are said to represent the human heart, life and fertility and their abundant, round seeds represent prosperity. With this semi sweet cake we recommend a young, fruity, lighter style of sweet Bordeaux, like a Graves Supérieures or Premières Côtes de Bordeaux. If these are hard to find in your wine store, opt for a sparkling Crémant de Bordeaux Rosé.
Southern United StatesBlack Eyed Peas
These plentiful peas are thought to signify prosperity and good luck in the new year because of their penny-like appearance. As a side dish, the protein in the bran calls for a little tannin, but not too much. A young, supple Bordeaux Supérieur or young red wine from the Côtes such as Blaye, Castillon or Bourg will pair nicely and also offer a juicy, refreshing contrast. If serving with collard greens, pick something bubbly such as a Crémant de Bordeaux or a refreshing Bordeaux Rosé.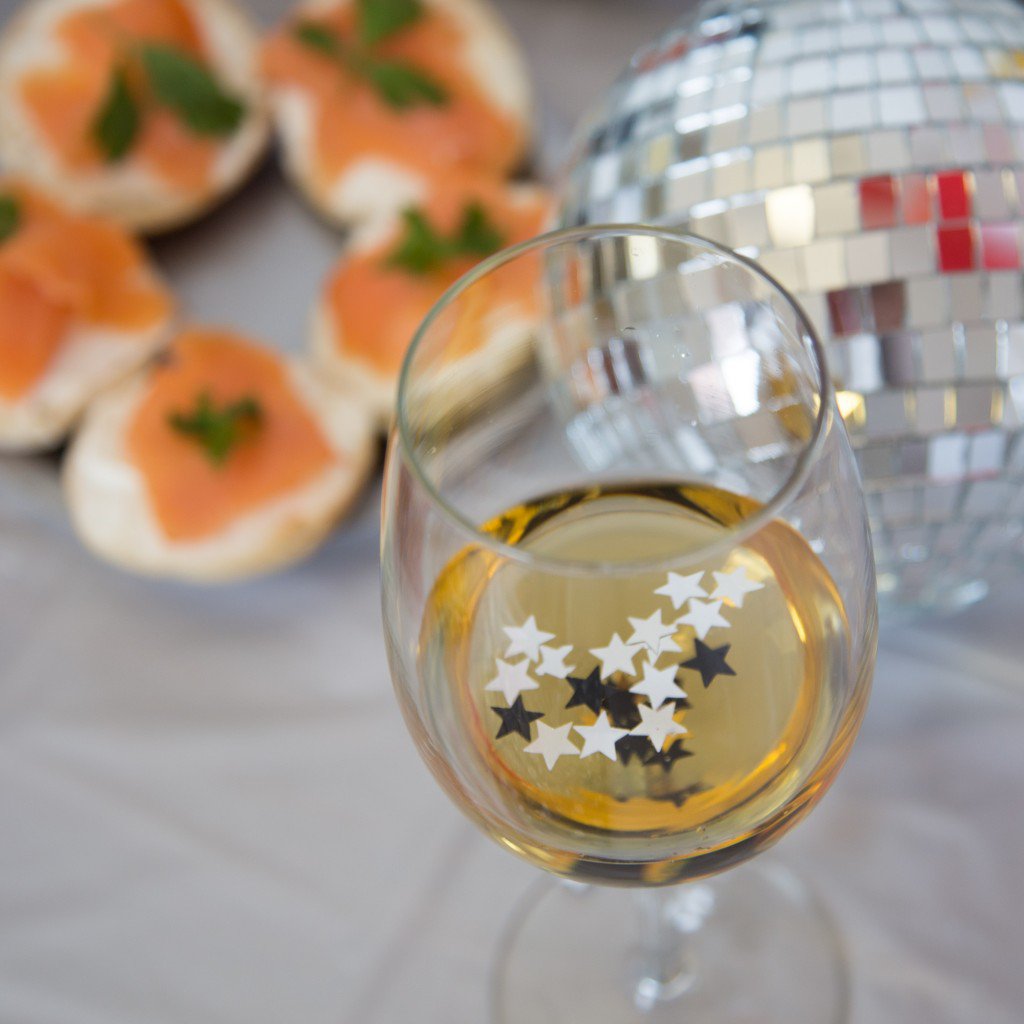 WorldwideCircular foods
Eating circular foods, like donuts or bagels, on New Years is thought to bring good fortune because of their likeness to coins.For donuts, we recommend a lighter style of sweet Bordeaux such as a Sainte-Croix-du-Mont or Loupiac. For bagels, there are many possibilities. For a bagel with smoked salmon and cream cheese, try a dry oaked white Bordeaux such as one from Pessac Léognan or Graves Blanc. 
No matter how you choose to celebrate, we hope you"ll join us in raising a glass at midnight to toast a happy and healthy new year.