Good friends, good food, candles & Bordeaux wines (and savings!)
Bordeaux's Apero Series begins with a night of Brooklyn merriment and affordable dinner party wines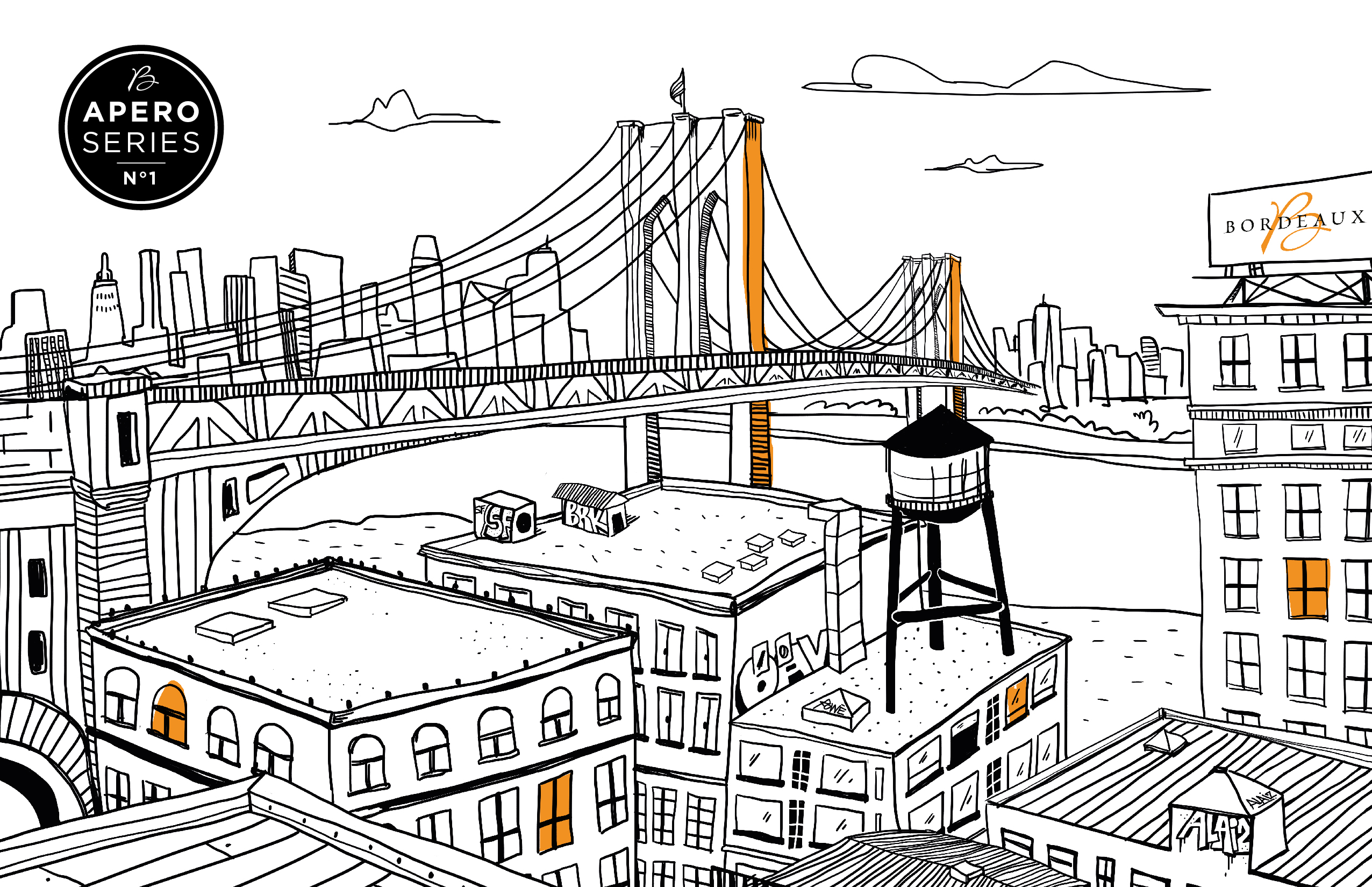 At Bordeaux wines, we asked chef Gabe Kennedy to give us his recipe for a simple, fun, and affordable dinner party in the spirit of Bordeaux.
It's 7pm. The doorbell startles Gabe in his Brooklyn loft. The twenty-something chef, a lifelong food enthusiast and winner of "The Taste" on ABC, has lost track of time while laboring intensely over his stove. He opens the door to greet the first guest of Bordeaux's Apero Series, and they enter gladly, drawn by the aromas already emanating from Gabe's kitchen.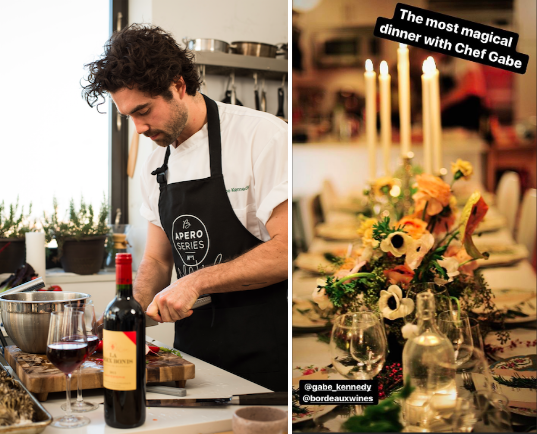 To buy himself some time, Gabe hands the early guest a glass of Crémant de Bordeaux from the Bourdieu estate. Shock ensues. "Wait…are you sure this is a Bordeaux wine? But it's white…and bubbly!" Aha! Yes, but not all Bordeaux wines are red…the region produces an incredible variety of nuanced variations: dry whites, liquoreux, rosés…even sparkling wines. "That"s 100% Sémillon: fresh and vibrant," says Jeff Haring, Wine Director at the Waverly Inn. (Jeff chose all the dinner party wines to accompany Gabe's feast….)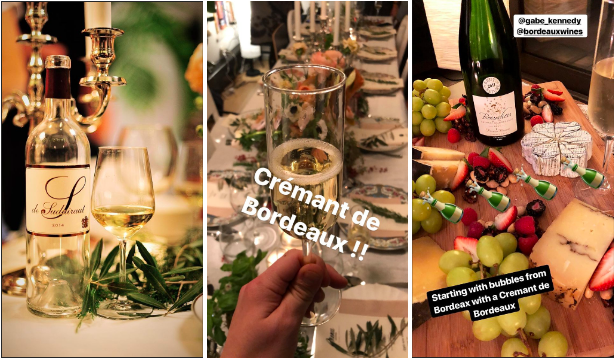 It's not too much longer until all the guests have arrived. "Tonight, we'll explore Bordeaux through seafood!" reveals the young chef to the group of hungry New Yorkers, before showing them a video (but, like, a fun, very brief video…not the modern-day equivalent of those boring slideshows people used to make their friends endure after returning from vacation) that captures some of his recent trip to the region.
The sun has set and the night air is beginning to cool, but the atmosphere inside the loft warms up in no time, the room full of laughter and passionate culinary discussions. The wait for food is almost over. Behind the stove, Gabe takes the opportunity to make a few last tweaks to his dishes. And then, finally, that"s it! It"s time to sit down to dinner.
Everyone settles around the big communal table, decorated simply but with care. Nothing complicated–just a few branches picked up at the local florist, candles, and voila!
Gabe appears from the kitchen with scallops in their shells, dressed with yuzu kosho, nashi pear and shallots. It smells amazing and some stomachs are audibly demonstrating their impatience. "A little wine to accompany all this?" asks Jeff (rhetorically, we assume), armed with a bottle of Château Nicot rosé, a brilliant example of an Entre-Deux-Mers. And, just like that, conversation ceases entirely and all you can hear are the clink of forks upon plates and the free flow of wine from glass to mouth: a sure sign that the first course pairing has been a success.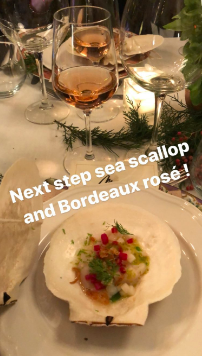 A second course–ideal for both vegans and gourmands–follows: roasted maitake mushrooms with salsa verde and hazelnuts. To make the meal a bit more fun, the sauce is cleverly presented in a small chemistry flask: it"s up to the guests to pour it over the mushrooms. Gabe has something to say before the guests begin eating: "I was inspired to present the sauce in a flask because while cooking can be an art, winemaking is also a science. When I was in Bordeaux last summer, the science behind wine blew my mind, so this dish is an ode to Bordeaux." (It seems the chef is also a poet). To accompany the delicious fungi, there couldn't be anything better than what our sommelier has chosen: a Bordeaux Blanc by S de Suduiraut, rich and subtly textured at the same time. "It was a perfect compliment to the maitakes," confirms a blogger who goes by Syrah Queen.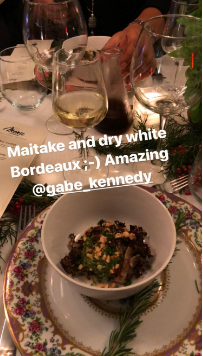 The surprises do not end there, however, since–for the main course–Gabe has concocted a paella with a bit of a twist: each plate is accompanied by an artist's palette of sauces and spices, and it's up to the guests to choose how to decorate and flavor their own dish. "But what do we drink with this?" worries one of the thirstier diners. Not to fear! We're opening a 2013 La Croix Bonis from Saint Estephe: fleshy, fruity with well-integrated tannins. Tchin tchin! "The best Paella I've ever had," sighs a guest contentedly.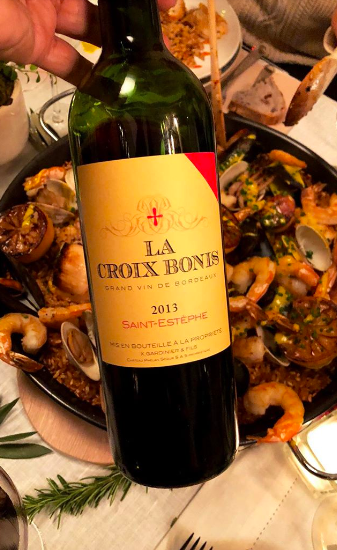 Between bites, the discussions are animated, the atmosphere relaxed…the night is getting late but nobody seems to mind.
The proof: to conclude the evening, Gabe has organized a little game…"Try to guess the price of each bottle of Bordeaux that you've tasted tonight." It's a success: the guests discuss and, across the board, hazard guesses with much larger numbers than what the hosts have spent. "Almost every bottle here tonight was less than thirty dollars!" reveals Gabe. Everyone seems visibly surprised.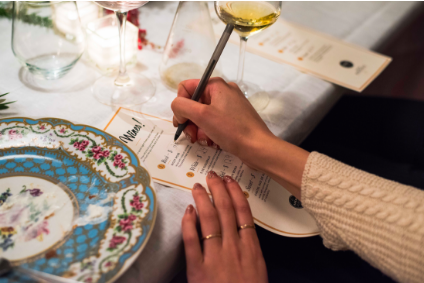 In conclusion, the moral of the story is that there's no need to spend a lot to host a beautiful dinner party…even with fine Bordeaux wines.
Now, go…it"s time to head home and dream a little…