Food and wine pairings
Autumn Table by Clément & Mathilde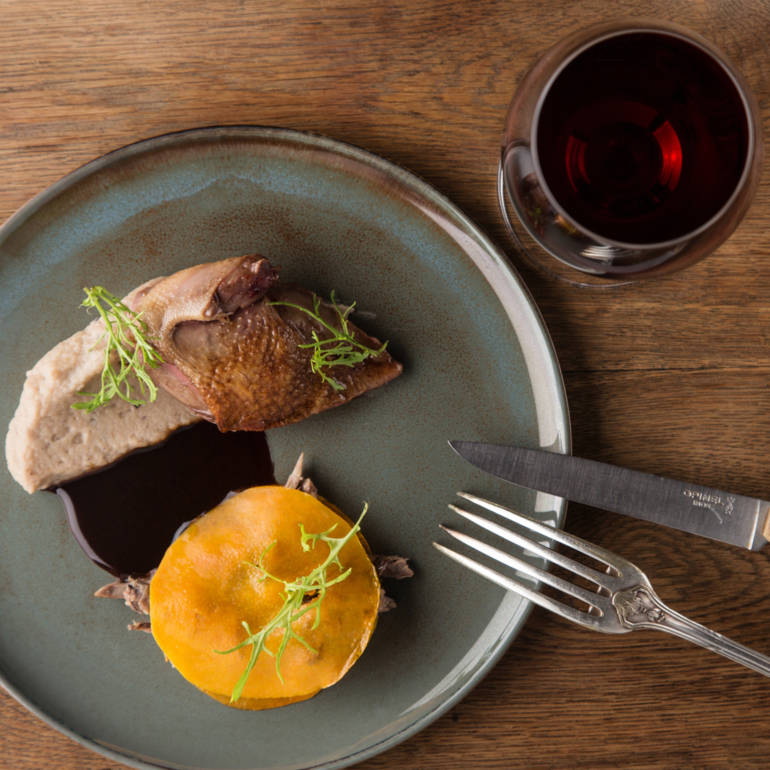 Pigeon, fillets cooked on the crown, shredded leg meat with butternut, celeriac and chestnut purée, pigeon juice
For 6 people
CLASSIC WINE PAIRING
Be bold and pair pigeon with a generous, velvety red Graves wine...making it milder and smoother.
ORIGINAL WINE PAIRING
Clairet/Pessac Léognan white: The roundness and aromatic complexity of a Pessac Léognan will make this pairing a subtle, fresh match.
INGREDIENTS
4 pigeons
2 carrots
2 onions
2 bay leaves
1 leek
50g duck fat
1 butternut
2 celeriac
1kg of chestnuts
2L of Bordeaux red wine
salt
Espelette chilli pepper

Brown the pigeon carcasses in a cooking-pot, remove and skim off fat. Coarsely cut bay leaves, carrots, onions and leek and let them sweat over low heat. Deglaze the pot with a little red wine to recover all the cooking juices. Put the grilled bones back in and cover with water. Cook over low heat for 3 hrs. Strain. Reduce juice to a syrupy consistency. Add the red wine, reduce again slightly. Remove skin from celeriac and dice into small cubes. Cook in boiling water for 20 mins.
Cook and shell chestnuts. Mash the celeriac and chestnuts into a purée. Season. Thinly slice butternut without the skin. Scald the slices a few seconds to soften them up slightly. Cook the crown (part with 2 breasts attached to the bone) in a frying pan. "Dress the plate with the celeriac/chestnut purée. Make a 'ravioli' with a slice of butternut, the shredded leg meat, and another slice of butternut. " "Add the pigeon fillets. Drizzle with juice.