Food and wine pairings
Holiday table by menue. & Slice of Pai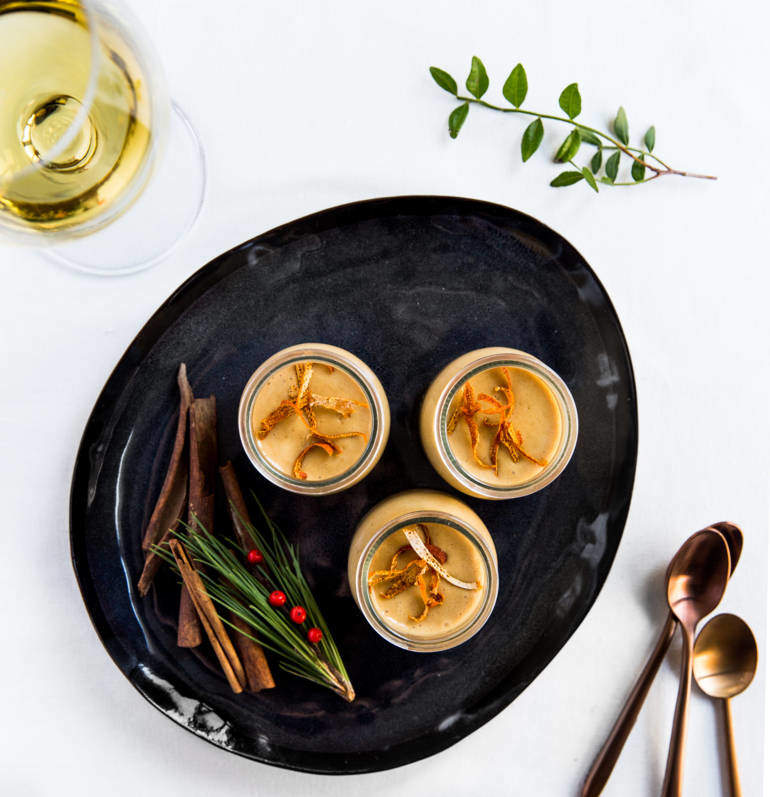 Gingerbread 'Pot de Crème' Custard
For 4-6 people
CLASSIC WINE PAIRING
A subtle pairing with a Crémant de Bordeaux, offering fruitiness and vivacity, in perfect harmony with the smooth texture of the custard.
ORIGINAL WINE PAIRING
Subtly but surely, this wine is enhanced by the spices - aniseed, liquorice - in the custard and enhances its creaminess, too.
INGREDIENTS
200g of dried, traditional gingerbread
30cl of milk
20cl of single cream
30g of sugar (more or less depending on taste)
3 egg yolks

In a mixing bowl, beat the eggs and sugar until the mixture turns white. In another mixing bowl, crumble the gingerbread. Heat the milk and cream until the mixture boils. Pour a small part of the mixture over the gingerbread and blend together well until smooth and creamy. Pour the rest of the liquid over the egg and sugar mixture, and whisk vigorously.
Then pour the two mixtures into the pan, remove from heat and continue stirring until the custard thickens. Pour into ramekins or small jars. Let cool then refrigerate at least 3 hrs. Serve with orange supremes (peeled and pithed orange wedges) or a teaspoon of marmalade.