Picking The Perfect Wine for Every Type of Thanksgiving
Choosing a wine for Thanksgiving can be daunting for even an experienced oenophile. After all, what wine goes with turkey, stuffing, cranberry sauce, *and* the host of other side dishes unique to your family's feast? And how do you please the wide range of tastes inevitable at any family gathering, from the guest who prefers wines so sweet and fruity that they're basically grape juice, to that one family member who "only drinks white Zinfandel"? With a long day of socializing, eating, and drinking ahead of you, you'll want to go into Thanksgiving with a solid game plan. Read on for some tips on how to spend a great Thanksgiving with Bordeaux wines!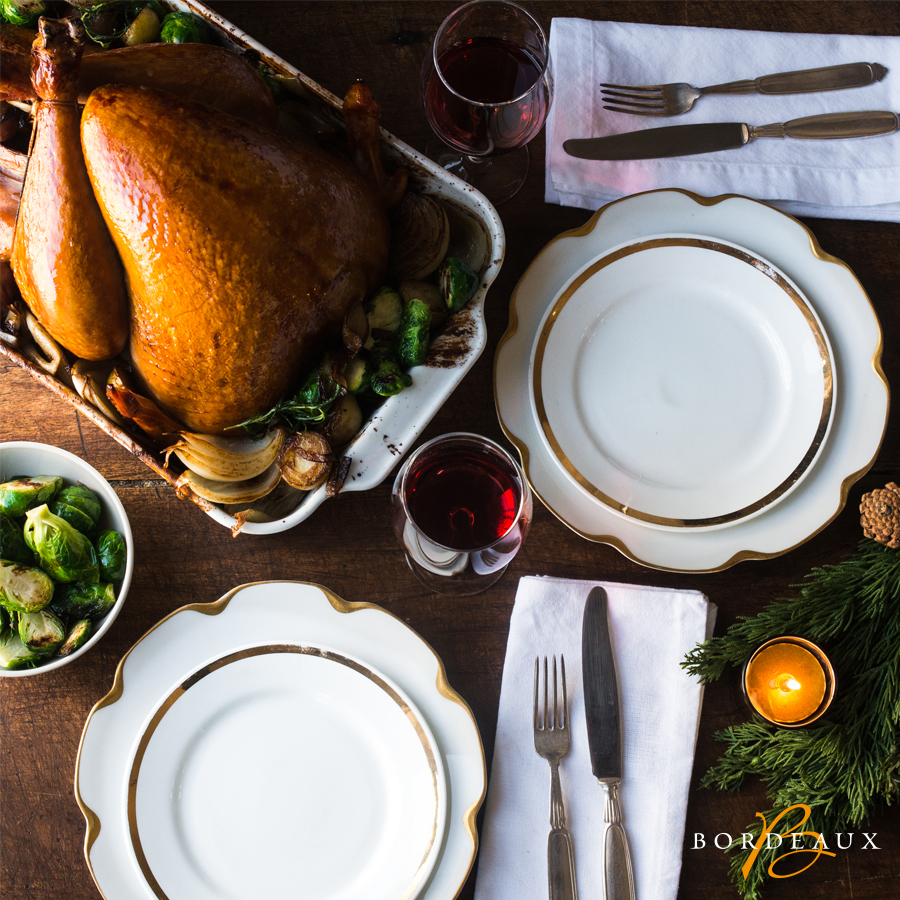 If you're eating with extended family . . .
It's almost impossible to please everyone in a large gathering with a single wine, but a white Bordeaux can come close to achieving that rare feat. Here are two that we particularly like:
2014 Château Pontet Reynaud Graves ($20). This Sauvignon-Semillon-Muscadelle blend has a medium body with floral and citrus aromas and a crisp finish.
2015 Château Puygueraud Blanc ($15). From grapes planted on limestone soil in a cool microclimate, this juicy, racy Sauvignon Blanc-Sauvignon Gris blend is produced by acclaimed winemaker Nicolas Thienpont.
If you're eating with friends . . .
For a "Friendsgiving," go with the wine that pairs with just about everything on a Thanksgiving table: rosé. It may seem odd to be drinking it indoors in November instead of outdoors in August, but the versatility of rosé is ideal for a meal with a wide range of flavors and guests with a wide range of tastes. Here are just a few of our favorites:
Verdillac, Bordeaux rosé ($14)
Chevalier Domaine de Rose ($16)
If you're meeting your significant other's family for the first time . . .
Sparkling wine: when you pop a bottle it immediately feels like a special occasion, almost everyone likes it, and it's remarkably food-friendly. The only problem is that it's not always wallet-friendly. We're pleased to be the ones to tell you that there are a ton of delicious, affordable sparkling wines from the Bordeaux region that will enhance your meal without stealing too much attention from it, and bring smiles to the faces of all but the most difficult to please in-laws.
Jaillance Crémant de Bordeaux Brut Cuvee de L'Abbaye  A.O.C. Bordeaux ($17)
Perfect for any autumnal or wintry celebration, this crisp, super-pale-gold wine is feisty yet smooth at the same time. Great for seafood, but plays well with turkey too. Made from Semillon grapes, this complex, layered bubbly combines prominent citrus flavors with a berry and almond finish.
Celene Brut Crémant de Bordeaux ($16)
Pale gold in color, this Crémant is primarily Semillon with a bit of Cabernet Franc and Muscadelle, giving it an unusual flavor profile. Brisk acidity combines with a floral opening on the nose, an unexpected mid-palate full of coffee and spice notes, and an explosion of citrus and berry flavors in the big finale.
If you're dining with people who know a lot about wine or who you need to impress, but you don't want to break the bank. . .
You really can't go wrong with Bordeaux. It's classic. It's French. It immediately imparts a sense of occasion and it feels fancy, yet remarkable values remain in the region for the discerning drinker. If you're up for spending around $30 a bottle (sometimes even less), you'll be able to find something that tastes like it must've cost far more. As always, consult your local wine shop for advice about the best values. That said, here are some of our current favorites:
Château de Parsac, Saint Emilion ($29). Earthy, smoky, and well balanced, with ripe wild fruit flavors and medium acidity.
CHÂTEAU TIRE PE DIEM BORDEAUX BLEND ($14). Packed with the flavors of currants, plums, and sweet herbs, this remarkably affordable wine will enhance even the most complex Thanksgiving feast.
Chateau Leboscq, Médoc, ($30). Plenty of tannins and acidity, alongside comforting earthy, herbal flavors.
While you're still waiting for the guests to arrive . . .
Treat yourself! You're the one(s) cooking, hosting, and probably doing most of the cleanup too, so you deserve whatever you want to drink. Maybe a sparkling Bordeaux wine? They're bubbly, delicious, and can make even mashing potatoes seem glamorous.
Alternatively, try this perfect white Bordeaux: Château Carbonnieux Blanc 2014. A blend of Sauvignon Blanc and Semillon gives this wine preserved fruit flavors and a refreshing acidity that will keep your palate ready for the meal to come.
To serve with dessert . . .
Sauternes, the naturally sweet dessert wine of Bordeaux, is our first choice when approaching the end of a meal. With dessert, you usually want whatever you're drinking to be slightly sweeter than what you're eating, and Sauternes merges savory and fruit flavors perfectly, transitioning you from turkey and cranberry sauce to pumpkin, apple, or pecan pie.
Haut Charmes, Sauternes ($19). Lush with striking acidity, notes of honey, apricot, and vanilla hinting at oak make this intense, complex wine a superb value.
Petit Guiraud, Sauternes ($20). Unctuous mouthfeel with ripe mango flavors. Hints of tangerine rind and dried herbs mingle in a long, balanced, and luscious finish.
Alternatively, go with a Crémant de Bordeaux. Though most sparkling wines are not very sweet, they can work very well with certain types of dessert. For example, we heartily recommend Bordeaux's sparkling wines for pairing with nut, honey, or fruit-based desserts. Fresh,  fruity, and lighter in style, these fine but often overlooked sparkling wines (both white and rosé) provide an elegant end to any meal.
Bayle Carreau Cremant de Bordeaux Rose Demi-Sec ($17). Flavors of fresh strawberries and underripe melon, with a bit of minerality in the finish.
Jaillance Cremant de Bordeaux Brut ($18). Refreshing and effervescent, these sparkling Bordeaux wines exhibit creamy mousse and a touch of softness on the finish.
Enjoy your THANKSGIVING with Bordeaux wine !!