Dry White Bordeaux – The Commanderie de Bordeaux' just announced its 2017 "Commandeurs Choice – Affordable Bordeaux wines" .
San Juan, Puerto Rico — A blind tasting panel of the Commanderie de Bordeaux aux États-Unis met at the Vanderbilt Condado to judge the 5th annual Commandeurs Choice competition, an event designed to discover the unsung – and affordable – stars of the Bordeaux wine region. Eleven Commanderie chapters from around the U.S. each submitted a candidate wine for the competition, after conducting their own extensive blind tastings. This years' winners are:
2014 Le Blason de Château Larrivet Haut-Brion Blanc, Pessac Leognan, Graves
Submitted by the Palm Beach Commanderie, this Sauvignon Blanc – Semillon is a classic white wine blend. It is most widely produced in France (most notably Bordeaux"s Graves district, where this wine was created), where both Sauvignon Blanc and Semillon are well-established varieties. The versatile blend is typically made into crisp, dry wines, but it is also the blend of choice for the world"s most prestigious sweet wine style, Sauternes. The blend is endowed with vibrant acidity and grassy aromas by Sauvignon Blanc, and its structure and mouthfeel from Semillon.
2014 Domaine de Grandmaison Blanc, Pessac Leognan, Graves
Submitted by the Triangle Commanderie. A bit more obscure, please note that this direct import by Laure Levesque (Queen of Wines) in Raleigh seems to only have local North Carolina Triangle distribution. In this blend of the three classic white-wine grapes of Bordeaux –  Semillon, Sauvignon Blanc and Muscadelle – Sauvignon brings its trademark grassy aromas, while Semillon adds a touch of complexity and a waxy, honeyed note. Muscadelle, the lesser-known of the three varieties, contributes grapey aromas.
2014 Château les Charmes-Godard Blanc, Francs – Côtes de Bordeaux
Submitted by the San Diego Commanderie, this is another example of a blend of the three classic white-wine grapes of Bordeaux, Semillon, Sauvignon Blanc and Muscadelle. Unlike the Grandmaison Blanc, however, this Château les Charmes hails from the Cotes de Bordeaux Bordeaux region: Premieres Cotes de Blaye, Cotes de Castillon, Cotes de Francs, and the red wines from the Cadillac district, which previously fell under the Premieres Cotes de Bordeaux title.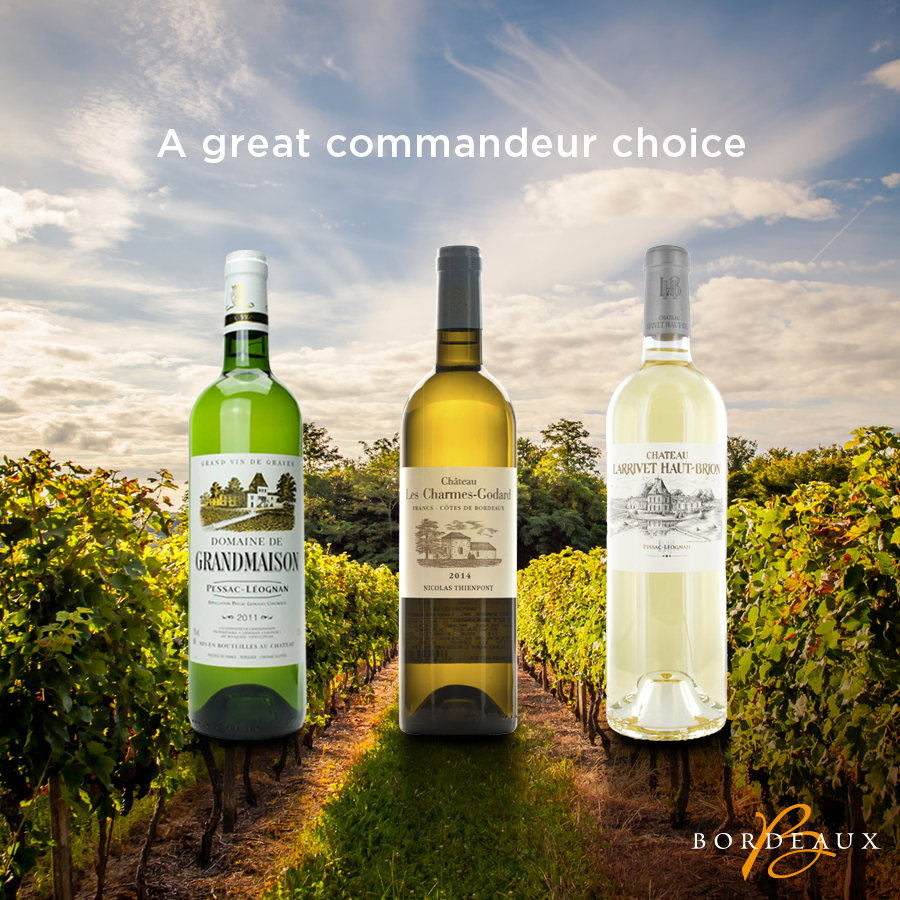 Competition criteria stated that entry wines must be white Bordeaux from the 2014 vintage, be available in wine shops for less than $40, not be ranked in a classification scheme and not be the 2nd label of a classified châteaux.
More than 100 different wines were tasted before the semi-finalists were nominated. The motivation for the Commandeurs Choice competition is to counter the "élite" image of Bordeaux wines (i.e. too expensive, hard to find, difficult labels). With some 6,500 different producers in the Bordeaux region offering a wide range of wines, consumers need guideposts for choosing wines other than the well-known – and often pricey – officially classified growths. These lesser-known properties are producing consistently delicious wines due to improved vineyard management and modern wine-making techniques. But being smaller operations, their challenge is getting the word out about what they have to offer.
If you want to discover more about "the commanderie de Bordeaux", follow this link: http://www.commanderie.org/