Food and wine pairings
Autumn Table by Clément & Mathilde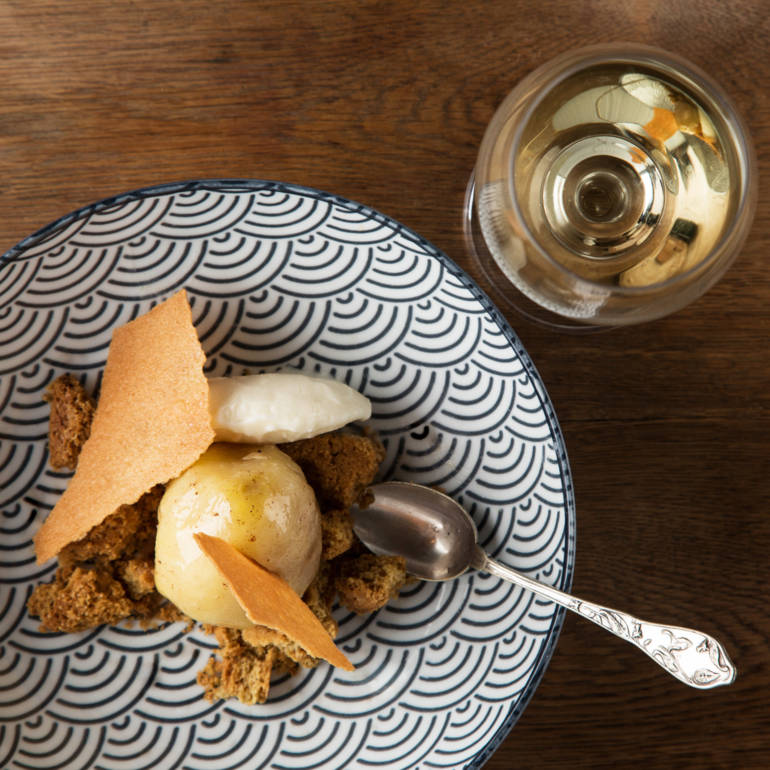 Pears poached in rosemary, Breton biscuit, frozen yoghurt, brown butter
For 6 people
CLASSIC WINE PAIRING
A pleasant pairing of aromas! Matching the pears up with a sweet white wine, rich in white fruit aromas, takes them to new heights!
ORIGINAL WINE PAIRING
An airy pairing thanks to the acidity of the Crémant and its fresh hints of white fruit! The pears, frozen yoghurt and biscuit are enhanced perfectly in this festive pairing!
INGREDIENTS
4 pears
4 scoops of frozen yoghurt
50cl of sugar
4 sprigs of rosemary
10g of butter
2 egg yolks
80g of sugar
80g of softened butter
140g of flour
6g of baking powder

For the Breton biscuit: Beat the yolks together with the sugar until the mixture turns white. Fold in the butter, then the flour combined with the yeast. Roll the biscuit pastry into a sausage shape. Roll it up in cling film and place in fridge for about 2 hours. Cut the sausage-shaped pastry roll into thick slices and place them in mini-tartlet tins. Bake for 15 mins at 170°C
For the pears: Prepare a syrup flavoured with the sugar, water and rosemary. Once the syrup is sufficiently infused, cook the peeled pears in it, over a low heat for about 20 mins. Melt the butter until golden brown. In the bottom of the dish, crumble the biscuit, top with a whole pear, scoop of frozen yoghurt and a drizzle of warm brown butter.