Food and wine pairings
Holiday table by menue. & Slice of Pai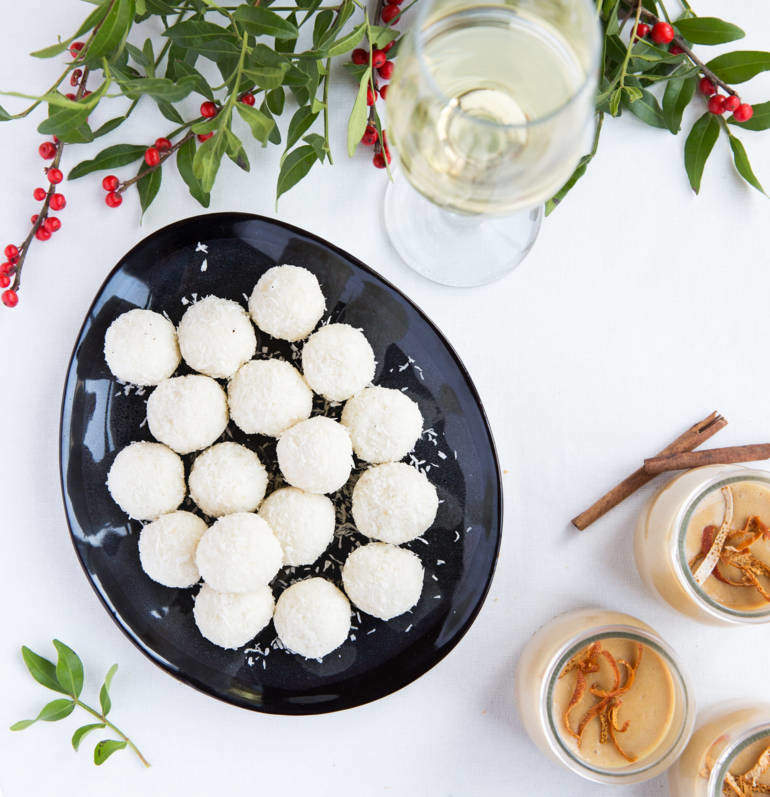 Shredded Coconut Truffles with condensed milk
For 6-8 people
CLASSIC WINE PAIRING
Long live the freshness in this pairing boosted by the tartness and fruity finesse of the Crémant de Bordeaux! A fresh and festive pairing!
ORIGINAL WINE PAIRING
Upheld by the pleasant tartness of the Sainte Croix du Mont, this pairing, marked by a very smooth texture, provides a nice aromatic link via the hints of coconut.
INGREDIENTS
500g of grated coconut
1 can of sweetened condensed milk
Optional: a shot of rum if you want a more flavourful mixture

Mix the coconut and condensed milk until smooth. To keep the balls from sticking, spread a piece of greaseproof paper onto a baking tray or a fairly wide dish that will nonetheless fit into the fridge.
Take a teaspoonful of the mixture and roll into balls by hand, setting the balls one by one onto the baking tray. Refrigerate at least 2 hrs before serving.