Enjoy a traditional French holiday table with Bordeaux Wines!
It's impossible not to notice that Christmas is right around the corner. The lights have been switched on, holiday ads are everywhere, the stores are filled with seasonal presents and decorations – everyone is breathing, talking and thinking of Christmas.
In France, food is one of the most important elements of any Christmas  celebration, and families usually share a long, drawn out meal (or meals) over the winter holidays. Today we'll share some thoughts about putting together the perfect French table for this magical time of year.
We suggest starting with a sparkling wine as an aperitif – did you know that Bordeaux produces sparkling wines, called 'Crémant de Bordeaux', using the same traditional methods as they do in Champagne? Try a Les Cordeliers Brut, AC Crémant de Bordeaux–this crisp and fruity fizz is ideal with light canapés at holiday party or just enjoyed on its own. Due to its lemony, floral freshness and lively acidity, this Blanc de Blancs wine would also be a perfect Christmas morning vino to partner with a classic breakfast of smoked salmon and scrambled eggs!
The ideal French Christmas meal begins with oysters, and these briny bivalves are even more delicious when paired with the perfect wine. For a classic pairing, try a crispy and fruity dry white wine from the Bordeaux appellation, which will go swimmingly with your salty, luxurious oysters. If you want to mix things up, however, we recommend the more surprising pairing of a sweet white wine, which contrasts beautifully with this saline delicacy from the sea.
Next, a true French classic: snails roasted with garlic, butter, and parsley. To drink, we recommend a dry white wine from Graves.  These structured and generous whites pair well with both the fattiness and freshness of snails, and can hold their own against the strong flavors of the garlic-herb butter. For a more original pairing, however, go with a young, fruity red from the Bordeaux appellation.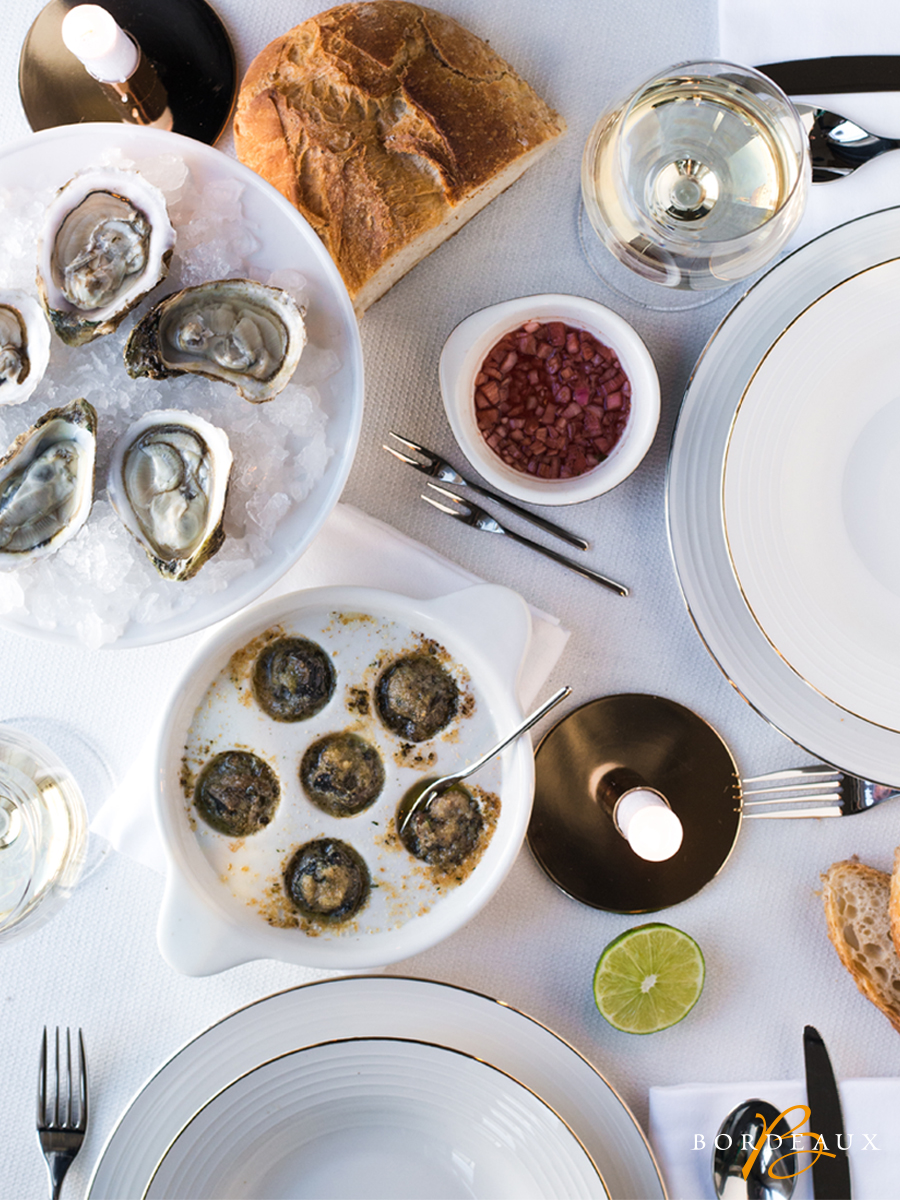 For the main course, try roasting a turkey with a French twist. Stuff the cavity with sausage-mushroom stuffing, and rub the entire exterior with oil and herbs de Provence. Serve with potatoes grenaille and a sophisticated Pomerol red wine for a true feast. Alternatively, try a dry white from Pessac-Léognan: depending on the preparation and side dishes, these structured and generous white wines are a great pair for turkey or capon.
Finally, no holiday meal is complete without dessert. Finish off your feast with a French classic: Bûche de Noel. This traditional French cake can take many forms but always looks like a log, so flourless chocolate is our favorite way to go. Sprinkle the finished cake with a bit of powdered sugar to give the impression of fallen snow, and serve with a round, structured Bordeaux red such as Lalande de Pomerol. Or, if you're feeling particularly decadent, pair your Bûche with the ultimate dessert wine: Sauternes.
Most of all, however, Christmas means home. It's not just about the presents and festive feasts, but about that special atmosphere shared by a family sitting around the Christmas table. And what if, this year, we swap glitter and fake snow for natural materials and handmade items? Here are some DIY ideas that will not only match the spirit of Christmas but salve your wounded wallet at the same time.
Christmas candles
Candles cast a much warmer glow than electric lights, softening the ambience and making Christmas just a bit more magical. Yet candles melt to the rhythm of the hours, slowly but surely, onto your festive tablecloth. So, to make them last the whole day, we suggest reusing your empty bottles of Bordeaux wine as candleholders. If the bottles are see-through you can fill them with some water and foliage to create the feeling of a woodland hideaway.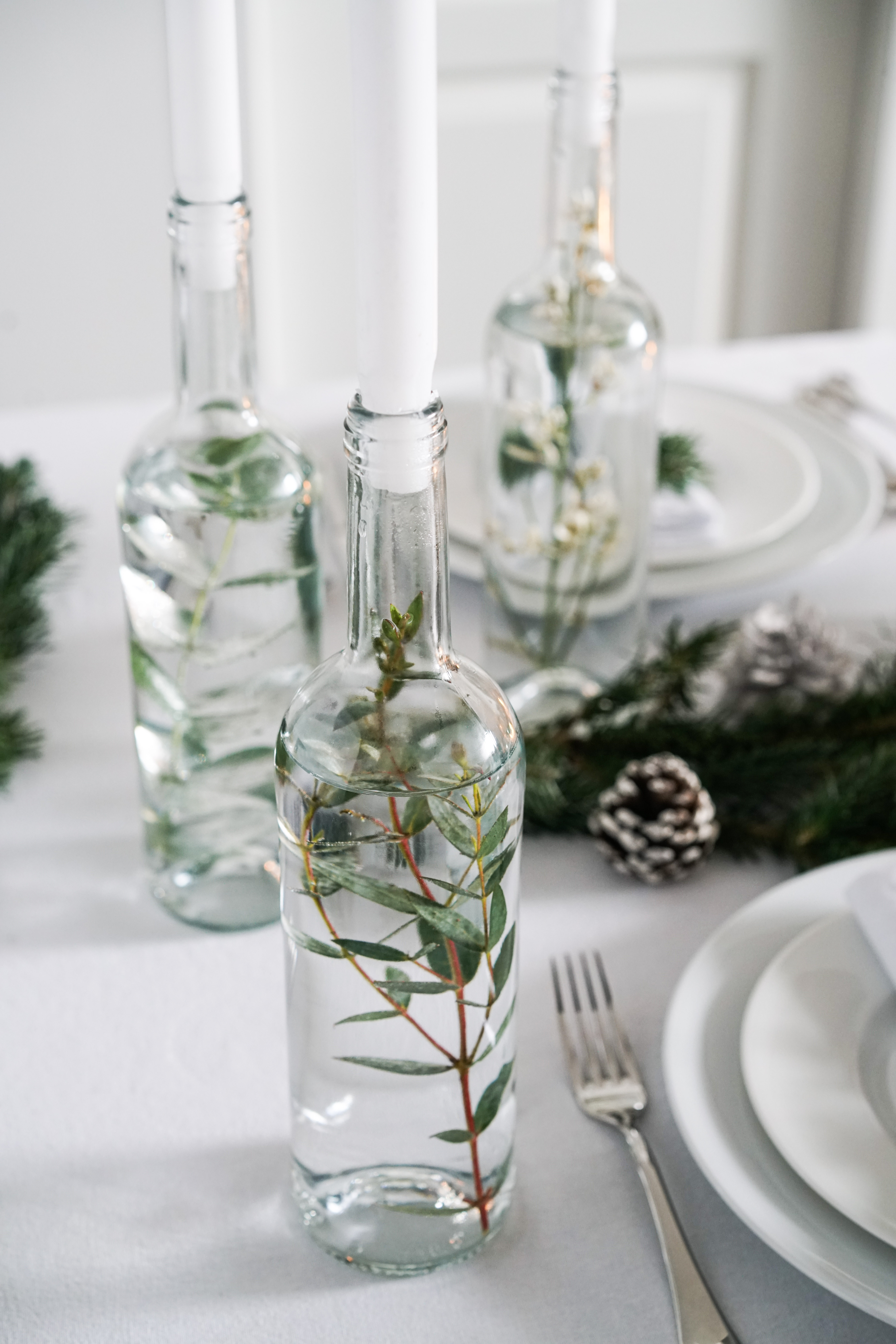 This Christmas, we suggest wrapping your candles (preferably larger ones) with leftover foliage–fallen branches from trees or green herbs like rosemary or thyme. The latter, with the help of the heat from the flame, will diffuse their scent throughout the evening. Just use a piece of string to attach those natural design details.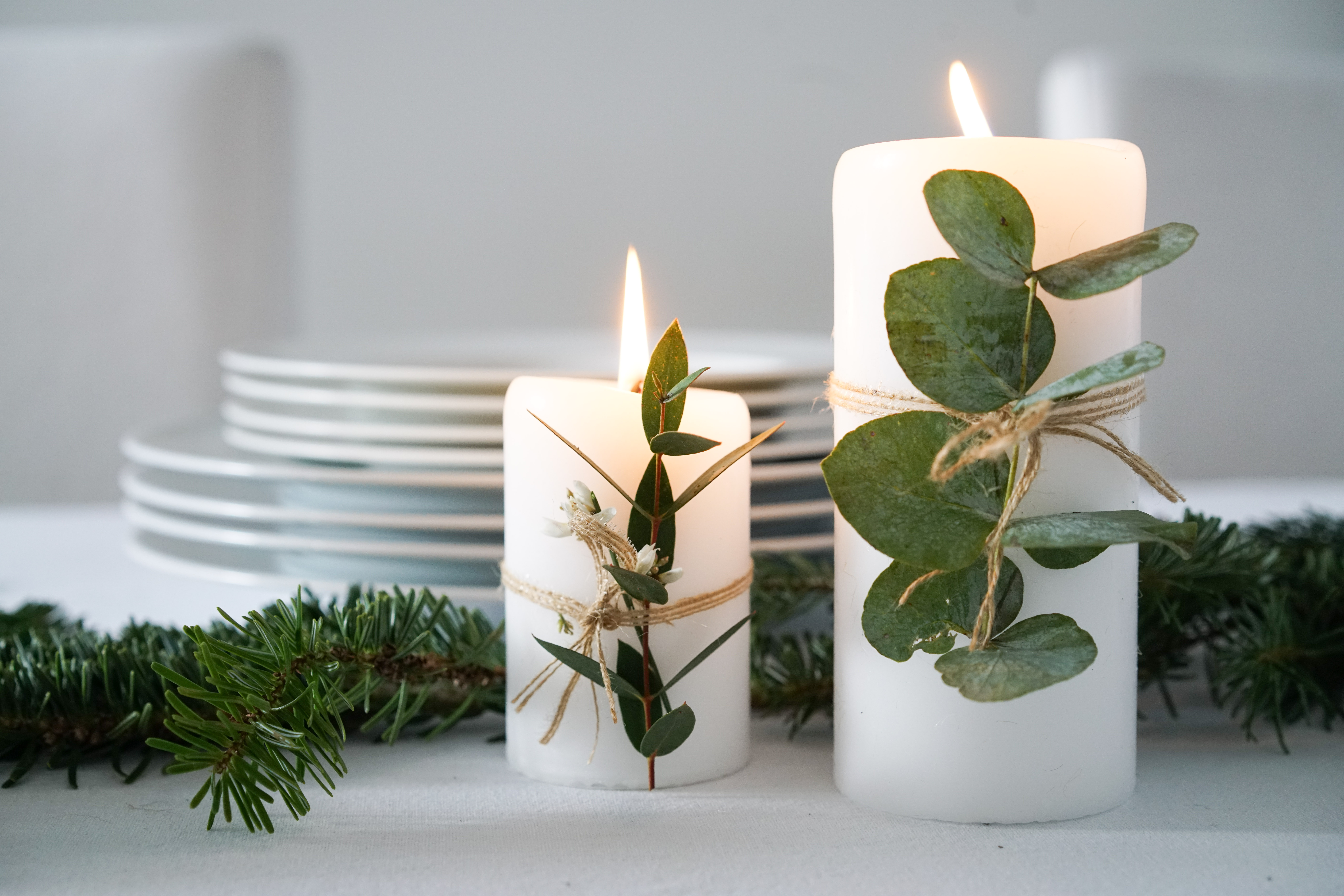 Flowers
From the wreath of holly over the front door to the glowing tree at the center of the room, green is a traditional Christmas color. In order to preserve this vivid color until January or even longer (everyone likes to make the spirit of Christmas last), use greenery that doesn't fade, such as fir or eucalyptus. Gather a variety of foliage, berries, twigs, pinecones, or anything else you want to add to your wreath.  Twist the flexible stems together in a loop and tie in place using twine. Continue adding more stems until you have a strong base. Decorate your base with evergreens by tying the sprigs to cover it completely.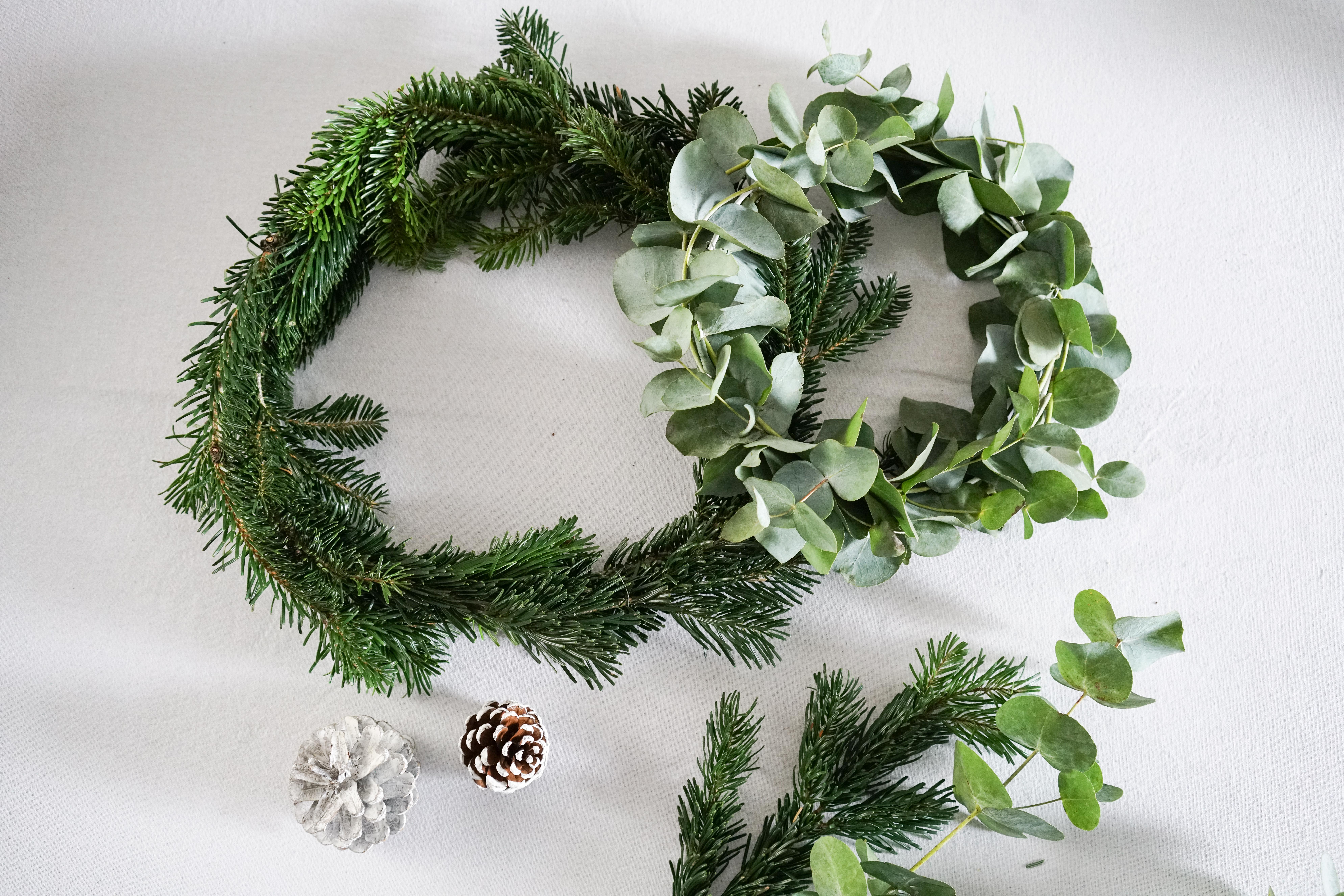 The details
Finally, because elegance is in the details, why not decorate your napkins with fresh sprigs of rosemary or eucalyptus? You can do the same with wrapped gifts if you like.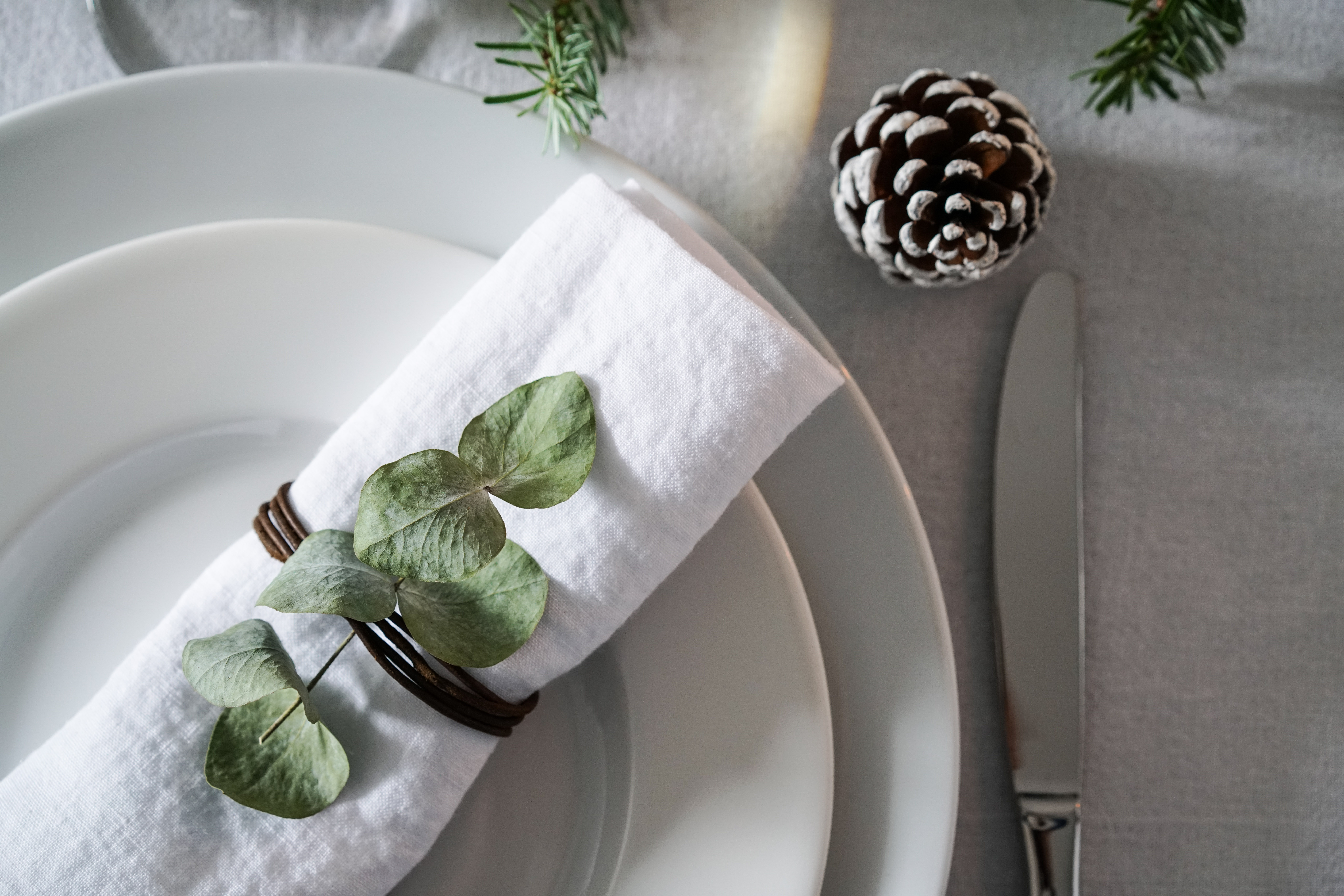 Now the table is set, simple but elegant.
All you need to add is family, friends, and of course some delicious Bordeaux wines!