Live your best Cinco de Mayo with Bordeaux wines and original taco recipes
Cinco de Mayo, that much-loved early May holiday, is often mistaken for Mexico's Independence Day, but really commemorates the Mexican Army's victory over French soldiers in 1862. Mexico and France may not have been too friendly back then but, these days, we like to think that the two great culinary nations can play nice together for a delicious and original Cinco de Mayo celebration!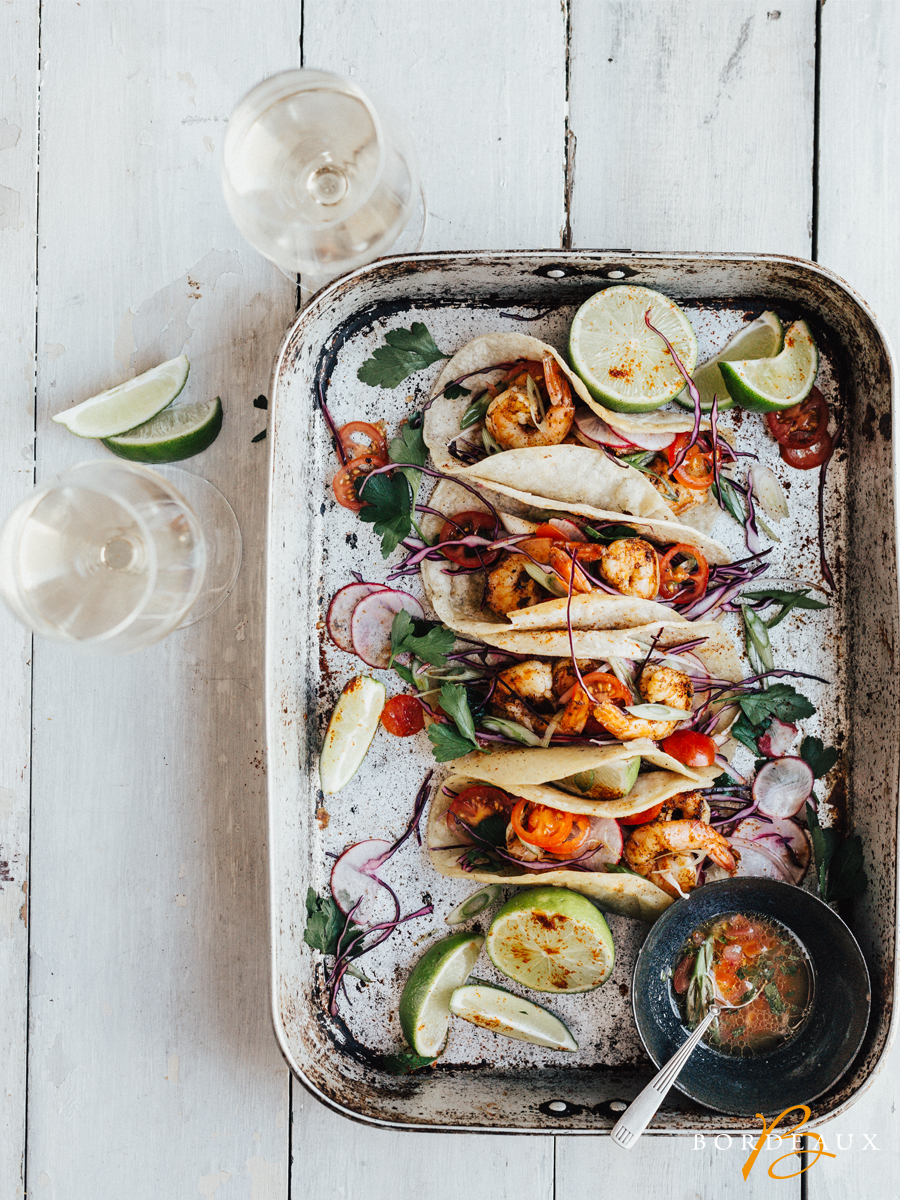 We'll start with some supremely tasty shrimp tacos. First, add vegetable oil, cilantro, lime, garlic, salt, and chopped green onion into a food processor and pulse into a sauce (you may need to add a bit of water to thin it out). Pat your shrimp dry and coat liberally with a mixture of cumin, salt, chili powder, and cayenne pepper if you like things hot. Drizzle a little oil into a pan and sear the shrimp over high heat for about five minutes or until cooked through. Toss shredded cabbage in the sauce you made in the food processor, spread over corn tortillas, add the seared shrimp, and top with sprinkled cotija cheese and chopped cilantro.
To drink with your shrimp tacos, we recommend a dry Bordeaux white wine, such as an Entre-Deux-Mers. Made from a blend of Muscadelle, Sauvignon Blanc and Sémillon grapes, whites from the Entre-Deux-Mers tend to be nervous and well-balanced with citrus and tropical fruit flavors: a perfect match for the lime and powerful spices in your shrimp tacos.
In the mood for something meatier? We've recently become addicted to Cochinita Pibil, the unusual, deeply satisfying pork shoulder recipe from the Yucatan that lends itself easily to a taco feast. More earthy than spicy, this deeply flavored dish has hints of both sweetness and bitterness coming through via grapefruit juice, achiote (a naturally red condiment widely used in the tropical parts of the Americas), charred garlic, and an unusual mix of spices that includes oregano and cloves—not flavors that we usually associate with Mexican food.  
To match the complexity of Cochinita Pibil, we recommend a red from Lussac Saint-Emilion. These wines, a blend of Cabernet Franc and Merlot grapes, exhibit aromas of red fruit, cut through with plum, spice, and leather, and are well structured and powerful enough to stand up to the mighty Pibil.
It's time for brunch but you're still craving tacos…no problemo! Scramble up some eggs, cook potatoes until soft and almost crumbling, and add cactus, cheese, or chorizo as you prefer. Wrap it all up in a tortilla and, whatever you do, don't forget the avocado, and definitely don't forget the wine! A Bordeaux rosé, with their fresh, fruit-forward flavors, is a perfect brunch companion for these homey, satisfying tacos. Light pink in color, Bordeaux rosés go well with almost any kind of food, and we love them paired with an eggy, potato-y, maybe cheese-y brunch taco.