Easy curry recipes paired with Bordeaux wines
As the temperature drops down we are all craving comfort food to help us beat the cold weather blues. People often ask which wines they should drink with curries, so we have come up with some suggestions of Bordeaux wines to match three of our favourite winter warmer curry recipes.
Green chicken curry
There's nothing better on a cold winter day than a delicious, fragrant and nourishing Thai green curry. And it's very easy to make too. Let's get cooking!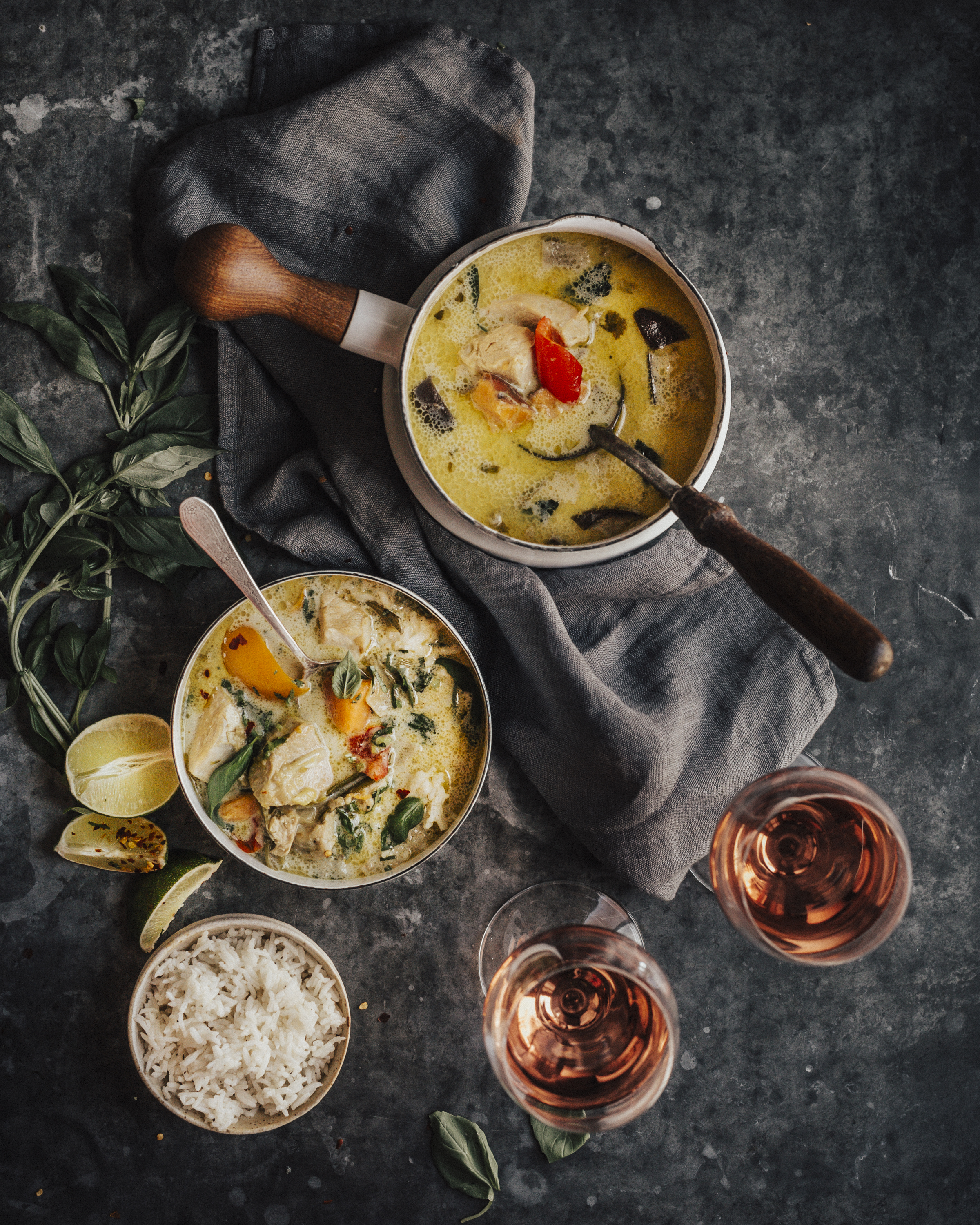 Ingredients (serves 2)
1 tablespoon vegetable oil
3 tablespoons Green Curry Paste
400ml coconut milk
1 tablespoon palm sugar
2 tablespoons fish sauce
3 lime leaves, cut into thin strips
500g boneless, skinless chicken breast, cut into pieces
A handful of pea aubergines or ½ aubergine
150g cooked bamboo shoots, cut into pieces
a handful of Thai basil leaves
sea salt
Steamed rice, to serve
To garnish (optional)
2 red chillies
Basil leaves
Method
Heat the oil in a wok over a high heat. Add the green curry paste and stir fry for about 1 minute, or until fragrant.
Reduce the heat to medium and add half of the coconut milk. Cook for about 2 minutes until the green oil splits and rises to the surface.
Add the remaining coconut milk, palm sugar and the fish sauce, then season with a pinch of salt.
Add chicken, stirring to incorporate. When the curry sauce comes to a boil, reduce heat to medium or medium-low and simmer 5 minutes, or until chicken is cooked through. Stir occasionally.
Add the limes leaves and the vegetables. Simmer until vegetables are cooked to your liking. Stir in the basil leaves.
Serve with steamed rice. Top each portion with fresh basil and chilli.
Wine pairing
Rosés are not just for summer, they actually pair really well with a chicken curry. These wines have the acidity and lively young fruit flavours to cut through the richness of the coconut milk in this dish, yet are not tannic, making them the classic choice to stand up to the spices. Why not try Château Bel Air Perponcher Réserve Bordeaux Rosé – this crisp strawberry scented rosé will add a nice touch to your curry.
Sweet potato and lentil curry
This comforting vegetarian curry with sweet potato and red lentil is an easy midweek meal. You can easily make it vegan too.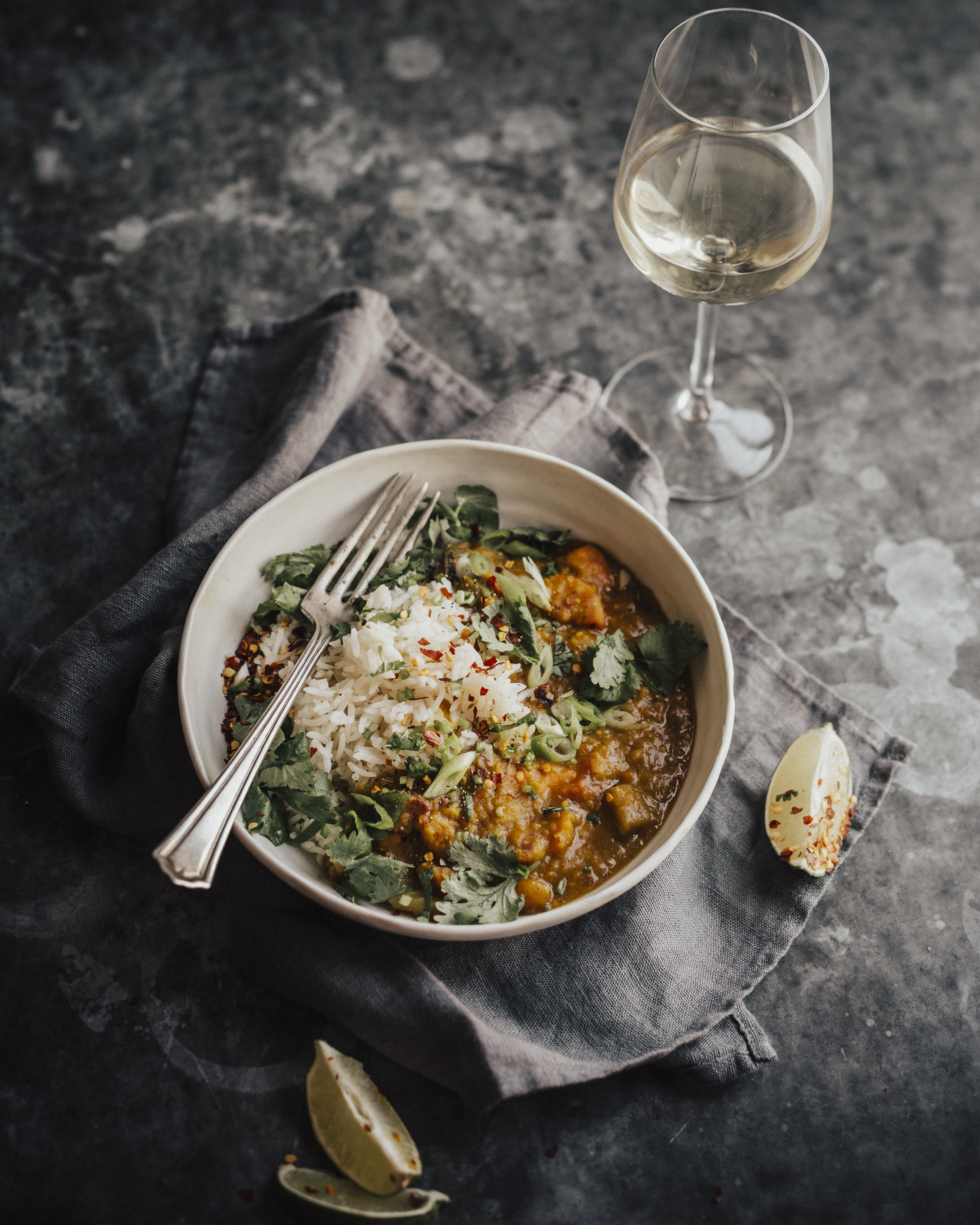 Ingredients (serves 2)
2 tbsp vegetable or olive oil
1 red onion, chopped
1 tsp cumin seeds
1 garlic clove, crushed
1 tbsp medium curry powder
100g red split lentils
2 medium sweet potatoes, peeled and cut into chunks
500ml vegetable stock
80g fresh spinach
Sea salt
Black pepper
To garnish
Handful of coriander leaves
2 spring onions
Method
1. Heat the oil in a large deep pan over a medium heat. Add the onion and sauté for a few minutes until beginning to soften. Add the garlic, cumin and curry powder. Fry for 1–2 minutes.
2. Add the sweet potatoes, lentils and stock and bring to the boil. Reduce the heat, then cover and simmer for 20-25 minutes, stirring frequently to prevent the lentils from sticking, until the sweet potatoes and lentils are tender.
3. Add the spinach to the pan and cook for 5 minutes until wilted down. Season to taste with salt and black pepper.
4. Serve with rice, sprinkle with coriander leaves and spring onion. For non vegan option, serve with a dollop of yogurt.
Wine pairing
We recommend to pair this sweet potato and lentil curry with a dry Bordeaux white wine, such as an Entre-Deux-Mers, for example Château La Rose du Pin. Made from a blend of Muscadelle, Sauvignon Blanc and Sémillon grapes, whites from the Entre-Deux-Mers tend to be well-balanced with citrus and tropical fruit flavours – a perfect match for the powerful spices in your curry.
Lamb and tomato curry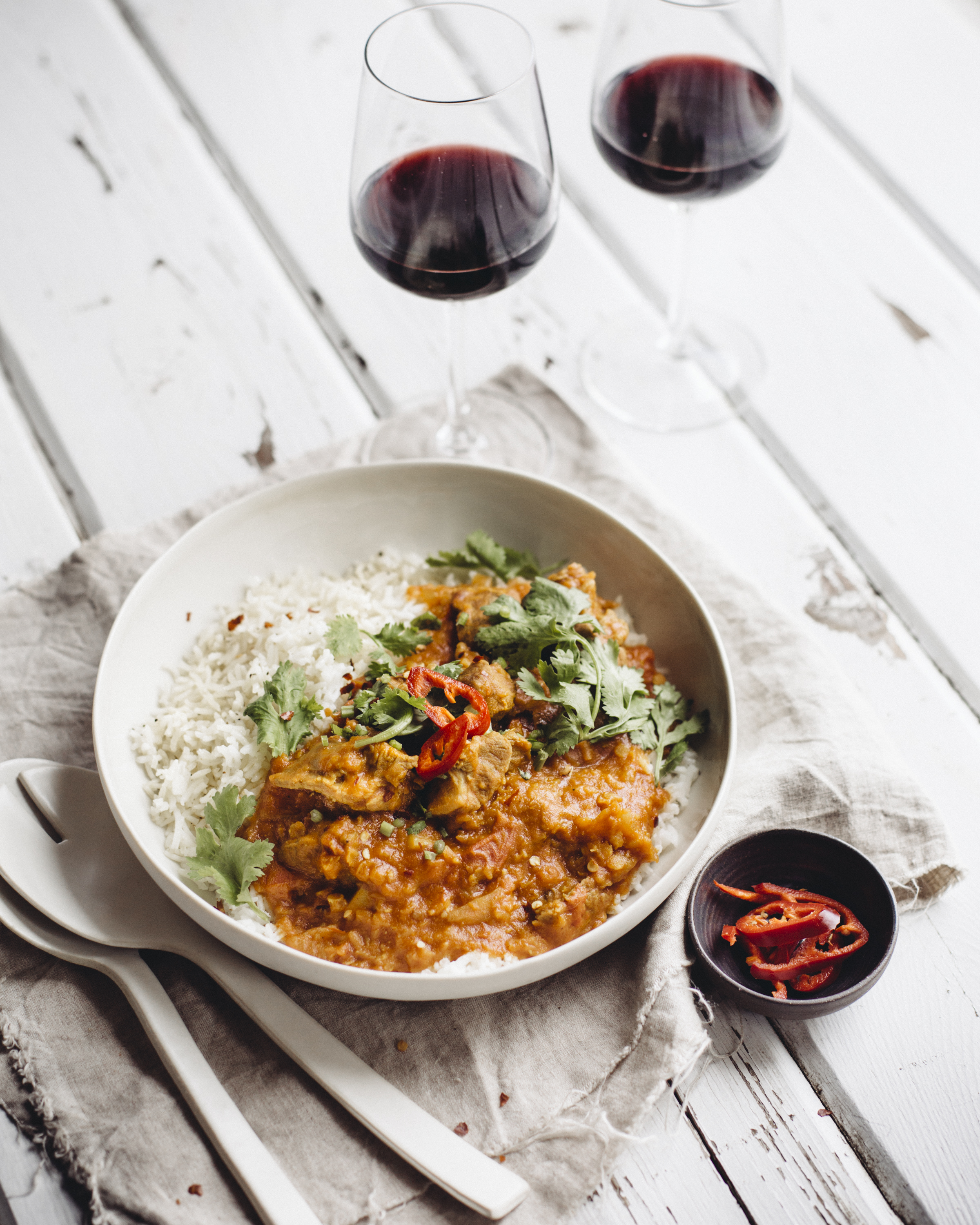 Simple yet delicious, the lamb and tomato curry is a perfect dish for the colder months of the year.
Ingredients (serves 4)
1 red chilli, finely chopped
50g fresh root ginger, grated
2 tbsp hot curry paste
500g lamb neck, cut into chunks
3 tbsp vegetable or olive oil
2 onions, chopped
3 cloves garlic, crushed
500ml lamb or chicken stock
2 tbsp sun-dried tomato paste
4 medium-sized tomatoes, cut into wedges
Method
Heat 3 tbsp oil in a pan over medium-high heat. Add the lamb and cook, turning, for 1-2 minutes or until browned. Transfer to a heatproof bowl.
Heat the remaining oil in the pan over medium heat. Add the onion, ginger and garlic and cook, stirring, for 3-5 minutes or until soft. Add the curry paste and cook, stirring for 2 minutes or until aromatic.
Add the tomato, tomato paste and the stock. Cover and bring to a simmer. Add the lamb and cook, partially covered, for 25-30 minutes. Season with salt, if necessary
Serve with rice.
Wine pairing
The rich sauce and flavoursome meat needs an equally full wine and there's nothing better than a fruity red Côtes de Bourg. We suggest Château Baron Bellevue 2012 that will go beautifully with this dish, due to it's soft tannins and lovely spice.
Whichever curry you end up cooking, we hope you enjoy your hearty dinner with Bordeaux wines.