Celebrate the Chinese Year of the Dog with Bordeaux wines
Chinese New Year is with us once again. The Chinese Year of the Dog starts on Friday 16th February, kicking off a two-week Spring Festival celebration filled with food, fireworks and plenty of fun.But what kind of wines go well with traditional Chinese New Year meals? To help you celebrate in style, we've matched three classic Chinese recipes with its ideal Bordeaux wine recommendation. Let's get started…
Steamed whole fish
This is a must-have dish for any Chinese New Year dinner. Fish is a symbol of prosperity, but it's important the fish is fresh and served as a whole, with head and tail attached. This symbolises a good start and end for the coming year.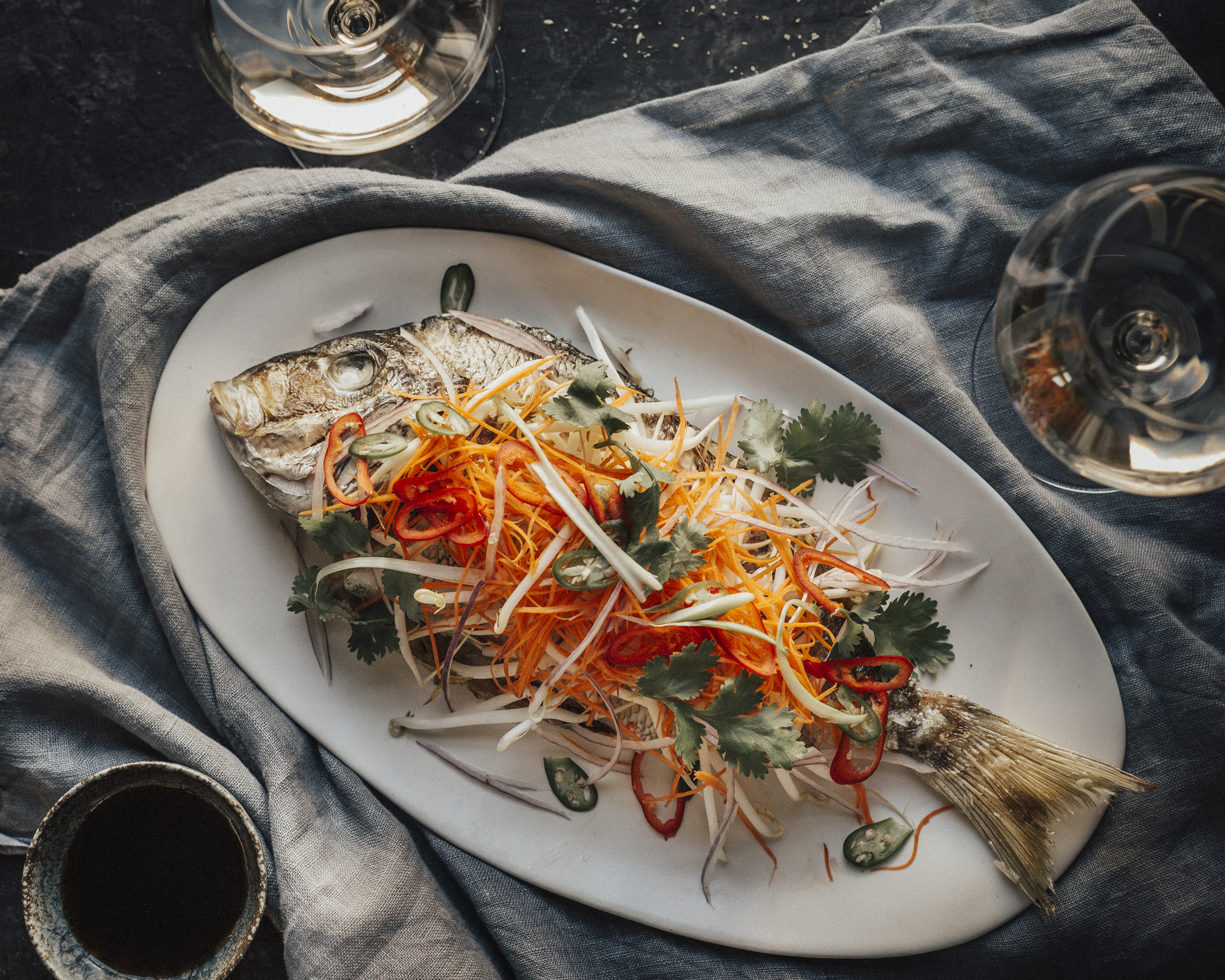 Ingredients
1 sea bass 600-700g (or other white fish), cleaned and scaled but with head and tail intact
1 tbsp shredded fresh ginger
3 spring onions, chopped
1 carrot, cut into fine matchsticks
1 tsp sesame oil
1 red chilli, deseeded and finely chopped
2 tbsp soy sauce
1 tbsp oyster sauce
Salt
20g fresh coriander
1 tsp sugar
Method
Make 3-4 diagonal cuts on each side of the fish. Season both inside and outside of the fish lightly with salt.
Mix the spring onions, chilli, ginger, carrot, coriander stalks and most of the leaves. Place a third of the mixture on a plate, then place the sea bass on top. Scatter the remaining herbs and vegetables over the sea bass.
Heat a pan with water until boiling. Put the dish on a rack over the boiling water, cover and steam for 8-10 minutes. Pour out any water that may have collected in the dish.
Mix together the soy sauce, oyster sauce, sugar and sesame oil. Pour over the sea bass and serve. Sprinkle with remaining coriander leaves, if desired.
The garlic, ginger and warming spices call for a crisp and fruity white Bordeaux wine such as Château Moulin de Launay from Entre-Deux-Mers. This wine, a delicious blend of Sauvignon Blanc, Semillon and Muscadelle grapes, has the acidity and lively floral notes to cut through the dish's fragrant spice flavours.
Longevity noodles
Noodles are an essential ingredient in many Chinese dishes – every New Year's feast will include at least one noodle dish. Longevity noodles, as the name suggests, symbolise a long life. So it's important not to cut them while cooking or when eating!
This simple noodle recipe is quick to prepare, using ingredients easily found in your local grocery store.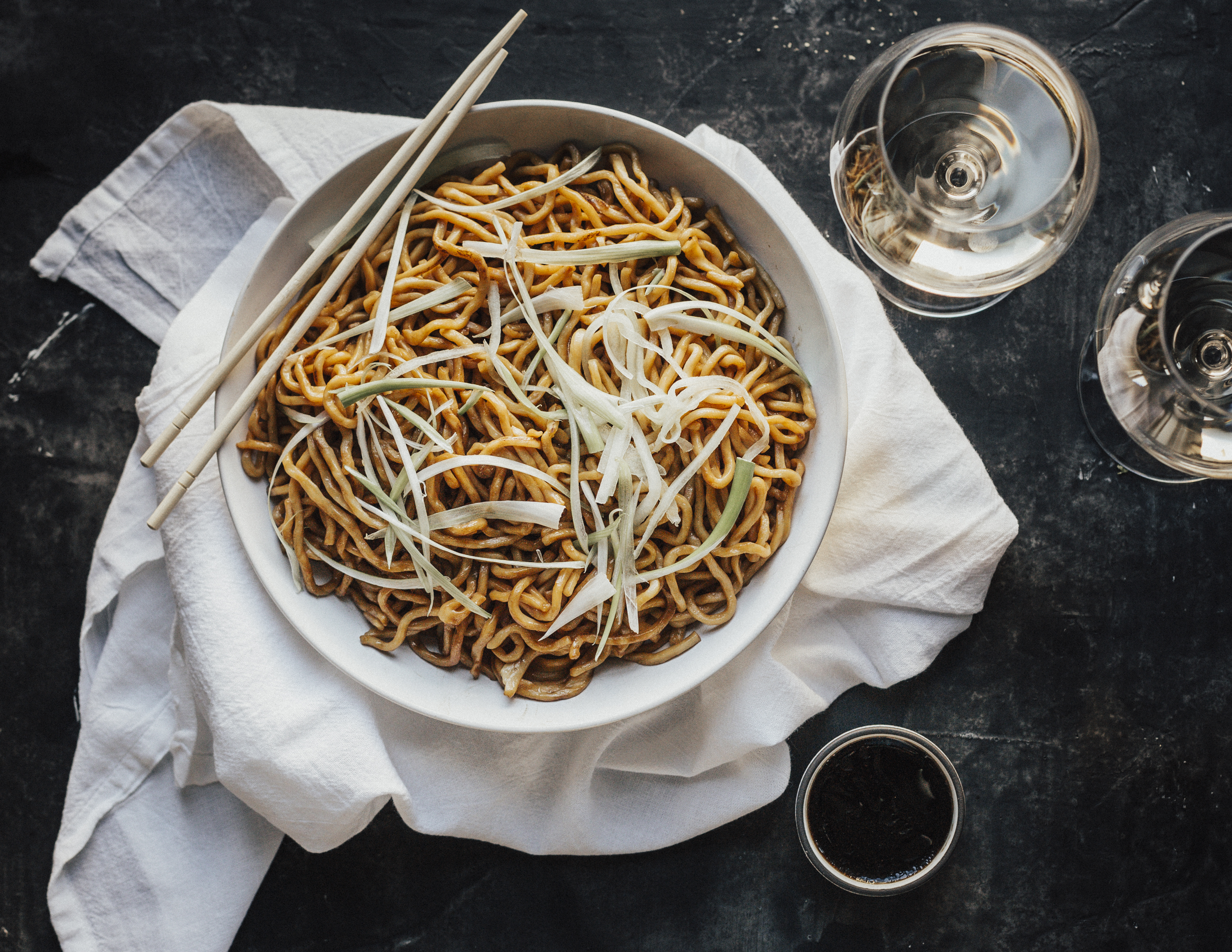 Ingredients
Serves 4
225g long rice or wheat-flour noodles
2 tbsp vegetable oil
2 cloves garlic, finely minced
1-2 tbsp soy sauce
1/2 tablespoon chilli sauce
Salt and pepper to taste
1 spring onion, chopped lengthways
Method
Bring a large pot of water to a boil over a high heat, and add salt. Add the noodles, stir, and cook for about 4 minutes or as per package instructions. Drain and rinse with cold water and set aside in a large serving bowl.
Heat oil in a large frying pan over a medium heat. Sauté the garlic until tender. Stir in noodles, then season with soy sauce, chilli sauce, salt and pepper.
Serve with spring onions sprinkled on the top.
Noodle dishes pair beautifully with a dry white Cotes de Bourg wine, such as Château de la Grave 'Grains Fins'. This zesty wine is filled with the light meadow flower flavours, making it a delightful counterpoint to the chilli-soy noodle sauce.
Dumplings
For Chinese families, dumplings ('jiaozi' in Mandarin) are a traditional New Year's Eve dish that signifies family reunion, longevity and wealth. Their shape resembles the gold shoe-shaped ingots that were used as currency in ancient China.
There are thousands of dumpling recipes available, but the classic Chinese dumpling filling is pork with garlic and chives.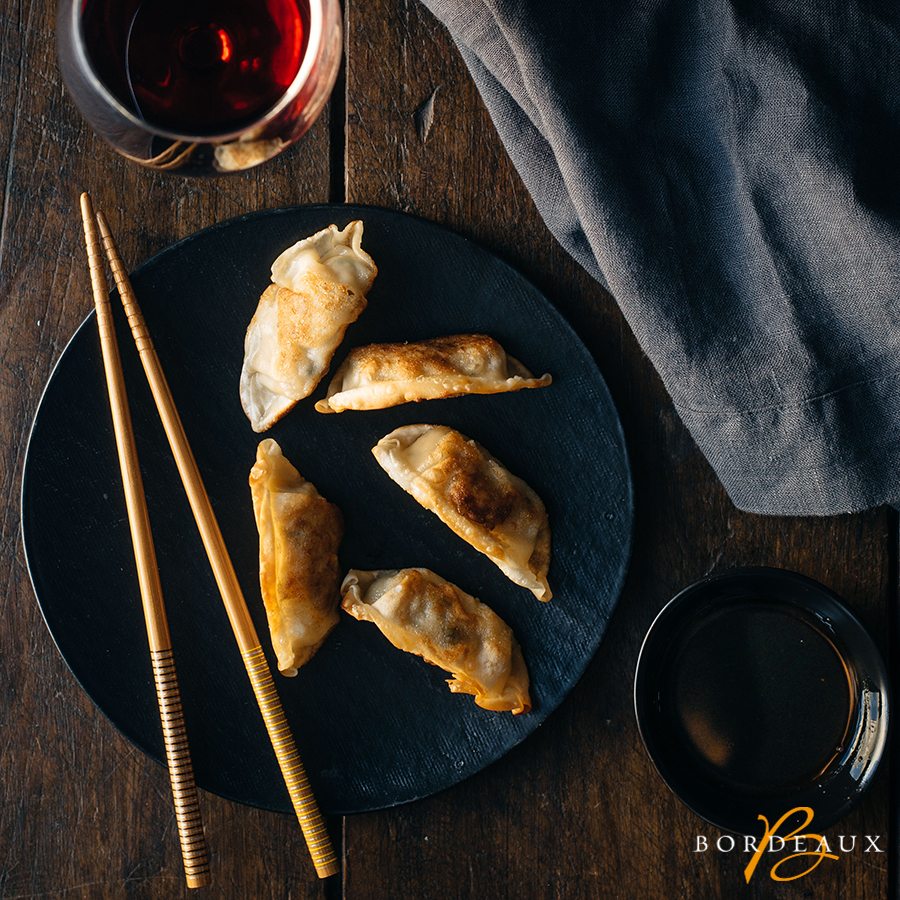 Ingredients
250g pork mince
Fresh chives
Grated ginger
1 garlic clove, grated
2 spring onions, sliced
10ml soy sauce
A dash of pepper
A pinch of salt
18 gyoza wrappers
Sesame oil
Chilli oil
Method
Mix all the ingredients for the dumpling filling (everything except the gyoza wrappers) together in a bowl.
Once the mixture is ready, spoon a tbsp of filling into the middle of each gyoza wrapper. Seal the gyoza wrappers over the filling and crimp. Be sure to crimp the top of each dumpling for an authentic look. Place on a plate lined with baking paper, then pop into the fridge uncovered for one hour.
Heat a little sesame oil in a lidded frying pan and fry the dumplings for one minute. Add approximately 200ml of water and steam the dumplings for three minutes.
And it's time to serve! Garnish each plate of dumplings with coriander or chilli oil.
Dumplings are best paired with a red Bordeaux, such as Château Saint Romans. A blend of Merlot and Cabernet Sauvignon, this wine is filled with ripe red and black fruits, plus sweet spice flavours. It's smooth and mature, an ideal accompaniment to Chinese dumplings.
Make it a year to remember
All of these recipes are simple to prepare and taste delicious and the Bordeaux wines will add the final touch – a sure-fire hit at dinner parties. So however you're planning to celebrate Chinese New Year, make sure you're surrounded by good food, good wine, and good company.
Happy Chinese New Year from everyone at Bordeaux Wines!