Enjoy a summery Thai-inspired BBQ with Bordeaux wines
Thai cuisine is known throughout the world for its remarkable balance of spicy, sour, sweet, salty – and often bitter – flavors, frequently found within a single dish. The inclusion of ingredients that Western palates are typically less accustomed to – such as tamarind, fish sauce, and the incredibly spicy bird's eye chili – is prevalent, and interestingly seems to add to the allure of this delicious Southeast Asian cuisine.
Grilling some mango chicken skewers is a great way to elevate your standard BBQ fare with a Thai-inspired dish. Although not quite the same as Gai Yang (traditional Thai grilled chicken), this mango chicken skewers recipe is tropical, tasty, and a real crowd-pleaser.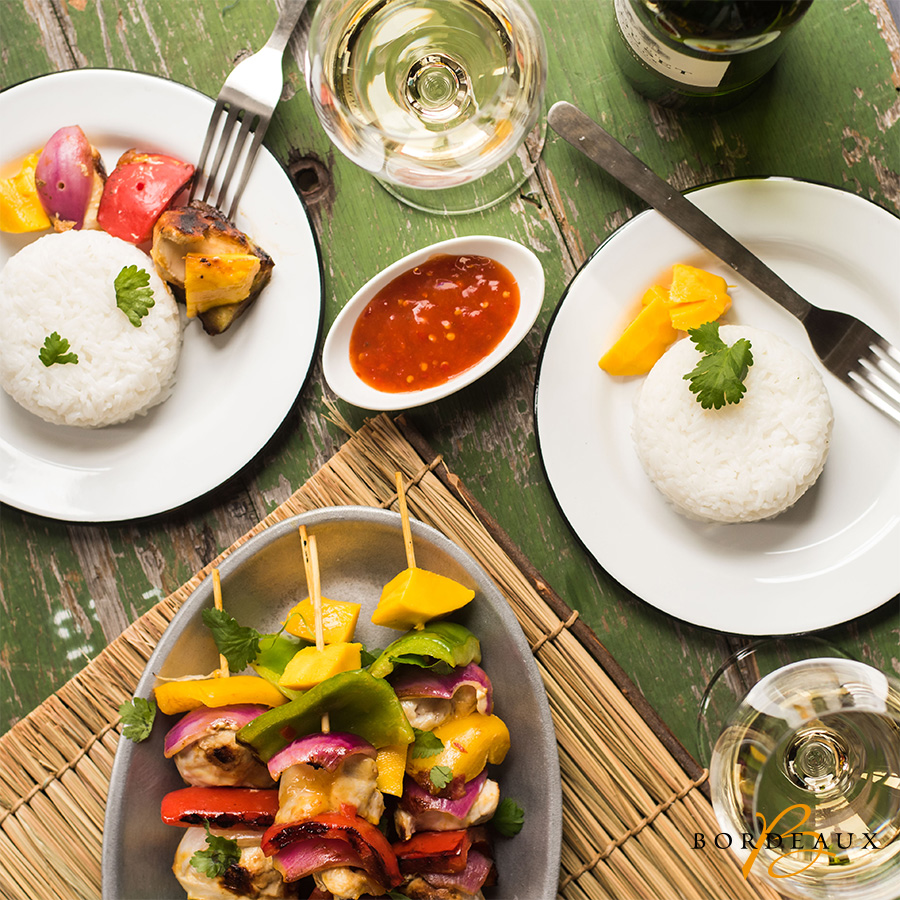 First, take two fresh mangoes, remove the pulp from the skin and discard the stringy pith. Take a few chunks of mango and blend with ginger, garlic, rice vinegar, fish sauce, lime juice, hot chili peppers, and brown sugar. This marinade should be a perfect mix of sweet, sour, salty, and spicy, so tinker with your sauce by adding a little more mango, fish sauce, lime juice, or chili peppers until it's just right for you.
Chop chicken thighs and breasts into chunks and completely cover with the marinade for at least an hour or ideally overnight. When the chicken is sufficiently marinated, start your coals, remove the chicken from the marinade and thread onto skewers (either metal or wood that have been soaked in water beforehand). Grill until your chicken is cooked through and a bit blackened on the outside. Top with chopped peanuts and cilantro and serve with coconut or sticky rice and a bottle of Bordeaux wine.
It's difficult to say that there's a "classic" wine pairing for Thai food, but here's a suggestion that we believe comes closest to fulfilling that moniker: a crisp, edgy Sauvignon Blanc-dominant dry white such as an Entre-Deux-Mers. The racy acidity and zesty citrus flavors of these white wines will serve to enhance the mango flavor and are an ideal foil for the smoky char of the grill. Additionally, the delicate floral notes that you're likely to encounter in an Entre-Deux-Mers will enhance the summery taste of this exotic grilled chicken.
For a more novel suggestion, try a chilled, young, unoaked Bordeaux Rouge or one from the Côtes, such as Blaye Côtes de Bordeaux. These wines are not terribly tannic, but juicy and overtly fruity, providing a refreshing red fruit contrast to the mango and lime flavors of this Southeast Asian BBQ dish. If you basically want to dial up all the flavors of the chicken skewers, then this is the wine pairing for you.
Whichever pairing you choose, we hope you enjoy your Thai-inspired BBQ with Bordeaux wines!