Sommelier Patrick Cappiello Goes 'Beyond Bordeaux'
Prestigious resume aside, Patrick"s passion for discovering and championing wine for everyday consumption is why he"s the perfect person to serve as our ambassador. The wine lists at his restaurants are carefully curated to include selections that are as delicious and interesting as they are affordable. 
Did we mention he's also just an all around, cool dude? Last month, we had the wild idea to discover the region of Bordeaux beyond the label. Be sure to catch up on our  new mini travel series, Beyond Bordeaux, but first get to know our friend and host, Patrick Cappiello: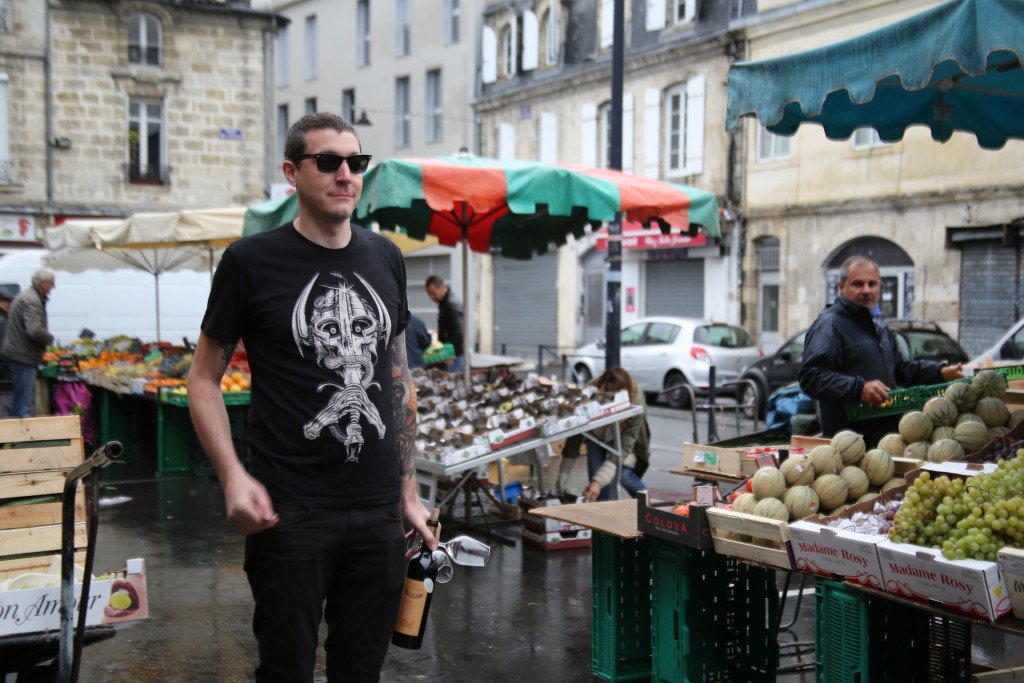 BDX: Describe your journey from wine drinker to wine professional. When did you first discover your love for wine and how did you decide to parlay that into a career?
PC: In my early twenties I started to become interested in drinking wine. I was lucky enough to have grown up fairly close to the Finger Lakes wine region of New York. I would do winery visits with family and friends on the weekends, and often buy wines to enjoy at home with meals.Additionally, during my high school and college years I worked in many restaurants and continued to do so after graduating college. I primarily worked as a waiter and bartender. It wasn't until living in Cleveland and working at a restaurant with a large wine list that I began to think about the wine industry as a career opportunity.Once I left Cleveland, I moved to New York City and got a job waiting tables at Tribeca Grill. It was there that David Gordon (the Wine Director) gave me the opportunity to get involved with the wine program and eventually become Tribeca Grill's first Sommelier.
BDX: What's your favorite part of being a sommelier? Any funny anecdotes from the floor?
PC: The best part is getting drink wine all day. Obviously… And being able to travel is another great part. Also the opportunity to help guests select a special bottle of wine is very rewarding.I have many stories from the last 16 years of being a sommelier. The funniest occurred at Veritas Restaurant in 2005. I was distributing glasses to a large table in the dinning room. I had a tray with six very large crystal glasses and attempted to reach across the table to place a glass. I didn't notice one of the guests' bags was just behind his chair. As a result I tripped on it and dropped all of the glasses on this gentleman's head. The very thin glasses shattered into several thousand pieces. Thankfully no one was hurt, aside from my pride. I always look down before approaching a table now!
BDX: How does Bordeaux distinguish itself from other wine regions and why did you choose to become an ambassador for our wines? What can wine drinkers expect from value Bordeaux?
PC: The wines from the Bordeaux region have been a big part of my career. In 2005 I became a Sommelier at Veritas Restaurant, arguably one of the best wine restaurants in the history of the US dining scene. The cellar was comprised heavily of wines from Bordeaux, so I became very knowledgeable and passionate about the wines from the region. This continued to grow while constructing the wine program at Gilt Restaurant in the NY Palace Hotel where I curated a very large collection of Bordeaux wines. This love of the region also became the foundation for my program at Pearl & Ash. Here I have been able to incorporate the aged First, Second and Third Growths along side the great values coming out of the "outer boroughs" such as Castillon, Cotes de Bordeaux and Entre-Deux-Mers.These emerging values are giving wine drinkers the opportunity to drink fresh wines that can be consumed young and with food, but often cost less than $20 a bottle.
BDX: For the wine newbie, what's the hype about food and wine pairings? Why is it important? What should one be looking for? How do you best enjoy food and wine together?
PC: Pairing food with wine is a great way and reason to enjoy more wine and do it in an everyday environment. I find wine pairing can be a fun way to experiment. There are of course classic pairings; Cabernet Sauvignon with Steaks or Foie Gras with Sauternes, but I also like non traditional pairings like Sauvignon Blanc with Shrimp Cocktail or Cabernet Franc with Pizza.
BDX: What are some of your food and wine pairing pro tips?
PC: There are two simple ways to create food and wine pairings. Either matching the flavors and textures in a wine to the dish you are eating with it. In other words richer shellfish dishes like Lobster being paired with richer white Bordeaux wines made from the Semillon grape. Or using opposite flavor profiles in the wine from the food its being paired with. For example, a serving a fresh, bright red Bordeaux made from Merlot with a heavier Beef Stew.
BDX: For an at-home wine connoisseur, is there an unexpected food and wine pairing tip or challenge you might recommend?
PC: Keep it simple is the best advice. Also, if you have several people dining with you, it's a great opportunity to open several different wines to taste with the dish. It can be a great way to host a party as well; sending your guests the menu ahead of time and challenging them to bring a bottle or two they think would make great pairings. To make it more fun you can serve the wines blind and vote on the best pairing.
BDX: As a professional who is around wine all day, every day, do you have a favorite wine hack that you can share with our readers?
PC: I would say the emergence of "wine apps" have given consumers a huge leg up. The one I use most is "Delectable." One snap with a smart phone will give you all information on the wine and also save to your library where you can always have a record of wines you have consumed. Additionally there is a Social Media side that enables you to share the wine with friends and see the wines they are drinking. It's a great way to stay on top of an ever-changing wine world!   
Ready to explore with Patrick Cappiello? Check him out as the host of our new mini travel series, Beyond Bordeaux.