Food and wine pairings
The Springtime Table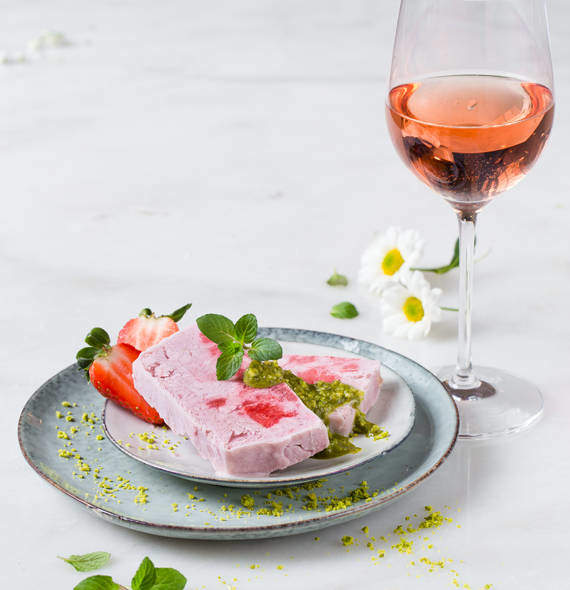 STRAWBERRY PARFAIT WITH PISTACHIO COULIS
For 12 people
CLASSIC WINE PAIRING
Refreshing, light and springlike! For whiling away the afternoon on the terrace or invigorating your evening by topping off your meal. Crémant wines are also available in rosé.
ORIGINAL WINE PAIRING
Strawberries, raspberries, and cranberries...all flavors enhanced by Bordeaux Rosé. This fruity pairing is a match made in heaven, especially for connoisseurs who prefer drinking dry wine for dessert.
INGREDIENTS
For the parfait:
700g of strawberries
50g of sugar
1 tablespoon of lemon juice
800ml of coconut milk
100ml of maple syrup
2 tablespoons of starch
1 vanilla pod

For the coulis:
120g of pistachios
3 tablespoons of maple syrup
60ml of water
1 pinch of matcha powder
1 teaspoon of rose water
2 mint leaves
Wash the strawberries and dice them finely. Add to a saucepan along with 50g of sugar and the lemon juice. Bring to a boil and simmer until the strawberries break down. Purée half of the strawberry compote until smooth, allow the other half to cool completely. Bring the coconut milk with the puréed strawberries, maple syrup and pulp of a vanilla pod to a boil in a saucepan. Stir the starch with 4 tablespoons of water until dissolved and stir that it into the boiling coconut milk. Continue stirring until the mixture thickens.
Place into a bowl and allow to cool completely. Line a small loaf pan (approx. 18 cm) with baking paper. Pour in the cooled mixture and fold in the rest of the strawberry compote. Allow to set in freezer for at least 5 hours, or better overnight. Finely grind the pistachios for the coulis. Boil with the maple syrup, water, a pinch of matcha, the mint leaves and the rose water. Remove the mint leaves and allow the coulis to cool. Serve fresh strawberries along with the parfait.