Food and wine pairings
Autumn Table by Clément & Mathilde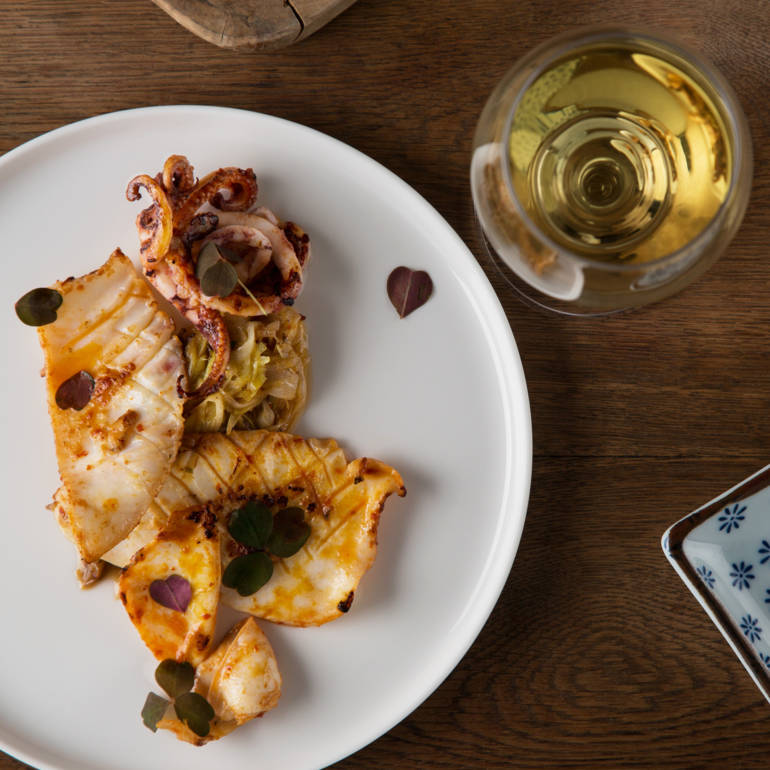 SLIGHTLY SAUTEED SQUID, DEGLAZED IN MILD CHILLI VINEGAR, JULIENNED LEEKS IN HAZELNUT OIL
For 6 people
CLASSIC WINE PAIRING
Nothing's better than the acidity of Sauvignon Blanc to counterbalance the salty character of squid! Coupled with the vegetable notes provided by the leeks, it's a pairing that works wonders.
ORIGINAL WINE PAIRING
The mild chilli pepper is what calls for pairing with a semi-sweet wine. By playing on the contrast, the flavour of mild chilli pepper, dominant in the dish, stimulates the semi-sweet wine which in turn provides acidity and aromatic freshness!
INGREDIENTS
4 squid (each about 100g)
5 leeks
Hazelnut oil
Mild chilli pepper vinegar
Salt
Espelette
chilli pepper

Clean the squid and score it with the tip of a knife. Cut leeks (white part only) into julienne. Cook without browning. Add a dash of vinegar, hazelnut oil and season.
Cook the squid about 2 minutes and deglaze with the vinegar. Dress a plate with the leeks and squid. Drizzle with cooking juices.