Food and wine pairings
Holiday table by menue. & Slice of Pai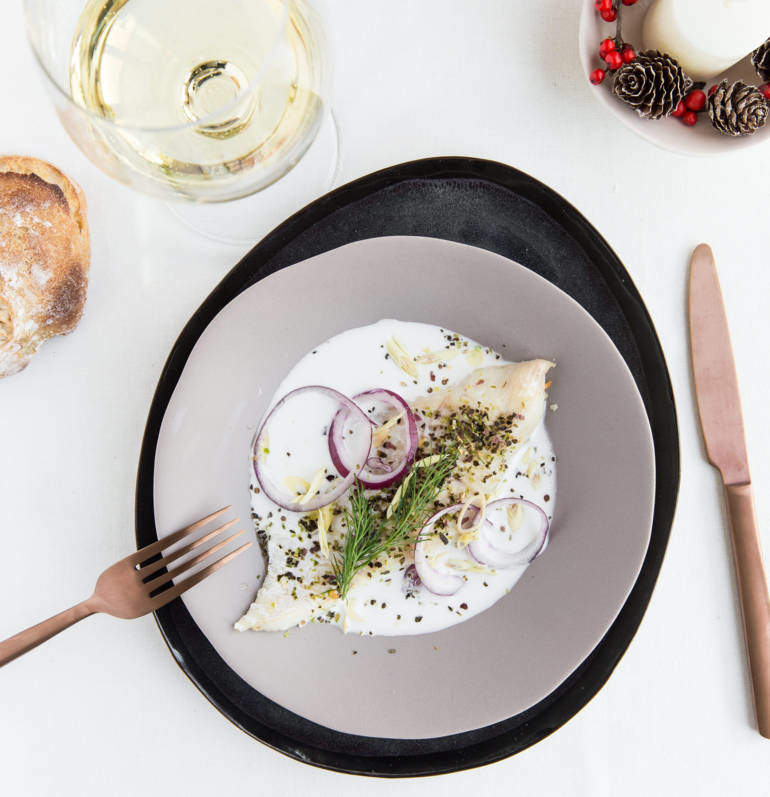 COCONUT COD LOIN WITH LEMONGRASS, KAFFIR LIME LEAVES AND RED ONIONS
For 4 people
PREPARATION TIME
15 mins / 2 hrs in marinade or overnight
CLASSIC WINE PAIRING
A citrus pairing from start to finish with this fruity and aromatic Bordeaux Sauvignon Blanc! It gives the codfish lots of credibility.
ORIGINAL WINE PAIRING
Try a daring contrast with a round, structured red wine! It marries subtly with this coconut cod recipe.
INGREDIENTS
4 cod loin fillets (150g each) with skin
1 large red onion
1 can of coconut milk
1 stick of lemongrass
6 kaffir lime leaves
salt
pepper
olive oil

2 hrs beforehand or overnight (the marinade will soak in better), let the cod loins marinate in a dish with the onion and lemongrass cut into thin strips, the coconut milk, the kaffir lime leaves and a splash of olive oil.
Before serving, heat the oven to 100°C. Put the dish in the oven right away and let it cook approx. 25 mins or until the fish is pearly white. Serve as soon as possible or keep the fish at 50°C until serving.